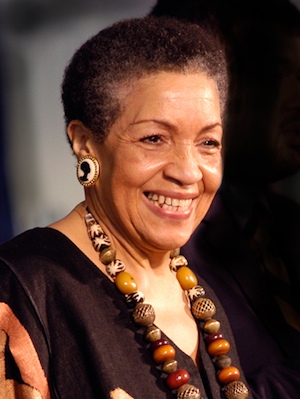 by Beth Norman and Heather Harpham
Master storyteller, author and activist Onawumi Jean Moss will perform her one-woman show "Seriously… What Did You Call Me?" on Saturday Oct 22 at The Nyack Center at 7p.
Onawumi is a woman who understands the power of a name: the first time you meet Onawumi Jean Moss, she will look you warmly in the eye and say her name slowly, taking care to enunciate each syllable and allowing you time to repeat it. She will treat your name with the same respect, often asking if she is pronouncing it correctly, and commenting on its meaning and beauty. It is unusual to hear a name spoken with this much attention and care. We are far more used to quick texts that misspell and brief introductions that mispronounce and unintentionally dismiss.
Growing up in the mid 1940s in Jackson, Tennessee, Onawumi recalls her teachers addressing each student formally, "Even when our teachers reprimanded us they called us by our full names." While the outside, white-ruled world regularly used racial slurs such as "pickaninney" to dehumanize African Americans within the rigid segregation of Jim Crow, her teachers realized the importance of names as vessels of individual dignity and sought to instill pride and self respect in their students.
Later, as a young woman reeling from the immediate aftermath of Dr. Martin Luther King's assassination, Onawumi declared that she would never again straighten her hair or allow herself be called negro. Instead, she made a name for herself as Jean Moss, Dean at Amherst College, where she was a prominent community leader and mentor for countless students. But it wasn't until much later that, like many other Americans of African descent seeking to reclaim their names from miscegenation, she decided to make her name her own, and to rediscover her connections to both Africa and America.
This is the story that Onawumi's powerful and timely autobiographical solo show shares: from her early experiences in Tennessee to her resilient migration through the Civil Rights Movement and the ultimate reclamation of her name and power as an African American woman. With unflinching honesty and humor, Onawumi encourages pride of heritage, appreciation of cultural differences, recognition of kinship and courageous conversation across social boundaries. After the performance, Ms. Moss and director Djola Branner will lead a dynamic talk-back discussion with audience members.
Ms. Moss holds the highest storytelling award given by the National Association of Black Storytellers — the Zora Neale Hurston Award; and was recently nominated for the National Storytelling Networks Lifetime Achievement Award. For more information on Onawumi Jean Moss, visit: www.onawumi.com
For discounted advance tickets, visit: http://www.brownpapertickets.com/event/2604809
---
This event is presented by the Louise Poresky Community Building Fund at Blue Rock School. Blue Rock School of West Nyack is unique among private schools for its commitment to fostering a non-elitist community of students from diverse economic backgrounds (over fifty percent of families receive some form of financial assistance). Blue Rock's educational environment fosters respect, harmony, and an understanding and appreciation of the diversity of the human experience. For more information visit: www.bluerockschool.org
This event is made possible in part by the generosity of Nyack Center, Double Tree by Hilton, Rockland Roots, Lindgren Nursery School, Classic Ballet School and Dynamic Productions USA.
Other event partners include: Nyack Center, VCS, Rockland County Pride Center, the NAACP, the Andrew Goodman Foundation, the Nyack Library, Nursery School of the Nyacks, Creative Response to Conflict and the Holocaust Museum & Center for Tolerance and Education. Several of these organizations will be on hand after the show to offer the community ways to take direct action in alignment with social goals.