It's Been a Good Year For Nyack's Oldest Home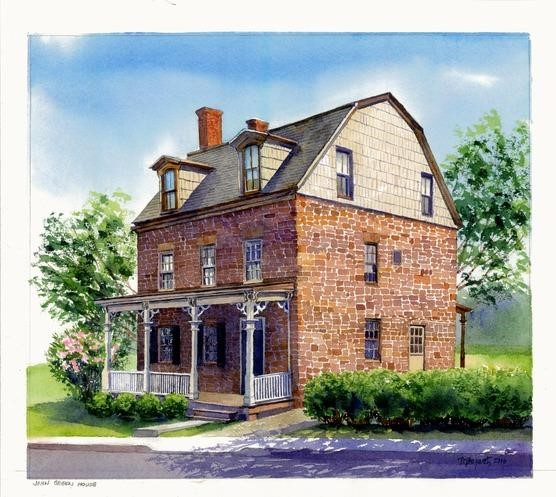 by Ken Sharp
They say "When God closes a door, he opens a window." In John Green's case, the door wasn't merely closed, it was burned down — as was everything he owned when fire consumed his Coenymans, New York lumber business. But Green, to his credit, saw an opening of a window. He moved to Nyack, New York and started over. window that opened brought him to Nyack, where he started over. One has to imagine that he experienced some trepidation on that journey, or at least some uncertainty about the unknown.  Still, he moved forward and embarked on a great adventure, full of potential risks and rewards.  In Nyack, he saw a future bright with possibility and opportunity — he became a laborer, lumberman, entrepreneur, and community leader — and he ended up putting this village on the map.
When the John Green Preservation Coalition took possession of Green's historic home just over a year ago, we at the Coalition felt many of those same feelings of excitement and unease.  We could envision a tremendous future for the house, but its more recent past had been filled with strife; at that time its condition made thoughts of a bright tomorrow daunting at best. Trepidation? Uncertainty? I think we felt more than a little of both. But after seeing the destruction of the historic Abram Lent House, we were determined to prevent the loss of another historic structure. The John Green House holds a special place in many of our hearts, and we all felt very strongly about rescuing it from further decay or possible destruction. So, like Green before us, we moved forward, with dreams of that brighter tomorrow.
Now, a year later, while we're still concerned about the fragility of our large sandstone friend, we are more hopeful than ever about her future.  Our requests for volunteer labor over the last 12 months have been well met, with wonderful, hardworking people from the community filling many dumpsters with debris and modern construction materials from the house.  Generous businesses, organizations and individuals have contributed funds, labor and lumber to get the house stabilized and rehabilitate what had been a failing, dangerous corner of the building into one of the most level, plumb parts of the structure.
This spring, our efforts branched out in new directions and yielded much new fruit (both figuratively and literally).  Our organization had the great pleasure to take part in Suzanne Barish's "Please Pick Project", which is still providing a bumper crop of tomatoes, eggplant, kale and herbs, available to the public  We also received a  Rockland County Executive's Historic Preservation Merit Award  — specifically, the "Preservation Leadership Award" for displaying outstanding leadership to the preservation of historic resources in Rockland County, NY.

The wonderful watercolor artist Beverley Bozarth Colgan graced us with a magnificent rendition of the John Green House (pictured), and we also had the great pleasure to sponsor Tina Traster's excellent documentary, This House Matters, which focused on several historic properties in Rockland County, and which has garnered an extremely positive response at many local and international film festivals.
Most recently, The John Green House has been approved for listing on the state and national registers of historic places, and we are currently involved in discussions with the village and interested residents about the possible designation of historic districts in Nyack.
It has been a truly incredible year, but our work has just begun.  There will be much to do in the days going forward, but for now, we hope to see everyone at the Restoration Art Show at Bell-Ans this Sunday.
Thank you Nyack, for your constant and continued support of our rehabilitation of this historic home.