by Nancy Sall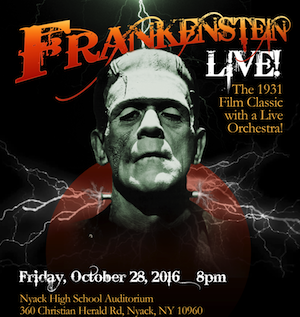 It's live! Well, at least the orchestra, is.
For one night only, three of Rockland County's dedicated non-profit arts groups are coming together to present a screening of the classic 1931 horror film Frankenstein starring Boris Karloff, accompanied by a live orchestra performing a new score.
Contemporary classical composer and conductor Michael Shapiro has written music to accompany the entire film and will be conducting a 15-piece ensemble of the The Chappaqua Orchestra on Friday, October 28 at 8p in the Nyack High School Auditorium.
Watch on the big screen as the obsessed Dr. Frankenstein toils in his creation of the monster. Revel in the blood-chilling story of Frankenstein and the frenzy that ensues upon his escape. Listen to a live orchestra perform the new score and experience the monster as you have never done before!
If you are just getting out of your crypt and aren't familiar with this classic horror movie, Frankenstein is based on Mary Shelley's 1818 novel about Victor Frankenstein, a young scientist who creates a grotesque but sapient creature in an unorthodox scientific experiment.  Wikipedia notes that the full title of Shelley's original book was "Frankenstein, The Modern Prometheus."
All three arts organizations will share in the proceeds from this special evening. Arts Angels provides financial support to ensure the vitality of arts education and programming in the schools. ArtsRock provides increased access to professional arts and multi-cultural programs for an underserved, diverse audience in and around Rockland County. Rivertown Film is devoted to exploring and promoting the art of the motion picture through film screenings and educational programs, encouraging support for filmmakers and the local film community, and helping to build the cinematic arts audience of the future.
This is a wonderful opportunity to see one of the American Film Institute's "100 Greatest American Films" from an important literary source that remains entirely relevant today. And to appreciate a live orchestra – all in one evening.  For ticket information, visit ArtsRock.org.