Alaska and Nyack. Two places far away from each other which share a native son, local author Roger Seiler. Come to the Nyack Library on Sun Oct 30 at 3p and hear how they are connected — and the fascinating story of the Russian founding father and first governor of the land which eventually became the 49th state.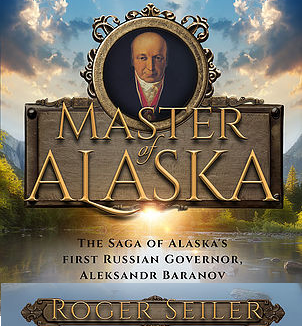 Master of Alaska, Seiler's second book, starts in October 1790 when Aleksandr Baranov sails across the North Pacific to Kodiak to become the chief manager for Tsarina Catherine the Great's colony in the far Northwest of North America.  Baranov is shipwrecked, saved and adopted by natives and forced to marry Anooka the daughter of a tribal chief, despite still having a wife back in Russia. He spends the next 28 years in Alaska, surviving natural disasters, a massacre of his people at Sitka, a British attempt to undermine his colony and an assassination attempt.
Seiler, a former Nyack Library board president and long time South Nyack resident, will read selections from his latest book on Sunday at 3p at the Nyack Library, sharing some of his unique background as the son of an Alaskan bush pilot and a Puerto Rican Flamenco dancer that uniquely qualifies him to write this historical novel.
Here are a few samples of what you might hear this Sunday.
Introduction

With driftwood, Baranov and his battered Russians made a lean-to shelter on the beach, crawled inside and went to sleep. The next morning of this cold late October of 1790, they were awakened by a group of Native seal hunters led by a young Aleut man, Kuponek. The Aleuts fed the Russians dried salmon and then took them in large open boats that they paddled to their village a few miles away. There, Chief Putuguk told his men to show the Russians how to make barabara huts for shelter. That evening the chief called a meeting of the Aleut men to discuss how to deal with their visitors, who must now spend the winter with them. Obviously, the worstening fall weather meant the Russians could not continue to Kodiak until the next spring, six months hence.

Chapter 2

Kuponek stepped into Toyon Putuguq's barabara, where the village men had gathered and solemnly sat around the central fire. Kuponek listened to Putuguq and the others speak in Aleut while all stared into the sacred flames. "Not enough food to feed ourselves and Russians, too. Before long, they will fight us for our food supply."
Kuponek said, "We must hunt more seals to feed them."
Putuguq answered, "Storms coming fast. In storms, we will not be able to kill enough seals."
Another man, sitting next to Kuponek, spoke up. "Then we must kill Russians before they kill us for our food. They have no hostages from us, so we can do it. We must kill them while they sleep."
"No," objected Kuponek. "With just a short break in the weather, we can hunt enough seals. Maybe the Russians will help."
Another man replied, "They are too weak! If we wait until the Russians regain strength, we will not be able to kill them. We must kill them tonight."
"If we kill them, Russians from Kodiak will come and kill us," said Kuponek.
"We will drop their bodies near the wreck, so it will look like they died there."
Putuguq held his hand up for a moment, then said, "Go. I will consult the sacred fire for an answer. Then I will tell you what we will do."
Kuponek and the others got up and left, leaving Putuguq still seated, contemplating the fire.
For more information, visit MasterOfAlaska.com.