Here is an excerpt from the non-partisan Reclaim New York report on New York's "Affordability Crisis." 
New York. The words once rang with promise. Come here to make your fortune, start a business, and build a family and a life. That promise has disintegrated under the weight of layers of government and bureaucracy and their impact on every aspect of daily life. New Yorkers are struggling every day to keep their heads above the economic waterline. They're dragged down by high taxes, poor job climate, and politicians that feed a government mired in failed policy – and too often corruption.

Put simply, all this drag has New Yorkers caught in an Affordability Crisis. It affects people upstate and down, in settings urban, suburban, and rural. It's the product of a punishing personal tax regime, and bad regulatory policies that drive up the cost of basic necessities from groceries to gas to electricity – and it's driving New Yorkers away in droves. At least 1.8 million people have left since 2000 for states with friendlier economic climates and clearer visions for the future – more than any other state in the nation. This crisis hits nearly every income level, making it extraordinarily difficult to save.
When the high cost of living means you struggle to save for your future, there's no reason to stay, especially when it takes more than a decade for an average-earning family to amass just the down payment on a home. Also, when the state hits homeowners with the highest effective property tax rate in the nation, at a total of $26 billion.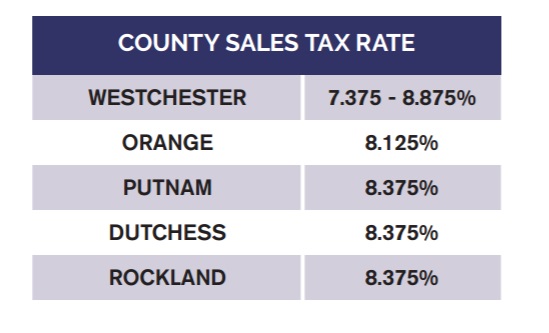 Reclaim New York has calculated the "WakeUp Costs" for various localities and income levels by combining the total tax burden with essential living costs to examine how much – or how little – of your income remains after taxes and basic expenses. In short, how much do you pay just to wake-up here? For many New Yorkers, their leftover income can be as low as two-percent. Some are underwater. Most are struggling to save for the future. The purpose of this report is twofold: to inform, and to arm citizens with the information necessary to improve the state's conditions.
Rockland County
Rockland County is home to an estimated 326,037 residents, and has a MHI of $85,808. Like Westchester County, Rockland's transportation costs are particularly high. A family with one parent that commutes to New York City will pay $302 per month for a rail pass on top of car expenses. If they decide to commute by car, the financial burden would be even worse. Crossing the George Washington Bridge will cost them $15 per day ($375 monthly), and parking will cost them an average $40 per day ($538 monthly). Therefore, a commute from Rockland County to Midtown Manhattan could cost more than $10,000 annually.
Nyack
The Village of Nyack has a  4.196% total property tax rate. Refer to the following chart to see what amount of income remains for people of various income levels and family structures living in Nyack, after taxes and expenses.

Conclusion
It doesn't matter whether you rent or own your home; what income bracket you fall in; whether you live in an urban, suburban, or rural area; are single or married; a Baby Boomer or Millennial, there is an Affordability Crisis in New York State that impacts the financial stability of virtually everyone.
All states require revenue to function. Lively, balanced debate can and must take place about how much revenue they need, and how they should spend your money. In order for that debate to produce substantive results, citizens must participate and need to be well-informed. Given the energy our state and local governments expend on erecting barriers to transparency, and protecting the status quo of high taxes, it is often hard for consumers to get a clear picture of the fiscal forces that impact their future.
When we learn how our government crushes our families, keeps youth running in place, leaves seniors with an uncertain financial future, and stops even those earning double their local median income from building up real savings; we begin to realize that the game is rigged against all New Yorkers. We also realize serious change is necessary.
This report is the first step to building a stronger New York for millions who struggle to live here. We encourage each of you to engage us in a deeper conversation. Reclaim New York can help you define what the next step is for you and your community. Activation could be as simple as reaching out to friends and neighbors or attending a town board meeting. The key is that we understand the issues and work together to move New York forward.
Reclaim New York is a non-partisan, non-profit organization dedicated to advancing a state-wide, grassroots conversation about the future of New York, its economy, and its people. The full report can be found at ReclaimNewYork.org.