by Dave Zornow
Nyack, Sept 13 — Nyack's registered Democrats go to the polls today  to pick two trustees and a state assembly member for November's general election. There's also a behind the scenes struggle to take control of the village's Democratic Committee, pitting long time members against an anti-development coalition that wants to choose Mayor Jen Laird White's successor when she retires next year.
Get The Message? Probably Not.
If reading campaign signs only serves to confuse you about the candidates and their positions, you are not alone. The anti-development group created a website (Save, Nyack!) whose name suggests they are a credit union that offers favorable interest bearing CD's to village residents. Which is not the case.
The incumbents responded to Save Nyack's social media negativity with the ambiguous "Yes To Nyack!" slogan — a phrase which might remind baby boomers of the Up With People singers and younger voters of a late night infomercial sales pitch. Props to the electeds for creating an impressive website (NyackDemocrats.com) which gives a thorough accounting of their experience and accomplishments. However, they neglected to include that catchy web address on their sign. (In the words of former Texas Governor Rick Perry: "Oops?")
Not to be outdone in the Graphic Decline department, Save Nyack has something against one of the three candidates listed on their sign: Why do Cohig and Cooper get a checkbox but Lightfoot is left in a lurch? Is there something I am failing to "C" here? (To be clear, there are only two candidates, and one of them is named "Lightfoot Cooper." Although that really isn't clear from their sign…)
In addition to the Nyack Village Board contest and the Democratic Committee vote, NYS Assemblywoman Ellen Jaffee is being challenged in the Democratic Primary by Airmont Planning Board member Thomas Gulla.
Democratic Primary: Politics As (Un)usual
Polls are open from 6a-9p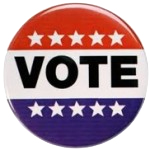 You can find your polling place online at the Rockland County Board of Elections.
Want to make an appointment with the Democratic process? Click to download an iCal appointment to put on your calendar (no email required here, no vicious viruses included either!).
If you are a Google Calendar Gal or Guy, we've still got you covered.
There's some quirky stuff about this primary you might want to know.
If you haven't heard of Jaffee's challenger, Thomas Gulla, that's because he's not waging much of a campaign outside of his immediate neighborhood. All of the signatures on his petition came from a few communities in a certain part of Rockland County —  a fact he confirmed in a misguided letter to the editor. That was sloppy politics — but it gets worse: according to Preserve-Ramapo.com, Gulla didn't even sign his own petition to run in Tuesday's primary election. Jaffee's camp is a little bit panicked because if that same bloc of voters who signed Gulla's petition come out en masse during a low turnout election, she could be out of a job.
There's pretty much ONLY one issue that Republicans, Democrats, Independents and Martha Stewart can agree: lower taxes are a Good Thing. In 2010, Nyack residents were hit with a 9 percent tax increase. This year — it's ZERO. (Say it again. Democrats. No tax increase. Maybe their slogan should have been "We are the Tax and No-Spend Democrats") You can read all about it on Nyack News And Views (Tax Freeze: How Nyack Went from 9% To Nothing, 7/27/2016) but where is it on the incumbents' website? It's not a rhetorical question. Where is it? I can't find it. Hello? Since when did being modest about holding down tax hikes ever win an election?
Team Save Nyack has hammered away at the incumbents on Facebook about their signature issue: TZ Vista, luxury condos on the Hudson, a project that happens to be sited across the street from where one of the trustee candidates (Barbara Cohig) lives with her husband, John Gromada. Although they say the current Village Board  fails to play by the rules, the Gromadas are not beyond cutting corners when it suits their own interests. Barbara Cohig is running as a Democratic Committee Candidate in District 15; John Gromada is running as a Democratic Committee Candidate in District 7. But their home is located in District 5. Democratic insiders say running to represent a neighborhood where you don't live isn't illegal but it is hypocritical.
Why is this little detail important? Nyack's Democratic Committee will play a critical role in selecting the next mayoral candidate when current Mayor Jen Laird White retires in 2017. This behind the scenes jockeying for position may sound silly in September but might be critical come next summer.
One of the failings of our democracy is that we pick our candidates on how well they run a campaign, a pursuit which requires a set of skills which rarely has much to do with the expertise needed to succeed in elected office. Donald Trump's world class tweeting skill is no substitute for his lack of experience in dealing with the problems of the world. Being good at social media does not mean you have the temperament, the relationships or the experience required to be an elected official. It just means you have the digital skills to be a standout performer in the unlikely event you get sent back to Middle School.
Nyack's Tuesday primary election offers a choice between experienced tax-cutting incumbents who know how to govern and one issue challengers who know how to friend on Facebook. The "Save The Nyack We Love" page for Democratic Committee Candidates says "click on a name to learn more about each candidate." But when you click, there's no information — just more pictures. It's a metaphor for a slate of candidates who have no track record of working in the community with no plans to govern beyond the words "Just Say No." This didn't work for Nancy Reagan; it's not going to work for Nyack, either.
Hammond and Parker's Village Board has frozen village tax increases while maintaining roads and public services. They have found a way to rein in developers' ambitious schemes, balancing desirable growth with the public's interest in mind. The social media posts of Save Nyack supporters get an A for fear mongering but an F for telling voters how they plan to achieve their goals.
Everyone agrees that Nyack needs to hold tax hikes down and maintain our high quality of life. But only one set of candidates has a plan to do that and a track record that demonstrates they can build on what's been accomplished so far.