by Susan Hellauer
Science Friday, the venerable public radio program heard locally on WNYC, recently invited guest expert Darby Hoover (Senior Research Specialist from the Natural Resources Defense Council) to answer listeners' most head-scratching questions about recycling.
Ms. Hoover, a veteran of the recycling industry, came armed with plenty of expertise but, because recycling rules vary greatly from one municipality to another, she was forced to preface most of her answers with "It depends on where you live . . ."
So we reached out and pulled in our own local expert, who can answer these top ten curbside queries, right down to the last bottle cap. Kerri Scales is the high-energy Solid Waste Educator at the Rockland County Solid Waste Management Authority (RCSWMA). She and her team get the word out to schools, municipalities, and all Rockland residents about the importance of recycling, and the essential do's and don't's of detritus. I spoke to her by phone from her office at the Materials Recovery Facility (MRF) in Hillburn.
1. Do we have to rinse out our food containers? If so, how thoroughly? And what about the caps and labels?
Containers should always be emptied completely and washed if they have substantial residue. Some residue can contaminate the recycling process, and can be an even bigger housekeeping problem. Just think of that unrinsed milk container that has festered in your recycling bin for a week, traveled on a hot truck and popped open during the sorting process at the Recycling Center.

Food residue should always be rinsed. But think twice about using gallons of hot soapy water to rinse one peanut butter jar. Sometimes the better choice is to toss it if we have to waste a lot of one resource just to save another.
All caps, lids and labels can stay on the containers. Labels will be removed during the recycling process. Caps and lids are actually recyclable; they help prevent hard-to-rinse liquids, like laundry soap, from making a mess in your bins and at the Recycling Center.
Editor's suggestion: Let the really sticky jars, like peanut butter containers, ride along in the dishwasher before recycling.
2. Milk and juice paper cartons, and those little juice boxes haven't been recyclable in Rockland. Has that changed, or will it soon?
Many years ago, those paper beverage and food cartons were accepted, but markets were scarce and there weren't as many in the recycling stream. Now that more manufacturers are using them, markets are growing and there is a greater incentive for recyclers.
There are two types of paper cartons that can now go into your recycling bin with your mixed containers: gable top (pointed top) used for milk and juice, and aseptic packaging (usually a rectangular carton) used for many products, such as soup, nut milks, and beans.
3. Should clothes hangers, metal and plastic ever go into the recycling?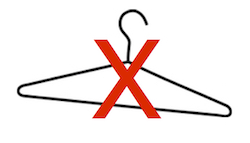 No. Both plastic and metal hangers are not acceptable at the Recycling Center. Wire hangers can get caught in sorting equipment. Many retailers, including dry cleaners, are willing to take back their hangers for re-use or recycling. Try removing the plastic hangers before checking out at the store.
4. I know that Rockland takes #1 – #7 of plastic containers and packaging. What if I have something that feels pretty substantial but doesn't have a number on it? I just heard that San Francisco recycles all rigid plastic. So should I throw it in anyway?
Putting the wrong items in your recycling bin is just as counterproductive as not recycling everything you can. The general rule of thumb in Rockland County is that plastics with a #1-7 stamped on the bottom are recyclable.
If there is no symbol on it, avoid buying that product the next time around, and be sure not to recycle it. Unacceptable items must be sorted out by hand and then baled and transported to the Transfer Station for delivery to a landfill. All of that sorting and moving of these "rejects" increases processing costs and affects the bottom line.
Please,
DON'T put plastic bags into the recycling containers!
These and many other film plastics can be brought back to select retailers for recycling. New York State
passed a law in 2009
 requiring large retailers who provide single-use plastic bags (like supermarkets and big-box stores) to provide a collection bin for customers to recycle them. Find out all of the many types of plastics that can be brought back to the store for recycling at
www.plasticfilmrecycling.org
.
5. What do those numbers 1-7 mean anyway, and should I care?
The numbers originated as a way to identify the type of resin a plastic container is made of. It was intended for those in the recycling industry, but later became a way for communities to help residents know what to place in their bins.
The plastics industry has been growing tremendously, with hundreds of types of plastics on the market. A new system has been in the works for years, but it's been challenging to make it accommodate all parties involved. Rockland will be moving to a more picture-based system to help residents identify items more easily.
6. Does Rockland County take styrofoam yet, or will it any time soon?
The answer is no. It's too light, and not cost effective for us to recycle.
Styrofoam is actually a trademark name for a type of material created by Dow Chemical used for building insulation. The material in takeout food containers, or those light-weight cups and plates, is actually expanded polystyrene foam.
7. Pizza boxes. Sometimes they're pretty greasy and sometimes not so much. Can they go into paper recycling?
If the box is soaked with grease and cheese, then toss all or part of it in the trash. Minimal amounts of contamination are acceptable. Just remember to remove any other items such as the paper insert or plastic support.
Protect our drinking water!
Medications should NEVER be discarded in the trash, flushed down the toilet or poured down the drain.
Unused prescription meds can be brought to the Pomona facility, but controlled substances (like narcotic pain medication), should be brought to the Rockland County Sheriff's office, 55 New Hempstead Road in New City, or to the Orangetown Police Department, 26 Orangeburg Road in Orangeburg, 24 hours a day. OPD will also take any other unused medication.
8. What do I do with paper from my shredder?
Put it into a brown paper bag and recycle it with your paper, in the blue recycling bin. (Green is for mixed glass, plastic and metal containers.)
Editor's note: Many people swear by shredded paper as an excellent "brown" for the compost pile. Ditto for the greasy parts of those pizza boxes, torn into small pieces.
9. What about containers made of more than one material, like a tennis ball can, made of both plastic and metal?
Typically, packaging made with more than one type of material is not recyclable. Since each type of material is sent to a different remanufacturing plant, the components would need to be separated first in order to recycle them.
10. It's starting to sink in that batteries and fluorescent lightbulbs have to go to the Household Hazardous Waste collection facility in Pomona. Is there anything that we might not realize is HHW that should be going there?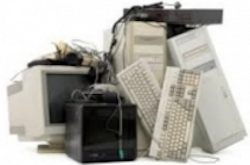 Plenty. We have a HHW brochure on our website for you to print or refer to. It also includes the days and hours of the HHW collection facility in Pomona.
Unwanted electronics (e-waste) is North America's fastest growing waste stream. You can bring your e-waste to the facility in Pomona, Monday through Friday, 8a-1p and one weekend day each month; or to eWorks at ARC of Rockland on Tuesday and Thursday from 1p-3p at 25 Hemlock Dr. in Congers, NY (845-450-5900). Check with your municipality for special local e-waste collection days as well.
A 2010 New York State electronics "product stewardship" law  mandates that manufacturers provide convenient e-waste recycling. Check your product at this NYS DEC web page.
Editor's note: Nearby big box stores like Home Depot, Lowe's, Target and Best Buy provide recycling containers that take fluorescent lightbulbs, batteries and some other types of HHW.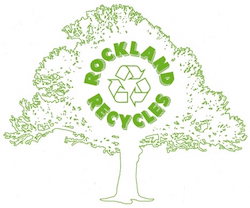 Got more recycling questions? There's an app for that. Recycle Coach, tailored your locality, can be had for iphone/ipad  or android devices , or you can use it on the Rockland Recycles website. It also shows recycling pickup dates, including holiday or weather-related variations.
You can follow RCWMA on Twitter for information and green inspiration.
Learn more
Set up a presentation or an educational tour of Rockland's Materials Recovery Facility for your class or group. Contact Jennifer Sheridan, Assistant Educator at 845-753-2200 x34.
Consult the handy RCWMA recycling guide.
Read Ten Ways to Tame Your Trash.
Sustainable Saturdays, a weekly feature that focuses on conservation, sustainability, recycling and healthy living, is sponsored by Green Meadow Waldorf School, Maria Luisa Boutique and Strawtown Studio.