When it's time to leave the house, does your kid dawdle, resist, and roll out even more stalling techniques than at bedtime? Has that short trip from the front door to the car become an epic journey? Well, just know that you're not alone. Our three-year-old actually loves being out in the world; he happily doles out hellos and high fives all around town. But convincing him to part from his toys and physically place himself in the car? This can take anywhere from forever to infinity.
In order to not become an unintentional recluse, I have tried several techniques.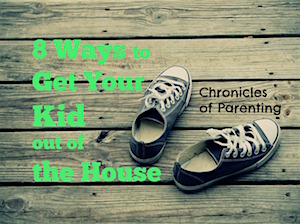 Some of these have worked, many haven't, and a few are purely for my own entertainment. But, hey, give them a try.
Make the classic threat: Open the front door and call out, I'm leaving! I'm going without you! For many parents, this method is fool proof. It worked for us a few times, too, until our son's response was to keep playing and call out, Okay! Bye! Now it only works if we add another factor into the mix i.e. I'm leaving! I'm going to go get ICE CREAM without you! This is guaranteed to speed up the exit, but then slows you down again, since now you have to add an ice cream stop into your plan.
Pretend there's an emergency: FIRE! There's a fire! Clear the building! This will definitely energize your child, albeit not necessarily to leave. Instead, he will probably frantically look for his fireman's hat, his toy fire truck, and start running in circles yelling Wheeeooo Wheeeooo, all geared up for the rescue. If you flip the script and exclaim that, Actually, the car is on fire! you may have better luck.
Provide time warnings: We're leaving in five minutes! We're leaving in two minutes! You can set a timer and also, as many recommend, empower your child by having them help you set the timer. Though this does help the child understand what's going on, it also creates the opportunity for negotiation. Scientific studies (performed on my child, by me) have shown that kids always want 17 more minutes. Your best bet is to start warning them a whole 24 hours in advance. Of course, they'll probably still try to bargain for more time.
Streamline your process: Basically, skip all tasks that formerly seemed necessary before leaving the house. Yes! You can go out to the car in bare feet even though the sidewalk is burning hot or covered in ice! Yes! You can skip that visit to the potty even though you might have an accident and I'll have to spend the afternoon scrubbing the car seat! Just. Get. In. The. Car.
Harness the power of physical comedy: Even though your blood is boiling, you're on your last nerve, and you're already 14 minutes late for that appointment, dig deep for your happy sing-song voice and say, I'm going to skip to the car followed by some high kicks! How are you going to get there? In honor of your self-preservation, I recommend that you don't sign yourself up to do somersaults or cartwheels as a mode of transport. (Unless of course, you're physically up for that.)
Suggest the Buddy System Who are you going to bring? I think Winnie the Pooh would like a ride in the car today…Note that, because your child will likely not carry his buddy back inside the house at the end of the trip, your car will quickly become an overcrowded bus.
Edible bribery: I'll give you a new delicious treat in the car! You have to get in the seat to check it out! This can be effective but does set up expectations you may not want to have to uphold and escalate for the next ten years. If you're not careful with this one, by the time your kid is 12, you'll be dangling car full buffets and the contents of entire candy stores.
Propose a Race: Let's see who can get to the car first! If you have a competitive kid, this could do the trick. Just make sure you get a head start and you have your phone, keys, and that you snack I previously promised all ready to go. If your child gets out there too long before you, he might make his way back into the house, and then, of course, you're right back where you started.
Like I said, I have had a little luck with some combination of all of the above, though occasionally none of them work at all. Sometimes I just throw in the towel, put my bag back on the kitchen table, and pour my 16th cup of coffee.
Freelance writer and author Jocelyn Jane Cox reports on the Great State of Parenthood with advice you never knew you needed and the chuckles you know you really need every other week in the Chronicles of Parenting. Her 2012 humor book on life in the New York suburbs, The Homeowner's Guide to Greatness: How to handle natural disasters, design dilemmas and various infestations, is available on Amazon.com. Follow her on Twitter at @JocelynJaneCox.
The Chronicles of Parenting
is sponsored by The Palisades Center, your one-stop-shop for summer fun. See the complete schedule of events at
PalisadesCenter.com
.
Save