by Andy Stewart
I have made a decision not to seek re-election for a fourth term as
Orangetown Supervisor
next year, and will leave office at the expiration of my current term on December 31, 2017.
Over the final 17 months of my term, I will continue working every day on the pressing issues facing Orangetown–from the town budget to energy efficiency, from updating the town code and protecting our quality of life to the daily work of administration and helping residents. I'm particularly excited about redevelopment plans for RPC, our progress on
green infrastructure
and initiating a capital planning process that I hope will ultimately result in a new town hall.
Why I'm not running
Having won three elections, my decision to move on from local politics may surprise, and perhaps disappoint, some people. However, I believe six years in office is time enough to serve well and accomplish many goals without becoming politically entrenched, and to leave while I am still very excited about the work I do everyday. I never promised, and have never sought, a career in politics and I'm very excited to find new ways to serve my community and country in the years to come.
I am making this public announcement now, over a year before the next election, to allow the democratic process ample time to find, recruit, and elect an outstanding successor who can continue our important work in town hall.
What we've accomplished
Over the past four and a half years, we have worked so hard together, and accomplished so much on behalf of taxpayers, the environment, and the quality of life in our town, even in a time of austerity. We've involved the public in new ways, putting town meetings on TV and YouTube, leading tours of the sewer plant and green infrastructure projects, and working hard to provide information, guidance and leadership on controversial land use issues like Anellotech and Hillside.
We ramped up the grantwriting program and funded, in addition to sidewalks, a new bridge, a new bike path and extensive sewer improvements.  We also built the biggest and most innovative stormwater treatment facility in the region, a project that will reduce pollution and flooding in the Sparkill Creek while beautifying a derelict piece of land in Tappan.
We fought like heck to bring fiscal rationality to the town's golf program, resulting in contracts with Applied Golf that have reduced expenses and increased revenues dramatically. We are now paying back the golf debt to the general fund. For this and other reasons, our budgets have been under the NYS Tax Cap while providing critical funding for roads, sewers, police, parks and other community necessities.
We have much to be proud of, truly!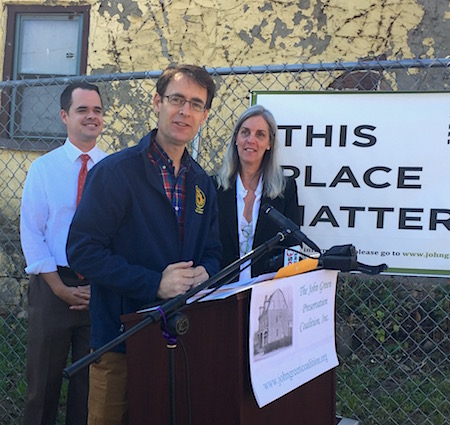 Thanks, Orangetown!
Serving as Town Supervisor has been an immense honor and privilege, second only to the rewards of living with my amazing wife Rachel and seeing our kids Jonah and Talia grow up. I am so grateful for the support and guidance of the many people who have joined my campaigns and nurtured my work. You are amazing! Your love of Orangetown, our diverse neighborhoods and beautiful landscapes, our rich history and future full of opportunities, has taught me to better appreciate where I live and the people around me. Your generosity with your time, your ideas, and your money, and ultimately your trust in me as a community leader, have meant the world to me. Together we have accomplished a lot for our community and will continue to do great things for the next year and a half and to continue laying a strong foundation for future Orangetown leaders! Thank you, thank you, thank you!
There are far too many people to thank — and I hope you already know who you are. I thank our Democratic Committee leadership and members, from Kristen Stavisky to Toni Fallon, Suzanne Barclay and others; my fellow running mates for village, town, county and state offices during three campaigns; and my predecessor in office, Thom Kleiner, who has served as a mentor throughout this process.
I thank our town department heads and all of the dedicated town employees with whom I work so closely, and who make every effort to take care of our town residents. I have learned so much from you, and it is an honor to serve with you.
A special word of thanks to two people: Allan Ryff and Elijah Reichlin-Melnick. I met Allan on the campaign trail in 2011 when I was campaigning as a Democrat for Supervisor and he, a former Republican Committee Chairman and Councilman, was running in a Republican primary against Supervisor Paul Whalen. We bonded while passing out campaign flyers in front of Hogan's Diner and we've been working together ever since. When I took office in 2012, Allan volunteered as Deputy Supervisor, coordinated the Labor Management Committee, and since then has guided me so generously with advice and constructive criticism on a daily basis. His deep and passionate commitment to Orangetown is a testament to his character and to this town. In 2011, Elijah Reichlin-Melnick was my running mate, a candidate for Town Council, who became a friend and confidante, and later the campaign manager for my 2013 and 2015 campaigns and my executive assistant. Without Elijah's help, I would never have been able to serve the community in the way I have. Without Elijah and Allan in my life, I might never have really learned the value of good advice. Thank you!
Finally, and most importantly, thank you to the voters of Orangetown for choosing me as your Supervisor for these three terms! I look forward to making the next 17 months productive ones for the people of our wonderful town.