Can A Golf Course Be A Sustainable Space?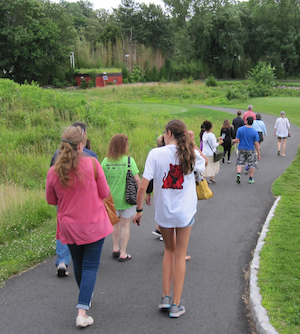 by Susan Hellauer
If you think "Keep Rockland Beautiful" means picking up candy wrappers and planting rosebushes, you're way behind their bright green curve.
The "Keep America Beautiful" affiliate, formed in 1997 by the Rockland County Beautification Commission, has been steadily pushing their mission toward environmental education in school programs, annual cleanups, and community events like this year's Rockland Underground Tours.
The first of these, last Monday afternoon in Sparkill, offered insider access to Rockland Country Club's very green golf course, for a close look at its wildflower meadows and wildlife habitats.
Toward a sustainable golf course
"The myth that all golf courses are pesticide-ridden water hogs couldn't be further from the truth," declares groundskeeper Matt Ceplo to his KRB tour guests, a leaf-packed jar of spectacular butterfly caterpillars in each hand. Several environmental awards back him up as well, including the club's prestigious 2001 certification by Audubon International, and a New York Environmental Leader designation – one of only four for golf courses.
But how did the groundskeeper go from talented young golfer to conservation crusader?
Sustainable Saturday, a weekly feature that focuses on conservation, sustainability, recycling and healthy living, is sponsored by Green Meadow Waldorf School, Maria Luisa Boutique and Strawtown Studio.
Raised on his family's golf course in rural Afton, north of Binghamton, NY, Matt Ceplo was devoted to the sport, and fascinated by groundskeeping from as early as he can remember.
After graduating from the SUNY Delhi's horticulture and turf program, he floated south, from Kutchers Country Club in the Catskills, through posts in New Jersey and Westchester, before landing as head groundskeeper, in 1995, at Rockland Country Club.
A green light for conservation
A few years into his tenure there, Ceplo attended a conference at Westchester Country Club — one of the first golf courses to be Audubon certified — on their native plants and wildlife habitats. He had an immediate "We gotta do this!" reaction, and sought a way to introduce the concept at his club.
Cost savings was his selling point then, and it's still important now. "There are people who love that manicured look, and want an entire course to be pristine and perfect," the groundskeeper says. "But the argument against it is that you'll have to open your pocketbook and pay a lot more."
He got the green light to save money, and to help native birds and butterflies thrive. Now, woods, wildflower meadows and stands of native grasses line the sloping curves of the Rockland course.
Greens, fairways and meadows
Beneath scattered raindrops, the tour group gathered around the groundskeeper to hear about the course and its conservation projects.
Rockland Country Club, founded on a former farm in 1906, now sits on 150 acres of gently rolling land. Just three acres of all that are the "greens"– dense and level, cropped to the height of two or three stacked dimes. These are intensely managed, "spoon fed" fertilizer and preventive pesticides, according to Ceplo. "They have to be in perfect shape every day: it is, after all, a golf course, and these are our bread and butter," he says.
The 24 acres of fairway are a little less intensely looked after. But the environmental gold is in the 10-15 acres of woods, and 30 acres of managed wildflower meadows. The group stops to admire one of these — a "wildlife corridor" to the woods — that buzzes, chirps and vibrates with life in the evening drizzle.
A Monarch Waystation
"Monarchs and other butterflies are losing their habitat in large part because of non-native invasive plant species that are pushing out the plants — like milkweed — that they evolved with and need," Matt Ceplo tells his KRB audience.
Along with efforts to restore and protect varieties of milkweed, standing tall all over the property, Rockland Country Club is now an official Monarch Waystation in a program run by the University of Kansas. Each year, a group of Girl Scouts comes to tag Monarchs with stickers that allow them to be tracked as they migrate all the way to Mexico.
Ceplo frequently posts photos to a butterfly association website, and is disappointed that he's never seen a post from another golf course. "We need to work on this as an industry. We should be opening up our courses to butterfly and bird watchers," he says.
Rara avis: Bluebirds and purple martins
"My effort in habitat building started with birds — bluebirds in particular," says Ceplo.  "So I started thinking 'How can I encourage bluebirds?' Well, they eat insects, so how can I encourage insects, and that got us into the native plant cultivation."
He taps gently on one of his bluebird nestboxes, and our official state bird — known to most New Yorkers only from pictures — darts to the safety of a nearby branch, watching while the groundskeeper opens the door and counts four blue eggs in her tidy nest.
Around the bend sits a miniature apartment complex on high poles, built in 2006 for purple martins — insect-devouring birds that, for some time-buried reason, will only live in man-made structures. They finally moved in five years ago, the first documented Rockland County sighting in at least 80 years.
Sustainable water
Unlike other nearby golf courses, which can pay up to $70,000 a year for potable "city water," Rockland Country Club irrigates from its own underground-spring- and rain-fed pond, at a small fraction of the cost.
A fountain, specialized fish, and a soundwave system control algae without chemicals. Tall vegetation around the pond's edge filters the water of contaminants, and a computerized pump house with a living "green roof" minimizes water use.
Ceplo's environmental and water activism extends well beyond his golf course. He's also a member of the Sparkill Watershed Creek Alliance, and does tributary testing for the Hudson River watchdog group Riverkeeper.
The main challenge: invasive weeds
Rockland
Underground Tours
July 9: Orangetown Green Infrastructure. Join Andy Stewart, Orangetown Town Supervisor (and KRB's former Executive Director!), as we look closely at sustainable building principles at work.
Sept. 18: Skyview Acres, Pomona. A 70-year-old intentional community based on principles of racial equality, environmentalism and communal living.
Oct. 15: Harmony Hall & Historic Sloatsburg. The magnificent Greek revival mansion of inventor Jacob Sloat; the Ramapo River; historic cemetery and other highlights.
All tours are Saturdays from 10a-12p. Reserve your spot now at KeepRocklandBeautiful.org.
"Our biggest problem has been invasive weeds, which have been wiping out the native plants for all my time here," says the groundskeeper. "We try cutting them down before they go to seed, and sometimes must use a little herbicide in spots — but control is difficult. Our aim is to encourage the native plants to stand up to the nonnative invaders."
The tour comes to an end under a steady rain, the guests all admiring what's been accomplished here. "It's a trend — this is the way it's all starting to go," Ceplo tells them.
A hand for Mother Nature
The next day, in a phone conversation, Matt Ceplo looked back at his long green journey: "Today, we have a lot of support from our members, the board of governors and the president, encouraging and endorsing these projects. They deserve a lot of the credit," he says. "And my great staff of guys do the work, and make it possible for me to do all this."
A recent survey about club members' perceptions of these native plant and wildlife areas revealed that, even though they're losing some golf balls in the joe pye weed and panicum grass, they're still on board.
I used to think, 20 years ago, that if you wanted Rockland Country Club to be the best environmental place it could be, you'd just put a fence around it, keep everyone out, and let nature take its course. But the problem is that all the non-native invasive weeds would come in and take over, and provide no food for the littlest creatures, and right on up the food chain.  Now I think that the best thing to do is to incorporate native plants and manage them as close to nature as we can. We've screwed it all up so much that now nature needs our help. — Rockland Country Club Groundskeeper Matt Ceplo

See also:
Sustainable Saturday is sponsored by Green Meadow Waldorf School, Maria Luisa Boutique and Strawtown Studio.