by Susan Hellauer
We will not be sliding down Main Street if there is a Stage III Water Emergency.
                                         Nyack Mayor Jen Laird White
The 1,000-foot Slide the City slip 'n' slide coming to Nyack on August 27th, and many more ordinary water uses, are in jeopardy.
On July 21, Rockland County Executive Ed Day announced a Stage II Water emergency, and the immediate implementation of a long list of mainly-outdoor water use restrictions.  A deepening drought and outdoor water use is causing water levels in the western-Rockland Ramapo Valley Well Fields to fall dangerously low, making it urgent that all county residents cut water consumption drastically, immediately, or face greater restrictions.
A week of hot steamy days later, the water-use needle had barely budged.
Can we cut consumption and beat this water shortage now? And can we learn to live sustainably with our most precious resource from now on?
The 2016 Northeast Drought
According to the weekly U.S. Drought Monitor, Rockland County and many other parts of NY State have been abnormally dry since April, with much lower than average precipitation since the beginning of the "water year" last October. In mid June, the USDM downgraded Rockland to a "moderate drought" status. And on July 15, the New York State Department of Environmental Conservation (NYS DEC) put the entire state under a drought watch for the first time since 2002.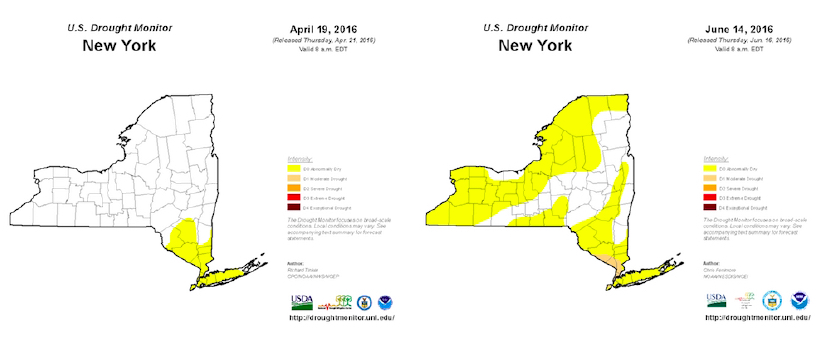 Almost the entire Northeast region is affected by this drought. Western New York and parts of Massachusetts have been hit particularly hard, with likely crop losses and severe water restrictions.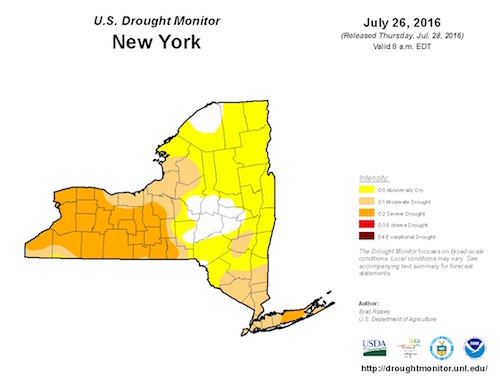 A few drizzly days won't make a dent. "The current drought conditions are expected to persist through summer and into fall," according to Jessica Spaccio, climatologist with the Northeast Regional Climate Center at Cornell University.
Global climate and human demand
This year's El Niño, the ocean warming that takes place off the west coast of South America every few years, is now wreaking drought havoc in southern Africa. It also contributed to the mild winter we had in the Northeast. "The lack of winter precipitation and lack of spring snow melt left the Northeast more vulnerable to summer drought," said  Spaccio, who also stated that climate change could make droughts more frequent.
Changing need also plays a role in water shortages. "Droughts are primarily driven by a lack of rain, but the total amount of property development has an impact on their severity," according to Rockland Water Task Force Conservation Committee Chair Margie Turrin. "The same amount of water that can effectively manage population 'X' cannot necessarily comfortably provide for a population that is 10% or more larger, especially a population that is not used to thinking of water as a resource to be used sustainably," she said.
The reservoir is only part of the story
SUEZ NY (formerly United Water) noted the failure to reduce water demand this week and, along with the Rockland County Department of Health,  pleaded with its 300,000 customers, and all Rockland residents, to obey the Stage II water restrictions in order to prevent the Ramapo Valley Well Fields, which provide SUEZ NY with up to 20% of their supply, from being shut down.
Their plea raised the question: Why can't SUEZ just make up any shortfall from the Lake DeForest reservoir, now at 85% capacity?
Lake DeForest feeds the Hackensack River, which provides raw water to downstream municipalities, like the Nyack Water Department, so the amount that SUEZ can draw from it is limited. There are no walls in this web of water, so customers of other providers, like Nyack Water, Suffern Water, or those who have private wells, must also conserve.
But Flash! Bang! It's pouring!
It may seem like a year's worth of rain is falling all at once, and summer thunderstorms obviously help droughts, but, according to climatologist Jessica Spaccio, a steady rain is preferable to a deluge. Why? In a thunderstorm "too much at once is lost to runoff rather than absorbed by the ground. It will likely take several inches of gradual rain to bring soil conditions and stream flows back to normal," she said.
Storm runoff  over drought-hardened soil causes flooding, or rushes off into storm drains where it infiltrates and overwhelms the sanitary sewer system, pouring pollution into already-stressed waterways.
Green infrastructure
can help mitigate stormwater problems caused by more frequent droughts.
It's low-tech but it matters: Don't put water down the drain at home during a heavy rainstorm.

Almost as simple: a

rain barrel

to collect storm water for your plants and veggies.

Trees, mulch, rain gardens, and pervious pavement help hold back storm water, recharge the groundwater system, and prevent downpour-related pollution.

And replacing lawn areas with native plant gardens will help retain stormwater all the time, and especially in a drought.
High-tech aquifer help 
Rockland County's
Advanced Wastewater Treatment Plant (AWTP)
in Hillburn
came online six years ago to replace aging, leaking septic systems in the western-Rockland watershed area. The AWTP produces effluent of "near drinking water quality,"
—a level of water treatment also mandated for sewer systems near New York City's upstate reservoirs, and in many environmentally sensitive areas in the U.S. and abroad,
according to Sewer District #1's Executive Director Dianne Philipps, P.E.
To address dropping water levels, in June the AWTP began in using a discharge point above the Ramapo Valley Well Fields to help recharge the groundwater system, where the highly-treated effluent  is further purified by the aquifer.
Water restrictions – what's next?
What would it take to rescind the Stage II Water Restrictions? "It would require sufficient rainfall to replenish the storage in Potake Pond [in Sloatsburg, on the NY/NJ border] and/or increase sustained natural flow in the Ramapo River," according to Rockland County Department of Health's Water Supply Manager, Dr. Daniel Miller.
If water use isn't reduced, and that pond, available to SUEZ NY for supply augmentation, drops below a predetermined level, the Commissioner of Health could consider declaring Stage III water restrictions "to preserve sufficient water for domestic use and fire protection," said Miller. Stage III puts lawn watering off limits, and imposes additional restrictions that would also nix the August 27 Slide the City event.
A deeper drought and lack of conservation compliance could drive the county to more stringent Stage IV and V restrictions, all detailed in
Article V of the Rockland Sanitary Code.
Making sustainable water choices
Are Rockland residents aware of the water restrictions and complying? So far this week, the water-use figures say no. Those I spoke to at Thursday's Nyack Farmer's Market, though, claimed to be the exceptions. Shopper Rachel Bobrow of Stony Point is doing what any busy mom of three boys would do: "We're letting the garden die, and taking fewer baths and more swims in the lake," she said.
State Sen. David Carlucci, after boosting a Farmers' Market coupon program for seniors, reeled off his own household's list of water-saving tips: running only a full dishwasher, flow-restricting shower heads, and more. "It all adds up," he said, "and we all have to be more conscious."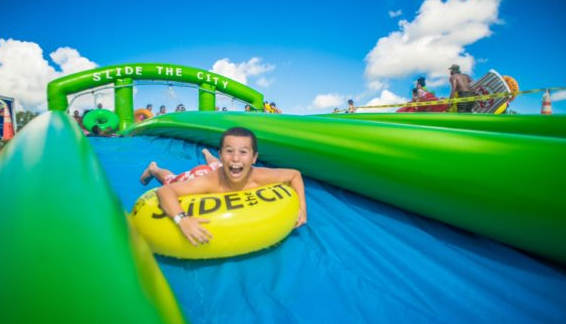 Drought or no drought, "it's considered climate smart to do conserve water all the time because treating water is energy intensive," according to Nyack Sustainability Coordinator Marcy Denker, noting that the Nyack Water Department plant is the municipality's biggest energy user by far.
Making sustainable choices is getting easier because, in many ways, the future is already here: water-efficient appliances, Water Sense plumbing fixtures, and rain barrels are readily available.  Marcy Denker, though, is looking forward to the day when cisterns and greywater systems that reuse bath, sink and washing machine water will be the norm for lawn and garden irrigation. Even a bucket in the shower or a bowl in the kitchen sink could provide enough greywater to nurse a garden through a drought.
Long-term sustainable use of drinking water can start right now, while quenching this water shortage. Nyack Mayor Jen White is ready to lead the charge: "I urge everyone to work hard to keep water use to a minimum," she says. "It's within our power to make a difference with small changes to our water use habits." And if you're willing to sacrifice a summer of green lawn for Slide the City—and a more sustainable future—you already get it.
Learn more:
NY State drought maps: The U.S. Drought Monitor is jointly produced by the National Drought Mitigation Center at the University of Nebraska-Lincoln, the United States Department of Agriculture, and the National Oceanic and Atmospheric Administration. Map courtesy of NDMC-UNL.
Featured image: NYS DEC Water Week Winning Poster – Hector's Pig
Sustainable Saturdays, a weekly feature that focuses on conservation, sustainability, recycling and healthy living, is sponsored by Green Meadow Waldorf School, Maria Luisa Boutique and Strawtown Studio.