The Fourth of July
is a holiday borne from America's paramount moment: the 2nd Continental Congress writing the almighty British Empire to say, in essence, "Deuces!" It was July 2nd when the initial vote to leave took place. Initially, that was the day that John Adams predicted would be immortalized. Though Adams was a bit more eager to shotgun the
Budweisers
Americas
than his fellow countrymen, in most other ways he would prove extremely prescient. The following is an excerpt from a letter he wrote to his wife, Abigail, on the 3rd of July, 1776:
The second day of July, 1776, will be the most memorable epoch in the history of America. I am apt to believe that it will be celebrated by succeeding generations as the great anniversary festival. It ought to be commemorated as the day of deliverance, by solemn acts of devotion to God Almighty. It ought to be solemnized with pomp and parade, with shows, games, sports, guns, bells, bonfires, and illuminations, from one end of this continent to the other, from this time forward forever more.
The paradox of the Fourth of July, and most other holidays — and this isn't a particularly profound observation, mind you — is that we ritualize through repetition celebration of history's most dramatic moments. Plug in a few new variables and the Fourth of July, for good and for ill, is the same every year.
Here's the formula: U (important Friday evening political news drop) + S (NBA Free Agency announcement) + OF (Nathan's Hot Dog Eating Champ = Joey Chestnut – minus field) + A (DIY Fireworks accident) = United States OF America
And here's how it all went down in 2016:
(U) Friday News Drop: Empire State Development Releases Start-Up NY Jobs Report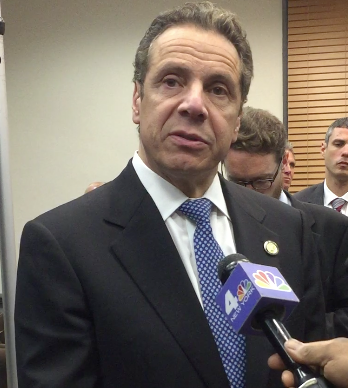 When: 4:30p, Friday
Where: Albany, NY
Who: Empire State Development and Start-Up NY
What: Start-Up NY is a program that incentivizes startups to operate in certain zones of New York, such as a SUNY campus, by offering a tax-free (state and local) first ten years of business. The program, which Governor Andrew Cuomo's administration pioneered in 2013, was highly touted upon its conception. A study of its effectiveness, though, was released Friday evening by Empire State Development, and was underwhelming: The program created 408 jobs in its first two years — 76 in 2014, 332 in 2015. Though the program cost the state $50 million dollars in advertising spending, and more in lost taxes, the results are by no means disastrous. Start-Up NY is creating more state jobs and it is getting better at creating jobs by the year. However, the timing of the report, which was due three months ago, is suspect. If the state was happy about the numbers, as they claim to be, they should have released the report… well, any time but 4:30p on the Friday of July 4th weekend.
Why: Head of Start-Up NY, Leslie Whatley explained the timing of the report's release, citing three reasons:
Processing
"We're dealing with a lot of companies that came into the program this year as well as the very end of last year. It was new for them, all the data that they had to report. We did everything we could to make it user-friendly; we automated the report, we did roundtables across the state to try and teach them how to fill it in. We did webinars. Yet, still a lot of the data that we got was either late or it was inaccurate. We had to make sure that the numbers that they gave us answered the questions but also tied with the data that they're going to have to provide to the Department of Labor and the Department of Taxation to get their tax benefits. A lot of that was manual, even though they had to fill in an automated form."
Wanting the report to be transparent and macro
"We decided that even though statutorily, we're required to be transparent with Start-Up NY, it made sense to give a report that shows everything that goes on with Empire State Development (the state's economic-development branch) and all the different programs, because they're all connected and a lot of them get into the different programs when they come to Start-Up. So that took time to gather those numbers and make a more macro report than micro report."
'Next week is my last week'
"My last week is next week and we were urging to get it out so that I would have the opportunity to talk to folks like yourself to answer your questions. I am proud of this program, I'm proud of what we accomplished. It's got a lot of potential in its future. It's totally got the buy-in of the higher-education system in this state. The report suggests that we're in the right direction. The numbers that are in there follow the trajectory of the business applications we've received."
Verdict: Seems like a dump.
(S) Kevin Durant Joins the Golden State Warriors
NBA free agency, which has become a drama as exciting as the games themselves for some fans, begins on July 1st each year, meaning that the first few days of July always involve rumors, deals, and, yes, sometimes trips to the Hamptons. The league's teams, in essence, are made over in those first few days of the month. And this year, the biggest splash — explosion, if you must — came on the Fourth.
Kevin Durant, one of the top five players in the NBA, a 27-year old former MVP whose deft shooting and creative off-the-dribble shot creation seem incompatible with his lanky 6'10" body, announced on Monday that he is signing with the Golden State Warriors, the team that this past season set the NBA regular season record for wins (73) and came one game short of winning their second of back-to-back titles. (They also beat Durant's former team, the Oklahoma City Thunder, in the Western Conference Finals.) If there was one reason this fourth was different than most, it was KD's announcement, the impact of which will likely be of greater magnitude than any previous July 4th signing.
(OF) Joey Chestnut Is Hot Dog Eating Champ Again
70. Seventy frickin' hot dogs in 10 minutes. 
The way mankind pushes the limits of what is possible never ceases to amaze.
(A) Clarkstown Fireworks Injury Report
A message from the Clarkstown Police Department:
As we close out the July 4th Weekend of 2016 we regret having to report a serious injury that occurred in our jurisdiction caused by a professional grade fireworks. On July 4, 2016 at approximately 9:30 PM the Clarkstown Police Department responded to the area of Hall Ave in New City for a report of a man injured by fireworks. Responding patrol units observed a 38 year old New City man with severe injuries to his arms and face. It appeared that the man was setting of fireworks when one of them malfunctioned and exploded in front of the man. Rockland Paramedics and New City Volunteer Ambulance responded to the scene and, due to the extent of the injury, transported the injured man to Westchester Medical Center.
The Clarkstown Police Department would like to remind everyone that fireworks are dangerous and should only be used by professionals. Eleven people died in 2015 using fireworks and an estimated 11,900 people were taken to the hospital with fireworks-related injuries. About 67 percent of those injuries occurred in the 30 days before and after July Fourth celebrations, a sobering reminder as we look back on this past weekend. Although a new law has made it legal to purchase sparkler devices, we want to stress that any device that goes in the air or has explosives in it are still illegal and very dangerous.
Until next year, USA! USA! USA!
https://www.instagram.com/p/BHdkfWVDxrG/?taken-at=52785