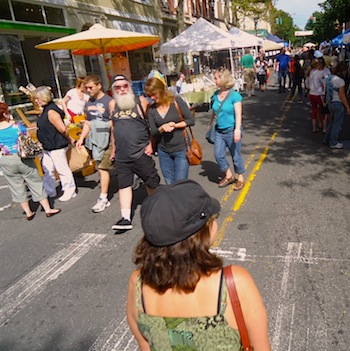 If strolling streets chocked with friendly vendors and a few thousand fellow shoppers appeals to you, come to the Nyack Street Fair on Sunday July 10. Partly sunny skies are predicted with perfect street fair temps in the low 80's.. Hours are 10a-5p.
Dogs are not allowed at Nyack's Street Fairs.
Up to 25,000 people are attracted to the Nyack street fairs, when Main Street and Broadway are closed to traffic, making it a pedestrian paradise. Stroll throughout the village's downtown and street fair booths.
Been Too Long At The Fair?
Mix, match and collage away from 1-3p at the Scribble Art Workshop at the Hopper House. This drop-in family program is a fun way to beat the heat and a creative outlet for all ages. $7 material fee ($5 for members). 82 N Broadway, Nyack
The Rockland County Concert Band, a symphonic band made up of musicians from the Rockland area, performs from 7:30 – 9p at Hamlets Clubhouse, 1 Kingsgate Parkway, Nanuet.
Grab a lawn chair and watch The Man Who Fell to Earth under the stars. Rivertown Film Society and the Edward Hopper House present this David Bowie tribute. 8p at Edward Hopper House, 82 N Broadway, Nyack.
Find our what to do and where to do it each weekend in the Nyack Weekender, baked fresh each Friday morning and delivered for free to your inbox. Visit our online sign-up sheet to subscribe.
Nyack's street fairs are known far and wide for their combination of merchandise for all tastes and pocketbooks, arts, crafts, food, entertainment and special goings-on, all within the context of the wonderful Village of Nyack, with its own attractions of great shops and restaurants in a charming Victorian setting.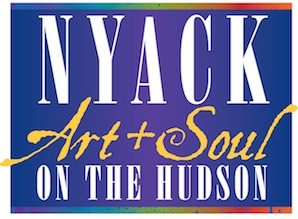 See also: