by Susan Hellauer
Water conducted through earthen pipes is more wholesome than that through lead . . .This may be verified by observing the workers in lead, who are of a pallid colour; for in casting lead, the fumes from it fixing on the different members, and daily burning them, destroy the vigour of the blood; water should therefore on no account be conducted in leaden pipes if we are desirous that it should be wholesome. — Vitruvius, De architectura, c. 15 B.C.E. 
The pressure is on
Lead poisoning damages the brain and every other system in the human body. It's especially toxic to children and pregnant women. Toddlers' ingesting it with peeling lead paint (banned in 1978) is the most common route, but it can also enter the body through contaminated water.
From Flint, Michigan to Rockland County,  testing  has revealed elevated school fountain and faucet lead levels — nearby in Newark, Suffolk County, Yonkers, and now the Clarkstown School District.
On Friday, May 20, Nyack Schools sent a message to all district parents and guardians, stating that testing would be taking place during the week of May 23 under the auspices of the Rockland BOCES Health and Safety Department, and that the results would be shared with parents and guardians "upon receipt."
The fall and rise of lead
By the mid 1800s, doctors and public health officials in the U.S. were warning against the use of lead drinking water pipes; by the late 1800s, the dangers of this powerful neurotoxin (both in paint and in plumbing) were well known.
Lead's advantages for plumbing (French plomb = lead) were also obvious: it's much more durable than cast iron for water service, and is malleable and easily bent around obstacles — especially important in an urban setting.
Advances in medical testing made lead's hazards clear to all by the 1920s, and lead in potable water applications, at least, was on its way to being banned. But then something happened — as it did with big tobacco and asbestos.
Corporate profits took precedence over known risks to human health.
Richard Rabin, in his landmark 2008 article "A Modest Proposal," recounts this story of lead's fall from grace, and its resurrection, engineered by the Lead Industries Association [LIA], founded in 1928 to push back against the bad press.
The LIA went on, into the 1970s, to assist in defense of lead-poisoning lawsuits, to cultivate and "educate" plumbers' groups and, above all, to lobby governments — not only to prevent a ban on lead plumbing, but to promote its use:
It must be remembered that adoption of laws . . .  is slow work, but once adopted, make a relatively permanent requirement of lead. In many cities, we have successfully opposed ordinance or regulation revisions which would have reduced or eliminated the use of lead. — Lead Industries Association report; November 28, 1938; New York, NY.
Thanks at least in part to the LIA, there is likely to be lead somewhere in the plumbing of an older Nyack home or building.
Meanwhile, continuing research has caused the lead level considered harmful in the human body to drop through the years, and public health officials have finally declared that there is, after all, no safe level but zero.
Aggressive water?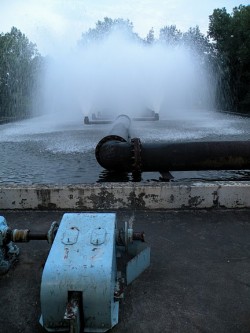 Nyack's treated drinking water (sourced from the Hackensack River) consistently tests negative for lead and, according to Nyack Water Superintendent Harry Williams, "there are no lead pipes in the distribution system that we know of. But water can be aggressive," he says, "and can dissolve lead in plumbing fixtures."
A low (acidic) pH, and certain components, especially chlorides from winter road salting, can make water corrosive, or "aggressive."
Flint's lead crisis was brought about by a sudden change to more aggressive surface (river) water — some studies point to especially heavy road salt use in the area — that reacted with existing home lead plumbing, and leached the toxic heavy metal into tap water.
Living with the enemy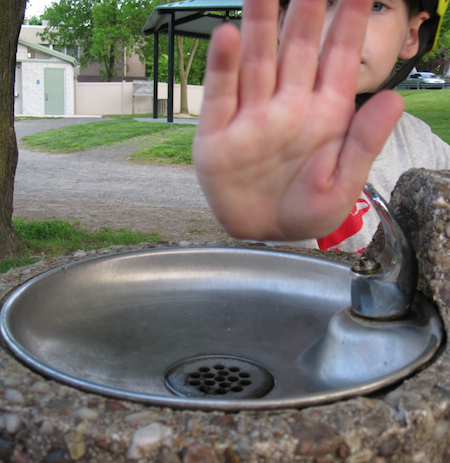 Where does lead lurk in a school, home or playground? "Lead free"-labeled brass plumbing fixtures — like faucets and valves — manufactured before 2014, can actually contain up to 8% lead. And lead pipes, solder and flux were permitted in potable water applications in New York State until 1986 (though some municipalities banned them earlier).
This just in . . .
The Nyack Water Department 2015 Annual Drinking Water Quality Report will be available on Tuesday 5/31, to be mailed to its customers and posted on its website.
Geoff Torrens, owner of the local contracting firm Building Castles (and co-owner of O'D's Tavern) says it's not unusual to find lead pipes in older homes. "About 99% of them had a lead service pipe connected to the municipal water supply. " Torrens says the lead is recognizable by its grey color and easily-scratched surface where the pipe enters your house. Depending on the location and distance to the municipal main, "it could cost as much as $20,000 to replace the service pipe alone," he said.
For those who are concerned about lead, and water quality in general, Torrens recommends a whole-house water filtration system, which would run about $1,000 installed, for the best protection. Less expensive but still effective solutions for your faucets are also available. Or, like Madison, Wisconsin, you and your entire town can rip out and replace every last bit of lead that touches drinking water.
What are they doing about all this?
The Nyack School District has already begun testing, the results of which should be known very shortly. "They're doing what they need to do," says Kevin Looney, a proprietor of Hickory Dickory Dock and father of a first grader, "but there's really no wiggle room in the budget to fix any problems they find."

Nyack's Department of Public Works is now using rock salt and calcium chloride in combination for ice and snow melt, but is actively looking for alternatives, said Nyack Village Administrator Jim Politi.
Orangetown was one of the first New York metro area municipalities to switch from salt to brine in 2004. "We manufacture it ourselves — it saves a huge amount of money," said Highways Superintendent Jim Dean. And it saves the watershed from a huge amount of corrosive chloride.
Nyack Water is scheduled to test 30 homes for lead in June. Superintendent Williams says that the continual monitoring helps them adjust the pH level and other factors in their water year round, keeping it less "aggressive" and less likely to leach lead from home plumbing into the water you drink.
What you can do now
New York State mandates lead testing for children at one, two and three years, but healthcare providers must assess for lead poisoning risk at every well-child visit. If you are concerned about your child's or your own lead exposure for any reason, call your doctor.
Let your school and school district know that you are concerned, and keep on top of their actions with regard to testing and remediation.
When Nyack Water showed a lead violation in 2012, they posted extensive consumer information, especially important for those in older homes and buildings. If you live in one of these houses or apartments, it can't hurt to let water run for 30 seconds to two minutes before drinking or using it to cook in order to clear any accumulated lead. Also, use only cold water for drinking and preparing food or baby formula.
Nyack Water has home lead-test kits available for $20 at the Water Department in Nyack Village Hall, 9 North Broadway. Complete instructions are included with the kit, and tests are sent to the same commercial lab used by the utility. Call them at 845-358-0641 for more information.
Sustainable Saturdays is sponsored by Green Meadow Waldorf School, Maria Luisa Boutique, O'D's Tavern and Strawtown Studio.