by Susan Hellauer

Pratima Rosen grimaces at another unappealing discovery among the bottles, coffee cups, waterlogged diapers, shredded clothing, tangles of fishing line, metal scraps, furniture, congealed mystery globs and, above all, every size and kind of plastic pollution.
Nyack High School's AP Environmental Studies students and teachers picked their way along the rocky bay shore at Haverstraw's Bowline Park last weekend, wielding grabbers and trash bags provided by Keep Rockland Beautiful, working hand-in-rubber-glove with Riverkeeper on the environmental group's fifth annual "Riverkeeper Sweep" of the Hudson shoreline.
The one-day event brought more than 2,000 volunteers from Brooklyn to Troy to remove debris (39 whopping tons of it, and 9 tons of recyclables) as part of Riverkeeper's "Trash Free Hudson"  initiative to reduce plastic pollution and other floatable matter in the estuary.
The NHS enviro-girl-wizards (some on their way to careers in the sciences) were one of seven student groups that partnered with cleanup volunteers to collect data on the exact types and amounts of debris recovered. The new effort – a far more detailed survey than just the amount of trash removed from each site annually – aims to investigate upstream sources of trash and determine how to prevent such pollution from entering the waterways.
"Our volunteers are taking it a step further this year," said Dana Gulley, Riverkeeper Director of Community Engagement. "We want to be able to say with more clarity and certainty what kind of trash we have and where. Then we can develop solutions based on that information."

The student groups received training from the U.S. Environmental Protection Agency's regional
Trash Free Waters Program.
They followed a survey protocol developed by the
Ocean Conservancy
, counting, for example, each bottle cap, cigarette, take-out container and yard of fishing line recovered.
Plastic Pollution — Where You Might Least Expect It
Plastic was everywhere the Saturday sweepers looked, and plastic pollution — most commonly bottles and styrofoam — have dominated the trash collected in previous Sweeps. Reports appear regularly with alarming data about plastic in our waterways, which can harm marine life by attracting and releasing contaminants into the water, and by being ingested by fish.
But it's the plastic pollution you can't see, experts now say, that poses the greatest danger.
In an April 2016 report to British Members of Parliament, the international nonprofit Plastic Oceans Foundation paints a desperate picture of the ravages — current and future — of microplastics on the world's oceans and the life they sustain.
They point to three main sources:

microbeads from personal care products (outlawed in the U.S. as of July 1, 2017);

fibers from domestic washing and textile manufacture released to the environment in sewage outfalls; and

fragments arising from the breakup of larger plastic materials – litter, marine ropes/nets, tires.
Microplastics are now found in all sorts of marine animals, the report goes on, and is especially worrying in creatures eaten whole like oysters, mussels and clams, or "crab, [where] the plastic material migrates into the flesh, and is not just in the parts that are discarded in food preparation."
If a side of plastic with your shore dinner isn't unappetizing enough on its own, the chemical components that you ingest (via the fish on your plate) aren't doing you any good either. "Evidence clearly shows that plastics contain/are formulated with chemicals that are known to be toxic, such as phthalates, and bisphenol A," states the report, "and which cause a broad range of effects including critical diseases and health conditions."
New York Says
No To The Bag
The New York City Council has just  approved a 5 cent fee on single-use  plastic bags. It wasn't a landslide — the  vote was 28-20 — and dog owners are  nervous. But the city joins a growing  number of municipalities looking for  some way to restrict use of this toxic  "instant garbage."
This summer, Plastic Oceans Foundation will release their new full-length film "A Plastic Ocean," documenting the environmental issues associated with plastic pollution and its impact on the environment, ecosystems and human health.
So, that single-use plastic bag floating at the river's edge packs a one-two pollution punch, according to Plastic Oceans: it attracts, holds and releases harmful chemicals, and it's steadily dissolving into toxic microplastics, being passed up the food chain by sea creatures small to large. The report concludes that "plastics should therefore be considered to be toxic when released to the environment."
But despite the gloomy news, the authors sound a note of hope:  "However wicked the problem is, it can be cracked if we think and act differently." The five young women from Nyack High School, searching and cleaning the rocky Hudson shore, were clearly eager to be part of the solution. Ginnina Keys, also a member of the NHS Environmental Club, hopes to light a fire under all her classmates. "I wish we could talk to the whole school about these issues," she said.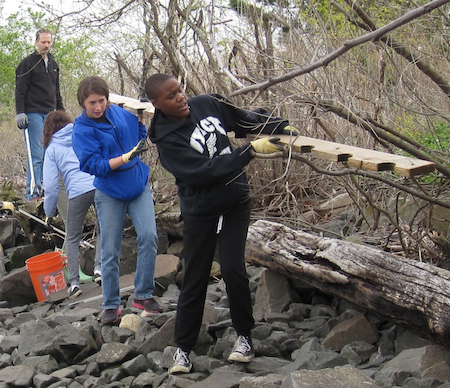 The sight of these students at work raised a question: could environmental activism be a "way in" to the sciences for girls? Their teacher, Kirsten Kleinman, thought that environmental studies might interest more girls more than the other sciences, "perhaps due to the idea of caring for the earth, or even just caring for ourselves."
This led Kleinman to reflect on the bigger picture:  "I don't like the term 'saving the earth' or saying that something is 'good for the environment.'  The earth will continue on long after we're gone. In reality," she said,  "I'm an environmentalist for purely selfish reasons: I want my children to have clean air, clean water, and healthy food to eat."
Sustainable Saturdays is sponsored by Green Meadow Waldorf School, Maria Luisa Boutique, O'D's Tavern and Strawtown Studio.