Heads up for Metro North riders — there will an extra train scheduled to help you make a quick getaway on Friday. For TZx, TOR and TRIPS and other mass transit passengers, it will be business as usual.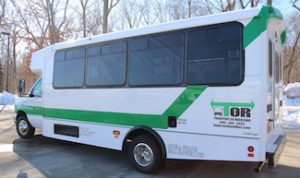 Transport of Rockland (TOR), TAPPAN ZEExpress (TZx) and TRIPS paratransit buses will operate regular weekday service.
Metro-North Hudson Line trains will operate an early getaway train to Tarrytown departing Grand Central Terminal (GCT) at 3:11 p.m. and arriving at 3:47 p.m. The train that normally departs GCT at 5:57 p.m. will be cancelled.
NJ Transit trains on the Pascack Valley Line and Main/Bergen Line will operate regular Friday schedules.
Coach USA Rockland Coaches will operate regular service.
Coach USA Express (Shortline) bus service from the Exit 14 Park & Ride lot will operate regular morning and evening service. Additional early getaway buses will be added at 2:00 and 2:30 p.m. from 56th St. & 5th Ave. and at 2:30 p.m. from Wall Street.