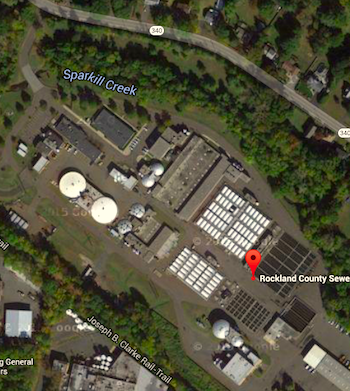 Be prepared for some serious bathroom language from the Supervisor's Office this Thursday. But unlike some of the four letter words you tell your kids to avoid, it's just the kind of stuff that children of all ages –as well as infrastructure geeks — might just want to hear.
On Thursday May 19 at 3:15p, the public is invited to tour the Orangetown Wastewater Treatment Facility. Visitors will learn about the entire process of water treatment, including biological, chemical and mechanical processes, from the moment wastewater enters the plant from the town's sewer system through when the cleaned wastewater is sent to the Hudson.
Water from Orangetown passes through the town's sanitary sewer lines through 45 pump stations to reach the plant. Depending on the amount of rain, the plant treats from 7-15 million gallons per day, or 5,000 gallons per minute on a rainy day. A series of physical, biological and chemical processes removes solid and dissolved waste from the water before it is released into the Hudson River via a pipe shared with the adjacent Rockland County Wastewater Plant.
"The Orangetown Sewer Treatment Plant is our community's single largest investment in 'green' – cleaning water so it can be recycled into the environment and preparing sludge for composting into soil for landscaping," says Orangetown Supervisor Andy Stewart. "The public deserves to understand how this critical infrastructure works."
The tour will be lead by Stewart and Chief Plant Operator Ken Skibinski. It's recommended for small groups of adults and students in grades 6 through 12 and is largely outdoors on uneven ground, so dress appropriately. The Orangetown Wastewater Treatment Facility is located at 127 Route 303, Orangeburg, NY 10962. Turn off of 303 onto Jim Dean Way (by the old Drive-In movie sign), pass the Orangetown Highway Department (119 NY-303), follow the road until it ends at the Sewer Department parking lot
It's free but you need to pre-register by emailing Kim Allen (kallen@orangetown.com) or calling  845-359-5100 x2261.