Nyack, May 12 — If you were looking for an official beginning to the bicycling season in Nyack, this week might be it. This week features the season opener for a popular local ride, an annual international bicycle event and the yearly silent remembrance of cyclists who died while riding.


Over 5,000 cyclists from 86 countries will ride through Nyack early Sunday morning in the 6th annual Campagnolo GFNY Championship NYC on May 15. When the Gran Fondo New York cyclists pass through the Nyack river villages between 7:30 and 8:45 Sunday morning, they will have covered a little bit more than 1/5 of the 100 miles of the full course.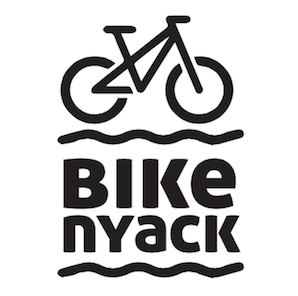 The Sunday GFNY features elite riders, timed routes on serious hills and stiff competition. But on Saturday, there's a ride for the rest of us. Bike Nyack returns for it's second year, inviting neighbors in and near Nyack to MeetUp and ride from Nyack's Memorial Park (Depew & Piermont Aves) at 8:30a. It's free, frequent (every Sat through September) and friendly. The first spin of the season goes to Hillsdale, NJ, which is about 25 miles out and back. It's a no-drop ride, which means the rabbit riders won't leave the slower but steady cyclists in the dust. Visit BikeNyack.com or the Bike Nyack group on Meetup.com for details.
The popularity of recreational cycling has grown immensely in recent years. Bike enthusiasts point out that sharing the road with speeding cars and texting/distracted motorists games can be hazardous to your health. To draw attention to the safety issues that cyclists face — and the many cycling fatalities that occur each year — the Rockland Bicycling Club will hold its 13th annual Ride of Silence on May 18 at 6:30p, starting at the Rockland County Courthouse in New City.

Since the first Ride Of Silence following the death of Plano Texas Bike enthusiast Larry Schwartz in 2003, several thousand rides have been held to honor the thousands of cyclists that have been killed or injured by cars that drove too fast or too close to cyclists. Last year, 357 separate Ride of Silence events were held in 49 states and countries across seven continents. The RBC says this year's six mile Ride of Silence will be escorted by the Clarkstown Police
.
And if you want to go for a spin — but don't feel ready for the roads, the RBC offers two weekly rides around Rockland Lake which are virtually car free. On Mondays and Thursdays at 6p, club members meet at Parking Lot #5. Rides are posted each week to
RocklandBike.org
.
What Does Gran Fondo NY Mean To You?
Obviously, that's a question about traffic.
The route through Nyack includes Piermont Rd, Gedney, 4th Ave, North Broadway and Old Mountain Road. Cyclists start their day at 7a on the George Washington bridge heading north on 9W. After leaving Nyack they return to 9W and continue north to Perkins Memorial Tower in Bear Mountain State Park before turning south toward the finish line in Fort Lee.
And yes, there's a Nyack Street Fair on Sunday. Not to worry — the GFNY route is east of Broadway and Main Street. And the riders are long gone by the time the street fair opens at 10a.
For the most part, roads won't be closed for the race, but police and volunteers will be at key intersections to make sure cyclists stay on route and motorists stay patient. "Some but not all roads will be closed for traffic," writes the GFNY.com website. "At all times, however, riders have to obey to traffic laws and ride on the right hand side of the street. Riders have to follow the instructions of police officers and volunteers to avoid disqualification."
Please note that the event STARTS on the lower level of the GWB — so if you are crossing in or out of the city at any time between 5a and 8a, expect delays. The finish line is located in the NJ section of the Palisades Interstate Park, so plan your Sunday hiking accordingly. The Palisades Interstate Park Police warn that the Henry Hudson Drive between PIP Exits 1 and 2 will be closed with exceptions made for boaters at the Alpine Boat Basin. Park police also predict that  the NJ exits on the Palisades Interstate Parkway will be subject to closure throughout the day.
The Great Bike Shop Bake Off
Cycling is growing as a popular sport — and local businesses and government are gearing up for two wheeled traffic this summer — and the future.
On a busy summer weekend, as many as 5,000 cyclists will ride to Nyack, a number that is sure to grow when the Shared Use Path (SUP) on the new Tappan Zee Bridge opens in two years. Consider this: the Walkway Over The Hudson in Poughkeepsie gets about 500,000 tourist visits a year. If Nyack were to see just 10% of the traffic generated by the recreation attraction between Dutchess and Ulster counties, the Lower Hudson River villages would receive an additional 50,000 more visitors each year. That's a pretty conservative estimate, given that the pool of possible visitors in Rockland, Westchester, North Jersey and New York City dwarfs the populations that live adjacent to the Walkway Over The Hudson.
Future cyclists probably won't look like the usual suspects hanging out at the Runcible Spoon, either. The new Shared Use Path includes multiple stop/rest/sightseeing viewing points over the river. "The bridge will feature a shared-use bike and pedestrian path, which will include six belvederes – resting points that will reflect the culture and history of the Lower Hudson Valley," writes the NewNYBridge.com website. "The shared-use path will provide a new connection for non-motorized transport in the region and offer an exciting recreational opportunity that currently doesn't exist in Rockland or Westchester." It's an amenity of very little interest to competitive cyclists — but a perfect weekend destination for casual cyclists and families with children wanting to get some exercise and take in some sights.
The Village of Nyack is also getting ready for the future with it's Transportation Alternatives Program (TAP) project, a $1.5 million NYS grant to encourage people to leave their cars behind. A citizen's committee is working with an outside consultant to chart a plan to improve sidewalks and create bike lanes on South Broadway to make it easier for pedestrians and cyclists to get around town.
There are also now three bike shops in Nyack in addition to the venerable and well respected Piermont Bicycle Connection just down the road.
Toga! Bikes in now 9W Bikes: Same location on 9W in Upper Nyack, but there's new ownership. They specialize in Specialized and Cannondale Bikes.
Nyack Bicycle Outfitters, 72 N Broadway: Jim Skelly has been at the same location since 1973. In addition to the thousands of bikes sold and thousands of biking stories told, Jim is the founder of the famous "Rocket Ride," a 50 mile loop which leaves from his shop every Sunday morning at 8a with anywhere from 50-100 serious cyclists on the train. He's been leading that ride since 1972. When asked what makes his shop different from his competitors, Skelly mentions that he sells Trek Bikes, the most popular brand of bike in the US. He emphasizes that bicycling is something everyone should try. "Everyone can be a bike rider. It doesn't matter if they are on a road bike, a hybrid or a mountain bike," Skelly says.
CrankWorks Cycles is the new kid on the block, at 19 N Broadway — having opened almost directly across the street from Nyack Bike Outfitter's store earlier this year. Co-owner Wendy Palacio, a former mechanic at Toga!, says he opened his shop on North Broadway because he has lived and worked in Nyack for ten years. "People ask me all the time, why don't we don't we have better bike shops right here in town?" Palacio says CrankWorks hopes to fill a niche dedicated to the high-end serious cyclist, specializing in selling Giant brand bikes. When asked how he will distinguish Crankworks from the other local shops, Palacio says it will be his service and maintenance of customers' bicycles.
Nyack Family Bike Day Is Back!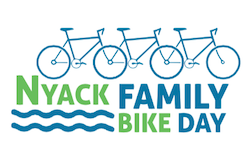 Mark your calendars for Sunday, September 10 when the 2nd annual Nyack Family Bike Day returns to Memorial Park from 11a–3p. It's free for all, with all proceeds after expenses from event sponsors benefiting The Nyack Center. If you would like to volunteer and join the fun, please email recreation@nyack-ny.gov for details.