Take a walk through history at Oak Hill Cemetery, hear some live contemporary classical music and see a murder mystery, a comedy, or a one-act play and hear how NYS is teaming up with the Sun to lower your electric bill. Here's your Fri-Sun list of what to do and where to do it, brought to you by The Arts Council of Rockland and the Union Arts Center.
Friday
Basic Protocol, an evening of of contemporary classical music. Mediums include: chamber quartet, electro-accoustic, multi-media, live percussion and art song with choir. Reception follows with hors d'oeuvres. 7p at Nyack College Pardington Hall, 45 S Boulevard.
Enjoy some classic whodunits with Alfred Hitchcock Presents 2 One Acts where macabre murder mysteries are performed live on stage, directed by Richard Quinn. Fri & Sat at 8-10p at the Nyack Village Theatre, 94 Main St, Nyack.
The Spring One Act Play Festival features six plays by local playwrights. Fri & Sat at 8p. Shades Repertory Theater Company, 64 New Main St, Haverstraw.
Saturday
What's a girl to do when she lives in a tiny town in Ireland, far from her heartthrob Warren Beatty? Find out in the comedy Great White American Teeth. Sat at 4 & 8p, Sun at 2p at Penguin Rep Theater, 7 Crickettown Rd, Stony Point.
A sensitive and devastating portrait of a long, happy marriage in sudden crisis, the film 45 Years studies the uncanny, irrational power of memory and desire suggesting that even after decades together, two people can remain perfect strangers. Presented by Rivertown Films at 8p at Nyack Center, 58 Depew Ave.
Last chance to check out Where We Are Standing: Contemporary Women Artists from Iran. Three artists who grew up in Iran before moving to North America share a strong cultural identity and a common focus on issues of gender and displacement shaped by the complex political and social landscape of their homeland. Featuring the work of Golnar Adili, Roya Farassat, and Shabnam K. Ghazi. Exhibit runs through April 24.  Wed-Sun 12-6p at the Hopper House Art Center, 82 N Broadway, Nyack.
Sunday
Join Nyack artist Kristina Burns for the Grand Opening of Festoon, a new store featuring art, flowers and finds from the Hudson Valley. 12-6p at 95 1/2 Main St.

There's a lot of history up on the hill, including "Nyack's permanent residents" like Edward Hopper, Helen Hayes and Charles MacArthur, Carson McCullers, the Civil War general who convinced President Lincoln to create black fighting regiments and the fashion designer who made pants an acceptable form of dress for women. The Historical Society of the Nyacks' Walking Tour of Oak Hill Cemetery meets at 2p at the cemetery entrance gate on Rt 9W behind Nyack Hospital. If it's raining, this event will be cancelled.
The Main Street Singers Concert includes a carousel medley, standards, works from the Renaissance and Classical periods and spirituals. 1:30 – 4:30p at Stony Point Conference Center, 17 Crickettown Rd, Stony Point.
Hopper House Then and Now…Annual Spring Benefit honoring Betty and Win Perry and the Soap and Paper Factory. Light fare, entertainment, and a silent auction. 2:30-5p at Fellowship of Reconciliation, 521 North Broadway, Nyack.
Nyack Business: Long Before the Malls

at

The Historical Society of the Nyacks Museum

features photographs and memorabilia from local businesses in the

Time Before The Malls

. Open Sundays through May 29. 1p at Depew House, 50 Piermont Ave.

Learn about the Hudson Valley's Dutch origins dating back to the 1600's at the

 

Dutchtown and Major Andre: Highlights of Haverstraw History

 exhibit, presented by the Historical Society of Rockland and the Town of Haverstraw. Exhibit runs Wed–Fri and Sun from 12-4p until May 15. Exhibit reception: 12-4p at HSRC History Center, 20 Zukor Rd, New City.
Next Week
Monday
A night of laughter at Comedy Open Mic. 8p at Olive's, 118 Main St, Nyack.
Tuesday
The Remarkable Story of Rockland's Water Victory  is an Earth Day program about Rockland's water past and future, presented by Rockland Sierra Club and Dominican Sisters. 7p at Dominican College 496 Western Highway, Orangeburg.
Wednesday
Here Comes The Sun: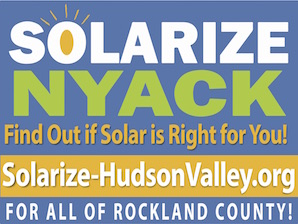 Town Supervisor Andy Stewart and Solarize Nyack will host a solar workshop for home and small business owners, explaining benefits and how the NYS Solarize Hudson Valley group-discounting program works. 7p, Orangetown Town Hall,  26 W Orangeburg Rd, Orangeburg
Get the Nyack Weekender in your mailbox auto-magically every Friday morning. Add your name to our mail list to get this weekly guide to weekend events. Visit our online sign-up sheet to subscribe.
The Nyack Weekender is sponsored by
and the