---
by Max Cea
The New York primaries are here – almost! This Tuesday will be the day to cast your vote. Polls will be open to registered Democrats and Republicans from 6 a.m. to 9 p.m. (Due to New York State's prohibitory voter laws, you had to have registered with a party by March 25 to be allowed to cast a ballot in the New York primaries; you can, however, register to vote in the general election through October 14.) If you're unsure where to cast your ballot, check the Polling Place Look-up tool. And if you're unsure about anything else, get caught up with Nyack News and Views's presidential primaries primer.
Highlights of the candidates' trips to New York
Sure, there was a debate. And, yes, there were rallies. But a trip to New York is not about policy and action. No, New Yorkers have values. And those values revolve around, you know, New York things.
Namely, Italian food and riding the subway.
The latter of which took former New York Senator Hillary Clinton five swipes of her metro card.

To be fair, at least she knew to use a metro card; Brooklyn-born Bernie Sanders
thought subway tokens were still in use
.
Sanders, though, redeemed himself by eating pizza sans fork and knife
on a trip to
The View
. Which, notably, is not how the only other native New Yorker in the race
eats his pizza
.
Ohio Governor John Kasich, meanwhile, will eat
anything you put in front of him
.
And definitive source on
New York Values
, Ted Cruz? Well, Cruz couldn't have inspired a crowd at the Republican Gala to look up from their own meals had he been eating one of his competitors alive.
The scene as Cruz speaks at NYC GOP Gala pic.twitter.com/Pwx8I0Ci25

— Vaughn Hillyard (@VaughnHillyard) April 15, 2016

On a brighter note, "You've Got a Friend" singer Carole King visited Nyack to campaign for Hillary Clinton on Friday.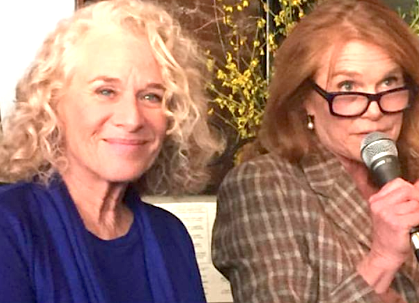 What's at stake?
The candidates' trips to New York may have been as lacking in substance as in previous years, but this year's New York primaries will likely prove to be far more influential than in any contest to date. No matter the outcome, this is the first year that New York is hosting competitive primaries in each major party's race since the current primary system's 1972 debut. So, this time your vote actually counts.
Donald Trump and Hillary Clinton are the overwhelming favorites to win the majority of their respective parties' New York delegates. However, the margin of victory matters for each of them in securing, respectively, the 2,383 (democratic) and 1,237 (republican) delegates necessary to win their nominations outright.
But upsets do happen, and Bernie Sanders's odds are not insurmountable. Hillary Clinton is banking on wins in New York City, Westchester (where she has a home), and throughout Long Island. But if Sanders could appeal to Hudson Valley residents' environmental concerns, while winning between 35 and 40 percent of the Black vote, the race could come down to upstate cities like Buffalo, Rochester, and Syracuse. Still, Clinton has a firm base of super delegates.
On the Republican side, John Kasich's path to winning the New York contest seems a bit more farfetched. His supporters, though, claim that "Kasich may come out on top because it's done by congressional district, and Kasich is running first or second in 24 or 26 of them, and they can overcome that."
As far as Cruz is concerned, it takes wild mental gymnastics to arrive at the conclusion that Cruz could win more than a handful of New York's delegates. Which was why he spent much of his time this month in the Bronx of all places: Though the district is only home to 13,000 registered Republicans, it counts for the same three delegates as other districts.
How delegate selection will work
There are 27 congressional districts in the state. (Rockland and western Westchester make up the 17th district.) On the Republican side, three delegates are awarded per district, for a total of 81 statewide. If a candidate receives more than 50 percent of the vote in a district, they are awarded all three of that district's delegates. If, however, the winner receives between 20 and 50 percent of the vote in a district, they are awarded two of that district's delegates; the second place finisher is awarded one. And there are an additional 14 superdelegates.
The Democratic side is a bit more complicated. Each congressional district has between five and seven delegates, with a total of 163 awarded according to each district's vote count. There are an additional 84 pledged delegates awarded to the winner of the statewide primary. And then there are an additional 44 upledged superdelgates.
Which candidates poll best in the general election?
A socialist is unelectable, right? Perhaps in most years. But this being the Year of Trump, conventional wisdom is about as valuable as the Bush name. According to a CBS News poll conducted before Thursday's feisty debate, Bernie Sanders, a democratic socialist, is projected to perform better against any of the Republicans currently in the race than Hillary Clinton. While Sanders is projected to beat any of the GOP candidates by at least five points, Clinton trails John Kasich by six points; she would, however, be projected to beat Trump and Cruz by 10 and three percentage points respectively.
Who Nyack representatives are supporting
Perhaps unsurprisingly, given her wide support among Democrats nationally, most local representatives are supporting Hillary Clinton. (Orangetown Supervisor Andy Stewart declined to comment for this piece, and Rep. Ellen Jaffee and Rockland County Executive Ed Day could not be reached for comment.)
New York Governor Andrew Cuomo: Hillary Clinton
"Hillary Clinton has been a lifelong champion for middle-class families, an advocate for the underserved, and a fighter for civil rights. Her record reflects the steadfast belief that every American, no matter their race, gender or ethnicity, should have the right to achieve economic security and opportunity. She is a tested leader with the resilience and experience to be a great President. I was honored to work closely with her in the Clinton Administration, during a time of historic peace, prosperity and progress for our nation. Having known and worked with her for over 20 years, I wholeheartedly endorse Hillary Clinton's campaign for President."
Rep. Nita Lowey (D-NY 17th District): Hillary Clinton
"It has been my great honor to call Hillary Clinton my friend and constituent, Senator, and Secretary of State. I will work hard to ensure that in two years, we call her 'Madam President,'" she wrote on Facebook.
New York State Senator David Carlucci (D-Rockland/Westchester): Hillary Clinton
"I am supporting Secretary Hillary Clinton for President for several reasons. While the opportunity to elect the first woman president certainly resonates with me, I believe Secretary Clinton is the most qualified candidate to help middle class families, grow our economy and keep our country moving forward. When I had the opportunity to speak with her in both New City and Albany, I used the few minutes I had to talk to her about the heroin epidemic and how it has devastated the Lower Hudson Valley. She agreed that the heroin epidemic must be stopped, and vowed to support increased resources for treatment and prevention if elected President. While this is one of many, equally important and pressing issues facing our country, at the end of the day we need a President who fights for us and I believe Secretary Clinton is that person. I'm confident she is the right choice for President.
Nyack Mayor Jen Laird White: Hillary Clinton
Lawrence Garvey, Chairman of the Rockland County Republican Committee: Donald Trump
"The Republican Presidential Primary process has clearly established Trump as the frontrunner and based on the polling in the upcoming primaries, including New York, Trump will be the Republican Candidate on the Ballot in November. Trump is a hugely successful real estate developer, businessman and what we all believe to be the quintessential New Yorker. Trumps policy positions and election platform address the needs and concerns of all Americans and will lead Trump to Victory in November and to a better America in January 2017."
Recommended reading and viewing
On issues and policy
On Hillary and Bernie
On Trump
On the rest of the GOP
On truthfulness
On a contested convention