by Ashley Tedino

Summer camp registration time is here. There are a variety of camps for interests from A (for the arts) to Z (for ziplines) including programs that specialize in sports, science, technology, music and acting. Here are a few of the great programs near Nyack worth checking out.
Mother Nature's Son(s) and Daughters
Strawtown Studio: Summer Earth Art Adventures
Children ages 7-12 will enjoy exploring, making art with natural materials, discovering plants and animals, building forts, crushing rocks, catching fish, and making new friends. Children will explore the world around them and discover new tools to navigate their way through life.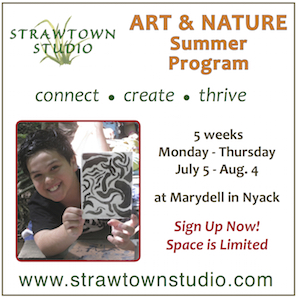 Camp begins July 5- August 4 from 9:30a-4p. The cost is $520 per week which includes materials and a healthy snack.  A welcome interview is required before being accepted into the program. Summer Earth Art Adventure is located at the Marydell Faith and Life Center at 640 N. Midland Ave in Nyack.
Nature Place Day Camp
For 30 years The Nature Place has provided a unique camp experience for children ages 4-16. Located on the campus of the Green Meadow Waldorf School and the Threefold Educational Center, campers explore, play and learn on 200 acres of farmlands, gardens, trails, woods, fields, streams, ponds, and swamps.
Arts Camps
Rockland Center for the Arts (ROCA) Summer Day Camp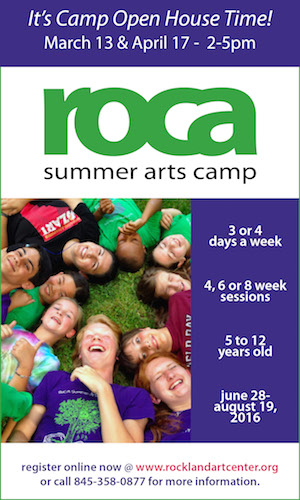 Join ROCA at their Camp Open House on April 17 from 2-5p where parents and children can meet the camp director and staff while touring the facility and grounds.
The official camp start date is June 28-August 19 where children ages 5-12 have the option of attending three or four days per week with four, six, or eight week sessions. There are various activities and instructions such as swimming, painting and drawing, ceramics, sculpture park program, 3D Art, wearable art, cartooning, puppetry, theatre arts, dance and movement, music, field games, and theme days. Children are grouped by grade level where they can express themselves. Fridays are dedicated to musical theatre where campers perform selections from Broadway musicals. The Rockland Center for the Arts is located at 27 S. Greenbush Rd in West Nyack.
Acting Up Summer Stage 2016
Special programs for little actors (age 4-5), Alice in Wonderland Jr for kids age 6+, Disney's Camp Rock The Musical for students nine and older will be held in July and August. There are also special programs for playwrights and stage makeup (both are age 9+)
Weekly workshops are also available. Acting Up is located at 283 Livingston St in Northvale.
Rivertown Music and Arts Camp
Join new and old friends at Rivertown's Music & Arts Camp. Children ages 5-12 are invited to bring out their inner artistic side. Programs include performing and creative arts, storytelling, songwriting, group singing, music and theatre games, yoga, and creative movement. Campers will also receive one private lesson per week in piano, guitar, or voice. Session One begins on July 5-July 14. Session Two runs from July 18-July 28. On the last day of camp, the campers will put on a performance. Camp starts at 10a and ends at 2p. Each week is $200 where snack, materials, and a tee shirt are included. Campers need to bring their own lunch daily. Rivertown Music and Arts Camp is located at the Fellowship of Reconcillation (FOR), 521 N. Broadway in Upper Nyack.
Helen Hayes Youth Theatre
Spend two weeks are spent rehearsing a full-scale musical as part of the Helen Hayes Youth Theatre summer program. Week one will rehearse in Nyack. Week two will rehearse and perform onstage at the Antrim Playhouse in Suffern, NY. Performances take place on the final Friday and Saturday evening of the program at 7p. At the end of two weeks, campers will be part of a complete theatrical production including a professional set, lighting, costumes and props. Each participant in the program plays a significant part in the show whether they play a leading role, featured role or an ensemble part.
Just Clowning Around…And So Much More
Amazing Grace Circus Camp
A unique camp experience for children 5-14 that includes juggling (three balls), tumbling (beginning to advanced), acrobatics (handstands, cartwheels, forward/back bends and walkovers), equilibristics (balancing with one or many partners), walking a tightwire, performing on the static trapeze, climbing silks and corde de lisse and learning clown and comedy routines. Mr. Amazing's Big Top & Little Top Circus Summer Camps will run two week sessions from June 27-Aug 5 inside air-conditioned Grace Church in Nyack.
Educational
Rockland Community College Summer Camps 
Children entering grades two to nine (in September) are encouraged to join the various camp programs at Rockland Community College. The programs range from sports, art, computers, science, performing arts, and creative girls. Camp runs from July 5-August 12. Children can choose any week and mix and match programs. Camp runs from 9a-4p with extended hours offered before and after at no additional charge. Camp costs $300 per week with early registration before June 1 discounted to $275 per week. Rockland Community College Camps is located at 145 College Road in Suffern.
Ramapo College Explorers STEAM and Theater Camps
It's going to be a STEAMy summer in North Jersey. Ramapo College in Mahwah offers Science, Technology, Engineering, Arts and Math (STEAM) programs to students who entering grades 7 and 8. Students entering grade 6 can apply by special recommendation only. These programs will advance students' problem solving and critical thinking skills along with teamwork abilities. The STEAM program has three sessions which begins July 5-August 12 from 9a-3p and varies with topics. During the middle of the day, children will be provided with recreational time to engage in sports and activities. The information session for STEAM Summer Camps is April 21 7-8:30p and May 22 4-5:30p. The session will be held in Ramapo College's Student Center Alumni Lounge, Room SC-138. Pre-registration is required.
Ramapo College is also offering performance and theater classes that are open to children in grades 7 to 12. These classes run from July 5-August 12 with the option of full or half days. The topics covered include Acting I, Acting II, Acting for Film and Television, Improvisation, Voice and Movement for Actors, Make-up for Stage and Screen, Costume Design, Light and Sound, and Set Design. Students in the STEM program may mix their day with theater classes. The information session for Theater Camp is April 20 7-8p in Ramapo College's Berrie Center for Performing and Visual Arts. Another session is scheduled for and June 2 7-8p in the Adler Theater.
Ramapo College is located at 505 Ramapo Valley Rd in Mahwah.
General Interest
Gate Hill Day Camp
Four and eight week summer sessions at Gate Hill Day Camp run from June 27-August 19 offering electives including swimming, rock climbing, creative arts, athletics, fencing, fishing, zip lining, go-carts and musical productions. Gate Hill Day Camp is located at 750 Gate Hill Road in Stony Point.
Deer Mountain Day Camp
Camp for kids 3-15 runs from June 27-August 19 from 9a-4p. Activities include fine arts, performing arts, swimming, horseback riding, mountain biking, various sports, boating, fishing, and games. Deer Mountain Day Camp is located at 63 Call Hollow Rd in Pomona.
Deerkill Day Camp
From June 27-August 19, children 3-15 can participate in a busy program of swimming, arts and crafts, boating, ceramics, zip lining, archery, yoga, gymnastics, horseback riding and sports. Deerkill Day Camp is located at 54 Wilder Rd in Suffern.
Day Camp in the Park
Swimming, softball, baseball, boating, karate, gymnastics, soccer, tennis, skateboarding, arts and crafts, ceramics, woodworking, archery, drama, and music are among the activities offered for children ages 4-15 at Day Camp in the Park. Campers will have fun at the large water park with trampolines and waterslides. A boating center with sailboats, canoes, rowboats, kayaks, and paddleboats are also on site. Camp runs from June 27-August 19 from 9a-4p. Parents have the option to sign up their children for eight, six, or four weeks. Day Camp in the Park is located at 6 Kendall Dr in New City.
Champion Day Camp
Champion Day Camp is offered for children ages 3-15 years old. Campers are grouped by ages with a different schedule for each group which includes Kiddie Corral, All Activity Lower Camp, All Activity Upper Camp, All Sports and Teen Leadership Corp. Activities include swimming, arts and crafts, games and sports. Hot lunch is provided daily. Camp runs from June 27-August 19 from 9a-4p. Camp Tours are available by appointment by calling 845-356-5005. Champion Day Camp is located at 175 W. Clarkstown Rd in New City.