It's the First Friday of March and there's a whirlwind of art, music and activities coming to Nyack. The Nyack Art Collective hosts a group show titled Dance with live music from DJ MrLeeJay. The Carnegie Concert Series presents Stories from Ancient and Recent Ireland while the Rockland Symphony Orchestra showcases an 18 member brass choir. Get outside and take the Penguin Plunge to benefit local kids with serious illnesses. Here's your Fri-Sun list of what to do and where to do it, brought to you by The Arts Council of Rockland and the Union Arts Center.
Friday
It's the First Friday of March and Nyack's monthly one-night downtown arts festival includes a group show at Prohibition River at 7p, 82 Main St. Head to Casa del Sol at 8p, 104 Main St, to see a themed exhibit titled Dance and to hear DJ MrLeeJay, a project by local drummer, singer, and bandleader Lee Farber. Presented by the Nyack Art Collective at various venues throughout downtown from 6-8p.
Jennifer O'Connor, recording artist and co-owner of Kiam Records on Main St, debuts at the Tarrytown Music Hall as the opening act for Neko Case. Steven P. Marsh profiles her new album, Surface Noise, to help you get ready for the 8p show at 13 Main Street in Tarrytown..
Join a Winter Art Exploration with artist & teacher Marilyn Benkler. Register here. 10:30a – 12p at Valley Cottage Library, 110 NY-303, Valley Cottage.
Nyack Library's Carnegie Concert Series presents Songs and Stories from Ancient and Recent Ireland. Celebrate all things Irish with Nyack's own Sean Fleming accompanied by Steve Holley on drums, Justin Jordan on guitar and Dave Reiss on bass. 7p at the Nyack Library, 59 S Broadway.
Saturday
Opening reception for Femme Eternal: Paintings by Ivan Pazlamatchev. Meet the artist and view paintings of the eternal feminine spirit, on display through April 16. 1p at Union Arts Center, 2 Union Ave, Sparkill.
Rockland Music Conservatory Overtures hosts John Guarino on violin and Gerald Robbins on piano. 7-9p at Rockland Conservatory of Music, 45 S Main St, Pearl River.
Garner Arts salutes comic book author Denny O'Neil (Batman, Wonder Woman, Spider Man, Daredevil) with a Lifetime Achievement Award and a panel including Executive Producer Batman v. Superman Michael Uslan and former DC Comics President/Publisher Paul Levitz. 7:30p at Garner Arts Center, 55 W Railroad Ave, W Haverstraw.
Where We Are Standing: Contemporary Women Artists from Iran. Three artists who grew up in Iran before moving to North America share a strong cultural identity and a common focus on issues of gender and displacement shaped by the complex political and social landscape of their homeland. Featuring the work of Golnar Adili, Roya Farassat, and Shabnam K. Ghazi. Exhibit runs through April 24.  Wed-Sun 12-6p at the  Hopper House Art Center, 82 N Broadway, Nyack.
Sunday
Take the Penguin Plunge into the frosty waters of the Hudson for three Rockland kids who have serious illnesses! FMI, contact Barbara Noyes (845) 358-0206. 12n-2p, Memorial Park in Nyack.
There's an opening reception for Nyack Business: Long Before the Malls at The Historical Society of the Nyacks Museum featuring photographs and memorabilia from local businesses in the Time Before The Malls.

Open Sundays through May 29. 1p, 50 Piermont Ave.
The Rockland Symphony Orchestra presents a full 18 member brass choir playing the best of classical brass music. Music of Giovanni Gabrieli, Aaron Copland, Edvard Grieg, and more! Tickets here. 4p at Sacred Heart Chapel, 175 Rt 340, Sparkill.
Opening reception for the photo exhibit Life After Life in Prison. Meet photographer and criminal defense attorney Sara Bennett and hear the four women who are the subjects of the exhibit talk about their experiences both inside and outside prison. 2p at Nyack Center, 58 Depew Ave.
Rockland County YouthFest invites families to enjoy kid-friendly performances, interactive activities and fun inflatables. Plus, get info on the best local services, programs and products for families. 11a – 4p at Rockland Community College, 145 College Rd, Suffern.
Next Week
Monday
Arts Council of Rockland hosts the second Idea City gathering of artists and those who love the arts. 6:30p at Union Arts Center, 2 Union St, Sparkill.
Tuesday
Attend the Morning Music Club's Winter Concert with the talented Hudson Valley String Trio – violinist Avi Nagin, violist Molly Goldman, and cellist Kimberly Jeong. 10:30a – Noon at Nauraushaun Presbyterian Church, 51 Sickletown Rd, Pearl River.
Wednesday
Check out Russian Musical Works as the Open Door Chamber Orchestra highlights Russian music of the last 150 years amid gems from the classical repertoire. 6:30 – 9p at Ramapo College of New Jersey, 505 Ramapo Valley Rd, Mahwah, NJ.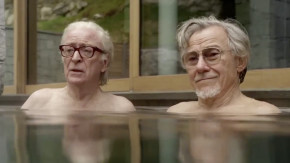 Rivertown Film screens Youth, a film about two aging male artists – and best friends – confront their twilight years. A poignant meditation on the ravages of age, particularly for men, and the waning power of potency. With Michael Caine, Harvey Keitel, Rachel Weisz, Jane Fonda. 8p at Nyack Center, 58 Depew Ave, Nyack.
Reflections of Einstein is a feature documentary based on personal interviews with friends and colleagues of Albert Einstein. The film will be presented by Wally Glickman, Prof. Emeritus of Physics, Long Island University, Brooklyn who produced and directed the film. 7p at the Nyack Library, 59 S Broadway.
Get the Nyack Weekender in your mailbox auto-magically every Friday morning. Add your name to our mail list to get this weekly guide to weekend events. Visit our online sign-up sheet to subscribe.
The Nyack Weekender is sponsored by
and the