Nyack Sketch Log author Bill Batson is away this week — but his art is still with us remembering Nyack as it once was, during The Time Before The Malls.
Since the mid 19th century, Nyack was regarded as the  commercial center for Rockland County.  The current exhibit at the Historical Society of the Nyacks' features photographs and memorabilia from the many shops that provided both necessities and luxury goods.
Bill's sketch of the Hudson House restaurant — once upon a time the Nyack Village Hall — reminds us of all of the changes our downtown has seen, and continues to see as time marches on.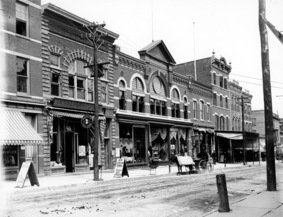 To learn more about the groceries, bakeries, clothing shops, shoe stores, hardware stores, laundries, newspaper and stationary  stores, cigar stores and yes — the bars and saloons too – visit the Historical Society of the Nyacks' Museum any Sunday from 1-4p through May 29. The museum is located at 50 Piermont Ave across from Memorial Park behind the Nyack Library.