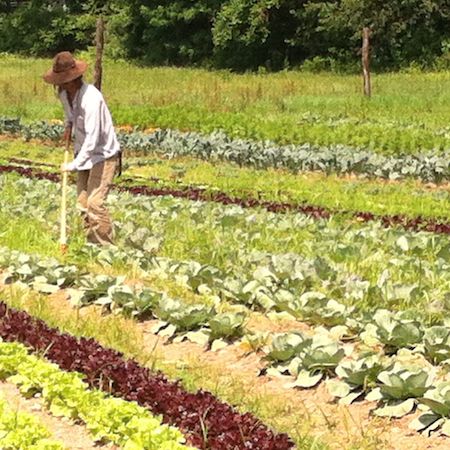 by Kris Burns
It's the middle of March, which on the farm means it's time to plan and prepare the harvest for the coming year. At Cropsey Farm, thanks to the participation of their CSA (Community Supported Agriculture) members, what is grown and who it is grown for is also being carefully cultivated . Each year, hundreds of Rockland families demonstrate how much they value what they eat and the story of where it came from; by becoming a CSA member in the winter, you guarantee that come June you receive 10 pounds of delicious produce for 25 weeks. The food grown in Rockland County's biodynamic backyard, by farmers you will know by name, on 12 acres you can visit each week. By providing the literal "seed money" to a farm in your neighborhood, you have joined a worldwide community of families who are following, supporting and sustaining their food from seed to plate.
But like every shift in consciousness, becoming a CSA member is not without its challenges. For years, most of us approach a meal by first finding a recipe and then shopping for ingredients; if it's February and we crave strawberry shortcake, we track down a recipe and then the strawberries. Somewhere along the line, we stopped asking where and how these strawberries were grown; by whom; how long ago; how they got here. We now don't even notice that they don't really taste like strawberries.
In contrast, as a CSA member you will always know precisely where your food comes from and that it was grown and gathered by Adam and Jose, specifically for you, in the days before you receive it; the only difference is, the season and the produce will now dictate the recipes rather than the other way around.
In the spirit of this creative challenge, we have asked several local chefs to show us how, even in Winter, the seasons spark their culinary creativity. On March 23, The Hudson House, 8 North, Communal Kitchen, La Talaye Catering, Rockland Roots and Mimi's Plate will build recipes around a crop of pea shoots grown specifically for them, mere miles away, as we document the path of these pea shoots from our greenhouse to their kitchens. (And this Saturday, Cropsey will host an open house for those interested in becoming a CSA member.) By showing how an ingredient as simple as a pea shoot can yield such variety, ingenuity and deliciousness, we hope to inspire even more people to invest in a sustainable path from our farms to their families.