by LeeAnn Mailly
There's lots to do with your boo this Valentine's Day weekend. There's live music at Union Arts Center featuring acclaimed soprano Anna Veleva plus an intimate acoustic set at Art Café featuring Katie Elevitch. Check out the new art exhibits at RoCa and the Edward Hopper House or catch some theatre.  Here's your rundown of what to do and where to do it.
Friday
The Irish Arts Forum presents The Final Days of Wolfe Tone, a look at the life of Wolfe Tone, leader of the United Irishmen and considered the Father of Irish Republicanism. The play chronicles his last days in prison leading up to his execution – days spent writing the chronicle of his life, that gave birth to the Irish Revolution. Fri at 8p, Sat at 2 & 8p, Sun at 3p at the Antrim Playhouse, 15 Spook Rock Rd, Suffern.
Join costumed interpreters in a celebration of George Washington's Birthday! Enjoy live music, crafts for all, birthday cake, and more! Fri, Sat & Sun from Noon – 4p, Washington's Headquarters, 84 Liberty St, Newburgh.
The Edward Hopper House Arts Center presents its February Artist of the Month, Stephanie Lee, who looks at the symbolic, symmetrical, and decorative characteristics of Korean folk art. Wed – Sun from 12 – 5p at The Edward Hopper House, 82 N. Broadway, Nyack.
Friends of the Nyack Library Annual Meeting featuring local authors, playwright Tom Dudzick and author Holly Caster who will have her new book Cape May available for purchase & signing. Info about the organization and membership/volunteer opportunities available. Please register. 6:30p at Nyack Library, 59 S Broadway.
Soprano Anna Veleva and pianist Yashar Yaslowitz offer a potpourri of Songs of Love to celebrate Valentine's Day! 8p at Union Arts Center, 2 Union Ave, Sparkill.
Enjoy some classic whodunits with Alfred Hitchcock Presents 2 One Acts where macabre murder mysteries are performed live on stage, directed by Richard Quinn. Fri & Sat at 8-10p at the Nyack Village Theatre, 94 Main St, Nyack.
Bear Mountain Ice Rink 

is open for the winter! Adults $5, children (ages 4-22) $4. Check

website

for winter 

hours. Bear Mountain Ice Rink, Bear Mountain State Park, Palisades Interstate Parkway.
Blues Lovers Unite! Sari Schorr, Brooklyn-born songstress and a powerhouse blues belter in the Janis Joplin mold, is at the Turning Point in Piermont at 

9pm

. She's been there before, with blues legend Joe Louis Walker, but will be playing her first solo show. With her band The Engine Room, featuring storied blues guitarist Chris Bergson, she's sure to put on a dynamite, heartfelt show. For a taste, check out her hard-edged take on the classic "Ruta 66".
Saturday
RoCA presents Beautiful Nonsense, an exhibit that plays tricks on the perception of ordinary objects, and Kevin Paulsen: Winter Theorems, which exhibits works on paper created with simple tools using free form strokes and etches creating a lush and beautiful atmosphere veiled with dark mythology. Opening day for two exhibits running through April 3. 10a – 4p at Rockland Center For the Arts, 27 S Greenbush Rd, W Nyack.
Join Chef Anthony Accomando and celebrate Valentine's Day at the Union Arts Center's pop-up restaurant, In the Mood. The evening includes a culinary tribute to the aphrodisiac paired with romantic jazz standards. Dinner $85 per person. Dinner with wine pairings, $100 per person. 7p at Union Arts Center, 2 Union Ave, Sparkill.
Love Songs for Lovers: An Intimate Acoustic Evening with Katie Elevitch. 8:30p at Art Café, 65 S Broadway, Nyack.
Nyack's own Mario the Magician performs a 2p free show at 2p at the Queens Library at Hollis, 2025 Hillside Ave.
Sunday
Internationally acclaimed soprano, Anna Veleva, presents a St. Valentine's Day Concert of opera arias and romantic art songs. 1:30p at Valley Cottage Library, 110 NY-303.
Visit Torne Valley Vineyards for all-day wine tasting or choose from a selection of craft beers. Enjoy music by The Hip Replacements. 11a – 5:30p at Torne Valley Rd, Hillburn.
Next Week
Monday
There's more Mario magic on Monday, but this time on the mountain. Mario the Magician, who was featured in a Rivertown Film screening of the movie Building Magic last week, performs at the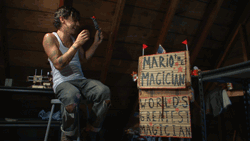 Mohonk Mountain House, 1000 Mountain Rest Rd, New Paltz, NY.
Tuesday
The Book And Pub Club, a book club geared toward 21 to 30-somethings, meets up to discuss Jitterbug Perfume by Tom Robbins. 7p at Casa del Sol, 104 Main St, Nyack.
Get the Nyack Weekender in your mailbox auto-magically every Friday morning. Add your name to our mail list to get this weekly guide to weekend events. Visit our online sign-up sheet to subscribe.
The Nyack Weekender is sponsored by
and the