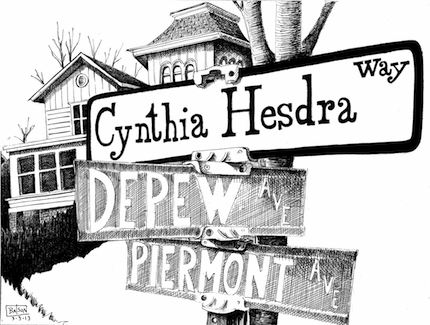 by Bill Batson
If you visit Nyack's Memorial Park, you can see the results of research conducted by  Dr. Lori Martin. Two years after she published  The Ex-Slave's Fortune: The Story of Cynthia Hesdra, the street adjacent to the park was re-named in Hesdra's memory. On May 18, 2015, Martin helped dedicate a monument in the park to Hesdra as part of  the Toni Morrison Society's Bench by the Road project. This Thursday, February 11, at 7p, you can hear Martin give a Food for Thought Lecture at the Nyack Library titled Lessons from the Black Working Class.
Martin, a proud product of Nyack's public schools, believes "we all have a responsibility to be historical detectives, whether it is for our own families or our communities." This intrepid and inquisitive spirit led her to uncover the story of Cynthia Hesdra.
At the time of the quadricentennial of Henry Hudson's voyage up the Hudson River, Martin was asked to draft a report on the economic contribution of blacks during the last 400 years by Dr. Susan G. & Dr. Edmund W. Gordon. Her findings were to be presented to a group of middle school students at Rockland Community College.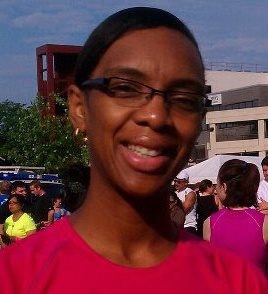 "Most of the research that I do involves poring through census data; it doesn't involve getting into the lives of real people. But once I started doing the research for this project, I kept coming across the Hesdra name. I became curious about the mentions of Edward Hesdra and that Cynthia was curiously absent," she described.
The fact that Edward overshadowed Cynthia was inexplicable to Martin, because according to her trained eye, it was Cynthia who amassed all the wealth that the Hesdra family accumulated.

Cynthia Hesdra was born in Tappan on March 6, 1808. Her father, John Moore, owned mills on the Sparkill Creek.  Newspaper reports during her life suggest that she was held as a slave. After her freedom was secured, she went on to own and operate a laundry business in New York City and to acquire properties in New York City and Nyack. Cynthia Hesdra is listed as a "conductor" in the Underground Railroad Encyclopedia by Mary Ellen Snodgrass.
"What was striking about Cynthia was her ability, and the ability of many other people of African ancestry, to move from being assets to asset owners," Martin observed.
When Cynthia Hesdra died on February 9, 1879, she was reportedly worth $100,000, the equivalent of 2.3 million in contemporary dollars. Allegations of fraud and forgery in the dispensation of her will against her husband Edward led to the first application of a law that compared known and disputed signatures in New York.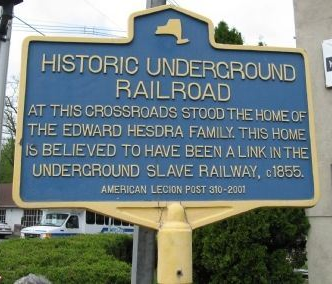 One of the Hesdra properties stood at the corner of 9W and Route 59. The house was destroyed by order of the Urban Renewal Agency of Nyack in 1977, despite the objections of Village Trustee Noel Oursler. A historic marker on the spot mentions only Edward. Subsequent research suggests that this was not the house that Hesdra used as an Underground Railroad station.
In order to set the record straight, Martin approached the village in 2010 to temporarily rename Piermont Ave. between Hudson and Depew for Cynthia Hesdra. Nyack's Trustees agreed.  Nyack Center Director Kim Cross, who was in attendance at the Board meeting, was so moved by Martin's scholarship and Hesdra's accomplishment and marginalization that she asked the Village Board to make the designation permanent, a recommendation accepted by the trustees.
Baton Rogue Bench By the Road
Dr. Lori Martin was also instrumental in establishing another "Bench by the Road" in Baton Rouge, Louisiana that was dedicated on February 6, 2016.  The bench is located at the McKinley High School Alumni Center. McKinley was the first high school for black students in Baton Rouge and the site where mass meetings were held in 1953 to plan the Baton Rouge bus boycott.  That action became the blueprint for future nonviolent protests, including the 365 day bus boycott in Montgomery, Alabama, in 1955.
Lessons from the Black Working Class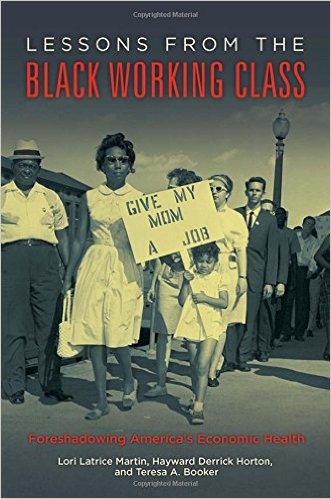 In honor of Black History Month, the Nyack Library's Food For Thought Lecture Series will explore Lessons from the Black Working Class on Thursday, February 11 at 7p.  Dr. Lori Martin, co-author of a new book by the same name, will share a number of lessons all Americans can learn from the black working class and will also provide an insightful assessment of President Obama's record on race and addressing socioeconomic differences.
Registration is required.
Hesdra owned two properties on Piermont Avenue. After consulting Rockland County Archives, Historical Society of the Nyacks President Win Perry described two of Hesdra's holdings:
"Cynthia was living in New York City on November 24, 1837, when she made her first recorded purchase in Nyack, a 42-foot-wide lot on the east side of Piermont Avenue with frontage on the Hudson River, from her father's partner, Peter Depew. She bought the lot in the name Cynthia Moore, so it was probably before she married.  The lot is now known as 93 Piermont Avenue and is in the Village of Nyack, with the Nyack-South Nyack boundary running along its south side."
"In 1842, Hesdra purchased another 42-foot lot on the south side of her first lot, and in 1853 she purchased a third lot south of the second.  We know exactly where her property was located because this third lot adjoined Diamond Street to the south which led to the river and is now the site of the South Nyack pumping station.  These two purchases were also from Peter Depew, but this time she made them in the name "Cynthia D. Hesdra of Nyack", indicating that sometime between 1837 and 1842 she married and moved to Nyack, perhaps building a house at 93 Piermont Avenue since no other purchases by her or Edward are recorded during this period."
It is more likely that Hesdra used the Piermont Avenue location to help escaping slaves make their way to Canada, and freedom via the adjacent Hudson River.
In April, 2014, the Village of Nyack Board of Trustees created a committee to establish a permanent monument to the presence and experience of the African American community in Rockland County. The goal of the committee was to develop a substantive display that would accommodate individuals and families who might want to comfortably linger to reflect on and celebrate local African American history. Dr. Martin submitted a proposal to the group in May, 2014.

Martin's research formed the basis of the successful application that the committee made to the Toni Morrison Society's
Bench by the Road Project
. On May 18, 2015, Nyack joined over a dozen other communities that host benches including Sullivan's Island, South Carolina; Oberlin, Ohio; Concord, Massachusetts; Fort-de-France, Martinique and Paris, France.
Martin is an Associate Professor at Louisiana State University. Her recent publications include
Black Asset Poverty
,(2012) 
The Enduring Racial Divide,  Out of Bounds: Racism and the Black Athlete,
 (2014, editor) a collection of essays that explores how racial ideologies are created and recreated in all areas of public life, including the world of sports,  
Trayvon Martin, Race, and, American Justice: Writing Wrong
(2014)(co-edited volume.) and
Lessons from the Black Working Class
(2015) (co-authored with Hayward Derrick Horton and Teresa A. Booker.)
Bill Batson is an activist, artist and writer who lives in Nyack, NY. "Nyack Sketch Log: Scholar Puts Local History on Global Map" © 2016 Bill Batson. In Dec. 2014, Batson published "Nyack Sketch Log, An Artist and Writer Explores The History of A Hudson River Village." Copies of the book can be purchased at billbatsonarts.com.