Building Magic, a movie about Nyack's Mario The Magician, will be tonight's Rivertown Film special feature at 8p in the Nyack Center.
by Katie Rosa Marchese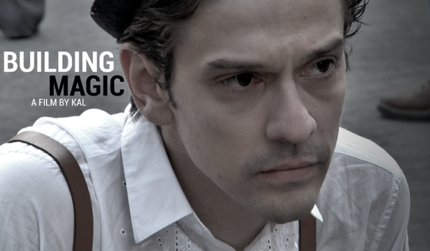 They say it takes a village to raise a child. Sometimes it takes one to make a movie, too.
In the summer of 2013, local filmmaker Kal Toth approached me with an idea. We had made a short, five-minute "docu-promo" with him the year before about my husband, Mario "the Magician" Marchese, a prolific tinkerer and professional performer based here in Nyack. It was a beautiful little piece, and it garnered some lovely attention online. Kal proposed that we extend it into a 20-minute short film, which we would present to film festivals. "Sure," I said, "but why stop at 20 minutes?"
Once Kal was on board with the idea of a feature-length film about Mario, we discussed what he would need to make it a reality. We drew up a budget, and launched a 30-day Kickstarter campaign to raise the funds needed. The campaign was slow moving. Our chances looked quite bleak, but in a nail-biter of a last day, the final 80% of our goal came through. The  whirlwind of contributions came mostly from fellow villagers who had been anxiously following along. We felt a visceral swell of encouragement from our Nyack neighbors. Mario walked down the street that July morning, in the final hours of our campaign, and reported that folks had literally shouted out support from upper floor apartment windows. I was at home, glued to my computer, but I too felt the love. We raised $36,000, and were going to make a movie!
Over the two years that followed, hours upon hours of planning, shooting, voiceover, and editing came together to tell a touching personal story. Mario the Magician is known by many in our town, but he doesn't often speak of his journey. Building Magic tells Mario's true story: of a wayward youth, a hitchhiking wanderer; Mario fell into magic, and through it found his artistic voice. It shows how magic became a vehicle for Mario's innate and compulsive drive to create, and how he found a niche for himself not just as a magician but as a maker. Kal wove delicately through the many facets of Mario's life to create a narrative that inspires and lifts up its audiences. A pivotal part of Mario's story began right here in Nyack, many years ago; so it's fitting that Nyack would be the community that would eventually come together to lift this project to fruition. Much of the film was shot locally, with the generous cooperation of favorite spots like Gypsy Donut, Art Café, Archive Home, Olive's, Johnny Cakes, and more. The film has been making its rounds at film festivals over the past year, and took home "Best of Fest" at Alexandria Film Fest.
Nyack's soul is in this film, not only in its scenery, but in the birth of an artist – Mario – and the nurturing of a piece of art – Building Magic.
Tonight, Wednesday, February 10, at 8pm Rivertown Film hosts a screening of Building Magic at the Nyack Center. Tickets are available at http://www.rivertownfilm.org.