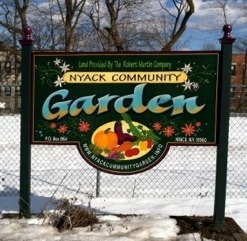 The Groundhog didn't see its shadow. Global emissions are still increasing. Spring is here. Spring is here! Which is to say, it's that time of year once again. Time to request a plot in the Nyack Community Garden.
If you're not familiar with the Nyack Community Garden, it is the plot of land in Nyack (on South Franklin between Depew and Hudson Avenue) where plants are growing. It functions as a nonprofit organization that "provides residents of the Nyack School District with an opportunity to grow vegetables and flowers in a friendly environment. Using land provided by the Robert Martin Company in downtown Nyack, the garden donates surplus vegetables to local charities and enhances the beauty of the community."
Being a garden member means tending one of the 52 plots and being part of a greater community. Many members donate crops to local soup kitchens and food banks through garden-facilitated programs. Tools, soil and water are provided by Nyack Community Gardens and plot-keepers supply their own plants and seeds.
Organizers estimate that a full plot (180 square feet, and $35 for a season) can generate enough crops to sustain a family of four from April to November with some produce leftover to share. Though beginners are welcome, full-plots go to veterans first. Newcomers get half plots which are 90 square feet, and cost $25.
Applications are due February 27, 2016. To receive an applications send an email to nyackcommunitygarden@gmail.com.  For further information contact Jack at Pickwick
(845) 358-9126.