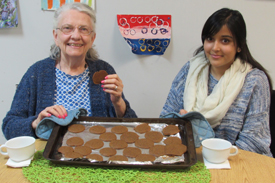 by LeeAnn Mailly
To most of us, the holiday season is a time for connecting with loved ones and cherishing traditions. With all the hustle and bustle, it is easy to forget that many senior citizens are alone during the holidays. Some reside in assisted living facilities, while others live far away from friends and family. Those who are alone often find it difficult to meet their own nutritional needs. During this season of giving, why not help an elderly person by taking part in Meals on Wheels?
Meals on Wheels, a nonprofit group that finances and delivers meals to the community's homebound, has served over nine million meals during the agency's 40 plus years of existence. Not only does the program provide physical nourishment to disadvantaged individuals, it also offers a myriad of support services to those served. Through the Homebound Meal Delivery Program, Senior Activity Centers, Adult Day Care of Rockland and other programs, the agency has impacted the lives of thousands of Rockland residents and their families.
For more information on how you can help a senior citizen this holiday season – and year round – please visit Meals on Wheels.