Learn how community-minded conservation and
extraordinary biodiversity makes a difference on Nov 15
Only 20 minutes from Nyack, on the Rockland/Orange border, a sanctuary of trees, plants, and animals is alive and well. The vast expanse of natural environment in Tuxedo Park is rare in metropolitan regions like ours. With more than 450 species of trees and plants, 150 species of butterflies and moths, and nearly 200 species of birds, mammals, reptiles, and amphibians, Tuxedo Park is rich with extraordinary biodiversity and stunning landscapes.
On Nov 15, Author Chiu Yin Hempel and Photographer Greg Miller will discuss their experiences and adventures creating the book, Tuxedo Park: The Gift of Nature. Their book includes 200 magnificent original color photographs that tell the story of the village's diverse species and scenic beauty. Rockland County residents, nature and photography enthusiasts, conservationists, and people who simply enjoy wildlife and history are invited to come to the presentation at 3p at the Tuxedo Park Fire Department. The event is free, but registration is required.
Founded in 1886, Tuxedo Park appears almost untouched by man. However, over 100 years of conservation-minded community development is responsible for the village's continued ecological health and unspoiled beauty. The village listed on the National Register of Historic Places.
Hempel worked closely with John C. Yrizarry, naturalist, author and wildlife artist who spent more than a decade compiling his Field Notes of natural species in Tuxedo Park. "The village is a historically important, ecologically rich Shangri-La. John showed me so many species," she said. "Some are not easily found in the Hudson Valley region, such as Purple Trillium and the protected pileated woodpecker."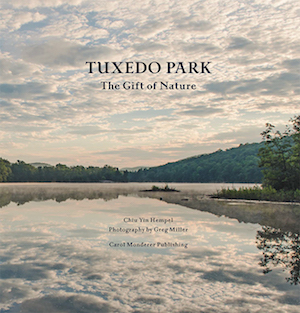 Publisher Carol Monderer says that the unique collaboration between writer, naturalist and photographer formed the perfect team to tell the story of nature in Tuxedo Park. "Chiu Yin Hempel's historical research and writing, Greg Miller's photographic talent for capturing light, and John C. Yrizarry's work on documenting natural species tell the story of nature's gifts in Tuxedo Park," she said.
Tuxedo Park: The Gift of Nature can be purchased at Amazon.com. This book is the third volume in an illustrated trilogy about Tuxedo Park. The other books are Tuxedo Park: Lives, Legacies, Legends and Tuxedo Park: The Historic Houses.
The Tuxedo Park Fire Department is located at 2 Contractors Road, Tuxedo Park, NY. Register for this free event by emailing tuxpl@rcls.org, visiting the Tuxedo Park Library website, or calling (845) 351-2207. This presentation is part of the Tuxedo Park Library's Authors' Circle.