by Kim Cross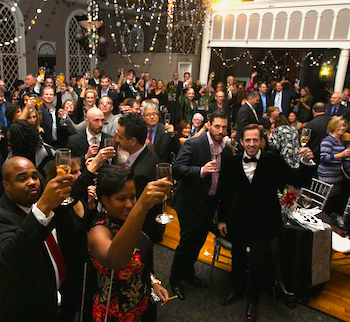 The Nyack Center celebrated its 25th anniversary on November 14 honoring community angels Chris & Bert Hughes and Sally & Roger Seiler. Thanks to the overwhelming community support and a sold out crowd, we netted $60,000 for our vital programs and Legacy Fund.
At the event, a generous donor offered "The Mark Jacobs Challenge Grant," a matching grant of up to $25,000 from now until Dec. 31, 2015!
It was truly a spectacular 25th Anniversary. We have many people to thank-our amazing event chairs, fantastic committee, honorees, Nyack Center Board of Directors, staff, sponsors, Ned Kelly, advertisers, auction donors and everyone who helped make the night such a success. But most of all, we are grateful to each of you for your commitment to Nyack Center and our beloved community.
We toasted our community and our many supporters with these words on Saturday night: "Here's to this amazing place that began as a dream and made it through 25 years of happiness and joy, sorrows and losses, that remains committed to our mission, each other and love through it all. To Nyack Center! To Love!"
Thank you to everyone who made this wonderful evening possible.
Kim Cross is the Executive Director of The Nyack Center, a non-profit that strives to create connections across social, cultural and economic boundaries in the community. The Nyack Center serves over 2000 people each year by providing programs, facilities and opportunities for service. To make a donation please visit NyackCenter.org.
Photo Credit: George Pejoves