By Nyack Tree Committee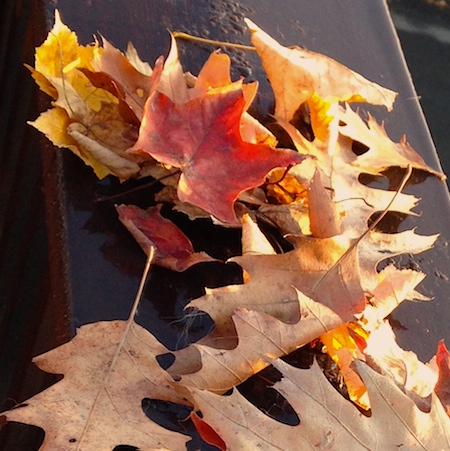 This fall, think twice before you put your leaves on the curb. There's a better way—Love 'Em and Leave 'Em. Last spring Nyack became one of the many towns and villages in the Hudson Valley to adopt a resolution in support of Love 'Em and Leave 'Em, a program to promote mulching leaves in to reduce the hassle and the cost of fall leaf pickup, keep leaves out of storm drains and naturally fertilize lawns.
Mulched leaves reduce the cost of the village's fall leaf pick up program—lowering costs for labor, equipment and fuel which reduces the number of vehicle trips required which in turn reduces the pollution created from fuel emissions. Nyack can save thousands of dollars in labor alone for fall leaf pick up. Piles of leaves in the street also create a safety hazard for drivers trying to navigate around them. It's also an annoyance for pedestrians as they encroach on sidewalks and near public spaces.
Leaves often end up washing into storm drains and clogging sewers- a major storm water management issue that communities end up dealing with well into winter. And the more you mulch mow, the less you leaf blow, so fall days can be quieter.
Here's how it works: Mulching is best done when leaves are dry. A lawn mower with a mulching blade cuts them into tiny pieces that eventually break down and enrich the soil. The bits make attractive mulch when swept into planting beds where they will improve soil structure and soil biology. The enriched soil improves drainage and water retention and makes for a healthier garden in the spring.
Spend less time and effort raking and hauling piles to the curb and more time enjoying the beautiful fall season.
Learn more at leleny.org  and the Village of Nyack Tree Committee.