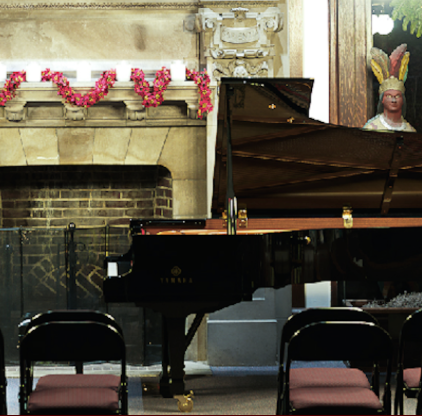 In 2000, four friends got together to kick back from their day jobs – with the Metropolitan Opera Orchestra and the Broadway show "Wicked" – and decided to have some fun playing music. The founding members of the IRIS String Quartet discovered they loved exploring the vast string quartet repertoire, accompanied by good laughs and food prepared by the male gourmets in the group. Their eclectic musical backgrounds include film recording, international music festivals, teaching professionals and amateurs, and tango music.
The IRIS String Quartet opens the Nyack Library's 2015-2016 Carnegie Concert Series on Sun Nov 1 at 2p in the Carnegie-Farian Room of the library. The program includes:
W. A Mozart – String Quartet No.17 in B flat major, K. 458
– "The Hunt"
Bedrich Smetana – String Quartet No. 1 in E minor
– "From My Life"
Jerome Kern – "Smoke Gets In Your Eyes"
Please consider making a free will donation of $10 to the Friends of the Nyack Library to support our the library's efforts to to bring excellent music to the Nyacks.
Iris String Quartet plays Antonin Dvorak Op. 96 "American."
Yibin Li, Violin, Muneyoshi Takeyoshi, Violin, Entela Barci, Viola, Sean Katsuyama, Cello