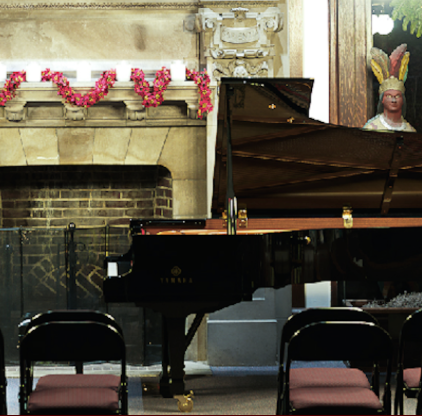 The Carnegie Concert Series returns to the Nyack Library on Sun November 1 with the first of four concerts, sponsored by the Friends of the Nyack Library.
The venue is the beautiful Carnegie-Farian Room of the library, a space that dates back to the building's original construction in 1903.  The intimate performance venue features exceptional acoustics in a beautiful room with 18 foot high ceilings and seating for 100.
The first concert of the series features the IRIS String Quartet with Abraham Appleman on violin, Desiree Elsevier on viola, Annamae Goldstein on violin, and Daniel Miller on cello and will take place on Sunday, November 1, 2015 at 2p. Registration is required.
Here's the week at a glance
at the Nyack Library.
Monday
FREE Assistance with NYS Health Insurance Programs, 5p
Poets Circle, Registration required, 6:30p
Tuesday
Cuentos, Canciones y Artesania, 1p
Infant/Child CPR for Parents and Caregivers, Event is currently full, 7p
Wednesday
Mother Goose Time, 10:30a
Exploring California Wines with Joanne Degaglia, Event is currently full, 7p
Thursday
Little Shanti Yoga, Registration required, 1:30p
Bristle Bots, Registration required, 4:30p
Friday
Toddler Time, 11a
Saturday
Sensory Story Time, Registration required, 11a
Sunday
The concert program will include W. A. Mozart's String Quartet No. 17 in B flat major K. 458 – "The Hunt", Jerome Kern's "Smoke Gets In Your Eyes" and Bedrock Smetana's String Quartet no. 1 in E minor –  "From My Life." The Friends of the Nyack Library are asking that a $10 donation be made at the door to continue to bring excellent music programs to the library.
On December 13, the series continues with Sing We Enchanted. In 2016 two shows are planned: a Musical Journey through African American History featuring local musicians on February 26 and a joint venture with Hopper House in April.
---
Have a question or a fun fact you want to know? We're looking for suggestions for our weekly Did You Know fact. Write to info@NyackNewsAndViews with your suggestions.
Did You Know comes to you each Monday on NyackNewAndViews, sponsored by the Nyack Library.