It's a day for kids and parents to cycle together in Memorial Park and through the Nyacks, or art, seafood and fans to gather in Piermont. There are also activities for The Great American Songbook, walking tours, local history, social justice. And Twins, too (really).
Families, Bikes and Rock n Roll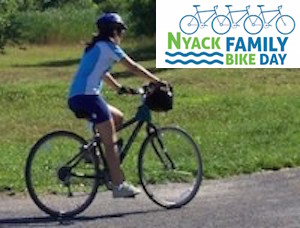 Nyack Family Bike Day in Memorial Park, 12n-4p:  Three seasons a year, adults ride to Nyack from NYC and elsewhere; today kids (with their parents) rule the roads. There will be two guided rides for kids and adults leaving from Memorial Park. Plus great live music by the Jeff Rubin Band.
Kids must ride with their parents and everyone has to wear a helmet. Everyone is invited to this free event; net proceeds from event sponsorships will benefit The Nyack Center.
"Biking is something that you can enjoy your entire life," says co-producer Rachel Mack, owner of Mack Events Productions. "We want to get kids of all ages to embrace bicycling as a lifestyle choice and appreciate the rules of the road to become responsible and avid riders."
Memorial Park will be closed to car traffic during the event.
Tykes, tweens and young teens can take a spin through the AAA Bike Rodeo which will be set up in the basketball court at Memorial Park. Kids will learn independent bike safety skills by using simulated real-life riding situations riding through a specially designed course with stations such as the Rock Dodge, Demon Driveway and Crazy Crossroads. The basketball courts at Memorial Park will be closed today during Nyack Family Bike Day — no basketball today.
Schedule of Events
12n — Event opens. Registration / event table is open.
12:10 – AAA Bike Rodeo opens
Hourly — Bike basics clinics lead by Chris from Toga! Bikes in Upper Nyack
12:30 — Escorted ride to Nyack Beach State Park. Waivers and helmets required for all participants. Parents must ride with their kids!
12:30 — Live music from The Jeff Rubin Band
2:30p — Escorted rail trail ride to Piermont / Sparkill, lead by Anthony DeVanzo, owner of Velo restaurant in Nyack. Waivers and helmets required for all participants. Parents must ride with their kids!
4:00p — Event ends.
See Food? Lobster's are calling you.
Lobsterfest is seafood AND live music by the Jug Addicts ten piece jug band from 2-6p at Piermont's Goswick Pavilion $30 for adults, $12/child.
Walking Tours
Edward Hopper's Nyack Walking Tour: See through the eyes of the late world famous realist painter and Nyack native.  This tour highlights the influence of light, water and architecture. $5, 2p, Hopper House Art Center, 82 N Broadway.
From 10a-12n, there's a guided walking tour of Piermont's historic district. Meet at Confetti's restaurant.
Music
The NJ Palisades Interstate Park hosts a barn dance 2-4p at the park's Alpine Pavilion on the Hudson River, an open-air covered structure built from native stone and timbers in 1934. Free and open to all — beginners are welcome.
It's An Afternoon With Irving: The Words & Music of Irving Berlin at the Valley Cottage Library, 1:30-3:30p. The popular vocal group of New York Cabaret Unlimited has a fabulously staged program featuring the songs of Irving Berlin from The Great American Songbook. 110 New York 303, Valley Cottage.
Art
There's Art in The Park from 1-6p in Piermont's Flywheel Park, 10 Roundhouse Rd.
See new paintings by Carol Greiff Lagstein from 2-6p at 85 South Broadway, Nyack.
History
See original black / white photography chronicling the construction of the •first• Tappan Zee Bridge at the Historical Society of the Nyacks, 1-4p. 50 Piermont Ave, Nyack.
Piermont's contribution to American history and the movie business will be on display at the Piermont Historical Society's Train Station museum from 12-3p , 50 Ash St.
And Now For Something Completely Different…
Join A Conversation About Restorative Justice: How Individuals and Communities Can Deal with Violent Crime moderated by Tony Award winning playwright and activist Eve Ensler at the Nyack Center. 7p, 58 Depew Ave.
There will be a TwinVaision at the Nyack Library including a panel discussion on twins, triplets, quadruplets…etc. Also:  a photo exhibit by Alicia Crowe, an identical twin who shares what it's like to be a twin and highlights her journey to Twinsburg. 1-3p