Three seasons a year, Nyack is a popular destination for adults who pedal long distances to this village on the Hudson River. On Sunday September 20 from 12n-4p, Nyack's cycling focus will downshift to kids on bikes riding with their parents at Nyack Family Bike Day.
The 12n-4p event at Memorial Park, part of September's Hudson River Valley Ramble, will include an escorted ride to Nyack Beach State Park, a ride along the the Esposito / Hader / Clark Rail Trail toward Sparkill, as well as the AAA Bike Skills Rodeo, bicycle clinics and live entertainment by The Jeff Rubin Band.
It's a day for parents and kids to get in some quality family time and good exercise while picking up some important cycling safety tips. "Biking is something that you can enjoy your entire life," says co-producer Rachel Mack, owner of Mack Events Productions. "We want to get kids of all ages to embrace bicycling as a lifestyle choice and appreciate the rules of the road to become responsible and avid riders."
The event is sponsored by about a dozen local businesses, including a restaurant on North Broadway whose name means "bike" in French. "As an avid cyclist and a father of two young children, Nyack Bicycle Day is a great opportunity to enjoy two wheels as a family and raise awareness about bike safety and maintenance," says Anthony DeVanzo, owner of Nyack's Velo restaurant. "Cycling is fun, exercise, therapy and transportation and more families need to enjoy this time together." As both a chef and a cyclist, DeVanzo carries around a regular reminder of how much cycling means to him: a unique tattoo of a old-time bicycle on his wrist.
The Village of Nyack Recreation Department, Visit Nyack and Bike Nyack are teaming up to make this event possible. "This is such a wonderful event for everyone," says Nyack Mayor Jen Laird White. "Kids can learn how to ride safely and we can all be reminded of proper cycling etiquette. "Families can do something fun and healthy together. And, of course, what better place than Nyack…the village every cyclist wants to visit!"
Net proceeds from the event will benefit The Nyack Center. Sponsors include Tappan Zee Constructors, Weld Realty, Velo Bistro Wine Bar, TOGA Bikes, The Palisades Center, Wright Bros. Realty, Camp Bow Wow, Pentland Graphics, NyackNewsAndViews.com, Piermont Bike Connection and the Rockland County YMCA. More information is available online at  NyackFamilyBikeDay.com.
An escorted parent and child bicycle ride to Nyack Beach State Park will be part of the days' activities. A second ride, also escorted, is planned for the Old Erie Railroad Rail Trail through Nyack, South Nyack, Grandview, Piermont and Sparkill. Cyclists must complete a waiver to participate and parents must accompany their children. All riders must wear helmets, as required by law in Rockland County, NY.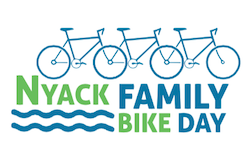 "Walk-able, bike-able communities are the future, and are statistically becoming the most desired places to live in the USA," says Sabrina Feldman Weld, owner of Weld Realty. "We are sponsoring Nyack Family Bike Day to celebrate the healthy lifestyle and wonderful quality of life Nyack has to offer, while promoting activism to maintain and increase walk- and bike-ability in our riverside village." Weld says that bike-able and walk-able communities that include Smart Growth planning by creating safe routes for alternative transportation are setting an example for an improved quality of life, higher property values and healthier living.
Nyack Family Bike Day will include the "AAA Bike Rodeo," where kids of all ages can learn bicycle safety skills by navigating a course with simulated real-life riding situations. Participants will have their bikes and helmets inspected and fitted and will then ride through a specially designed course with stations such as the Rock Dodge, Demon Driveway and Crazy Crossroads. More info is available at NY.AAA.com.
Parents who need a hand helping their youngsters learn to ride a two-wheeler can register for bicycle training by emailing Recreation@Nyack-NY.gov. Also, any child who wants to participate but doesn't have a bike can have their parents contact the Recreation Department who will try to make arrangements to borrow a bike for this event.
Entertainment for Nyack Family Bike Day will be provided The Jeff Rubin Band, local musicians with a national reputation. Their members have played with American Idol's Randy Jackson, Chuck Berry, The Temptations, Jose Feliciano, Bucky Pizzerelli , Danny Elfman's Oingo Boingo band, the Concert for Bangladesh Band, Ben E. King, Hansen, the Bernie Worrell Orchestra and Zappa's Utopia Band.
"For me, as a kid, biking brought freedom and independence, so one reason I support this great event is that it helps kids and families grow into empowered citizens, people who explore, appreciate and ultimately defend our quality of life," says Orangetown Supervisor Andy Stewart. "Plus, it's fun to ride a bike!" The Town of Orangetown is working on several bicycling initiatives for its bike routes and paths, including extending the JB Clark Rail Trail from Orangeburg near Lowes on Rt 303 up to the Blauvelt Library.
Nyack Family Bike Day is part of September's Hudson River Valley Ramble, an annual event including walks, hikes, paddles, and biking tours showcasing the scenic, natural, historic and cultural resources of the Hudson River Valley National Heritage Area.