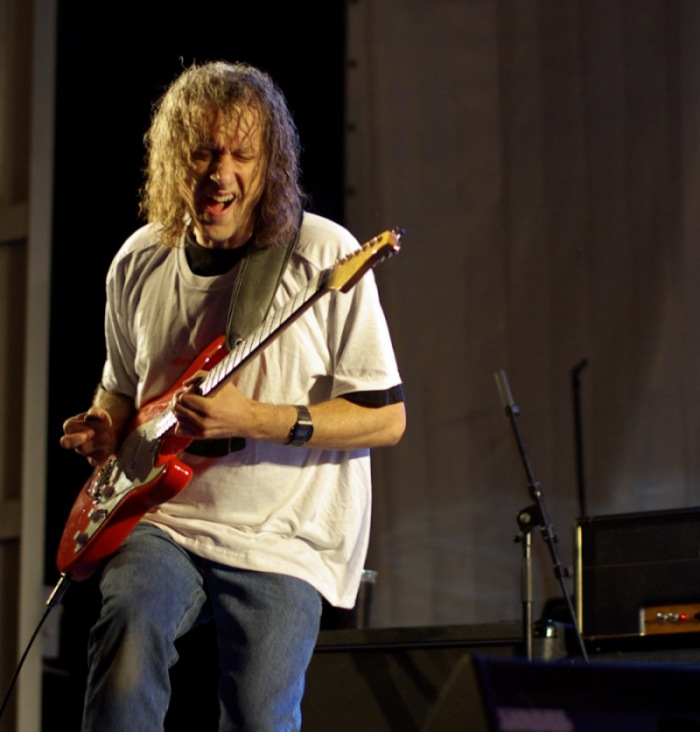 by Dan Cohen
There are guitar gods… and there are Guitar Gods. Some call thunder down from the heavens while others turn a landscape green with wonder and help all the little flowers grow. We have been lucky enough to have two certifiable GGs of very different provenance appear locally in the last week, The Scott Henderson Trio and guitarist Pierre Bensusan. And both times, it was magic.
Let's start with Scott Henderson. Pierre Bensusan is a whole different animal. Stay tuned for Guitar Gods Part Deux review of Bensusan, next week.
Scott Henderson, a virtuoso electric guitarist, played the Turning Point on Sept. 19. I had no idea who he was until the night before when a neighbor, also an accomplished guitarist, tipped me off, speaking of Henderson in hushed, reverential tones, like a pilgrim to Lourdes or ninja assassin who was everywhere and no where at once. It was straight out of Kill Bill. "He's probably technically the finest player in the world today," he whispered. "He plays blues, really, but you can't call it straight blues. Some refer to him as a fusion player, but that's not really right, there's this kind of arcane modal overlay….' and he went on for 20 minutes trying to describe Henderson's style, until I just left him babbling, dishes in the sink, his toddler bawling on the floor beside him. That's what Scott Henderson does to guitarists.
The scheduled 8pm start was delayed after a horrific crackling and buzzing was emitted his amp when he took the stage. Henderson soon discovered that a leak in the ceiling had been dripping water on his pedals since his sound check. For the next 20 minutes we watched Henderson gingerly clean and dry each individual pedal. He soldiered on when it was all fixed, but a crackle came back every now and then, raising the specter of imminent electrocution. Which could distract a guy.
The Turning Point in Piermont, NY
Its shabby, leaky little stage has hosted untold numbers of virtuoso traveling singers and players as well as the finest local talent. It's a run down little hole-in-the-wall, really, I don't want to romanticize it too much, but it deserves a quick nod as to why it's such a great place to see music.
First, it turns out that the very best places to hear music are run down little holes-in-the-wall.
You're right up close to the action, every seat is the best seat in the house, and there's a quality of attention, of attentiveness, of respect and joy and rapture in the room that is impossible to capture in a larger venue. It's like you're in on a secret.
The second thing about The Turning Point that makes it so amazing is the catholicity of its taste. You can see anyone there. Not just blues or rock or jazz, but strange classical amalgams, acoustic folk trios, all sorts of performers performing all sorts of ways. It's a tribute to John, the booker, not only that he's able to get such high quality acts, but that his musical ear is as wide-ranging and adventurous as it is.
Rockland County needs to give this man an award or something, he needs some recognition, because it is a unique privilege to have such a shy, unassuming, world-class venue in our midst.
But as with all great artists, he seemed to put it into his music. He began with a Miles Davis cover, the well-know All Blues from the Kind of Blue album. Henderson took the simple, lyrical melody and charged it with menace and moment and urgency, his solos angular and off-kilter. He's an angular sort of person, with a mop of curly brown hair and the lanky body of a distance runner, but he had an easy rapport with the audience and seemed to settle into the set after a bit. He his guitar looks like a standard Stratocaster, though it's a custom rig, and he it plays with both fierce focus and wild abandon. His runs are blisteringly fast but lead to new places, new scales, new tonics, weird inns off odd highways, like you're being led through a strange land by a wily native who remains just barely in sight. He knows these woods. If you could just keep up. While he has incredible jazz chops and his chords are frequently weird and modal and out there, he uses a Marshall amp and favors a cutting, loud, edgy, bluesy guitar tone. He's a master of the whammy bar and frequently rides solos into feedback, but he rides that wild feedback tone with a breathtaking intensity, like a mad conductor of sound itself.
And he gives his band time to shine—Travis Carlton on bass and Alan Hertz on drums provide solid backup. Carlton takes a solo in the middle of the set and it's one of the funkiest bits of playing I've heard in ages. He adds loop upon loop, part upon part in a calm, unhurried manner, creating a groove that's not cluttered, not over complicated, just a profoundly funky bed for him to solo over. Drummer Alex Hertz joins in lightly, carefully on toms, as if he doesn't want to disturb the groove. Like he's knocking on the door: can I come play? Carlton smiles, Sure, and when he's all locked in the two of them have at it, bobbing and weaving, ducking and dodging around each other, just drums and bass but suddenly sounding like fire, like thunder, like an entire symphony orchestra.
There are moments when the three just seemed to be conversing on stage, trading licks but allowing room for each, Hertz mining rock-solid yet off-beat, rimshotty grooves while Carlton lays down meaty, juicy basslines that you could hang clothes off of, feed families with. And Henderson bobbing and grooving along, a big goofy grin on his face. It feels like a big jam, but then they would come to a clearing in the woods of a song, so to speak, and all turn as one, playing a lick or a bridge or an ending with the glorious, rigorous, practiced precision of a tight, working band.
There's something of spectacle to it: Come see Scott play his amazing runs! And the Bearded Lady right next door! It's not for everyone. But what saves it from parody is his generosity with his band, and also his unquestioned mastery. You really are seeing the Liszt or Paganinni of this type of guitar playing, so…let him play. Enjoy it.
His explorations have shape and weight and direction. You really feel like you're watching someone think.
My friend thought he'd seen Henderson more lyrical, with looser, longer lines. I said Henderson played as if he'd almost been electrocuted, which isn't too far from the truth. That would spook anybody. If it happened to One Direction, you'd hear the same old set. But Scott… he reacts. That's why they call it live music. And, love it or hate it, this cat is all the way live.
Dan Cohen is a songwriter, music producer, and freelance writer. His reviews and reporting have appeared in SF Weekly, High Country News, the legendary North Conway Mountain Ear, and elsewhere. He performs for kids as Danna Banana. He lives in Nyack.