by Avalon Singer
Riverspace, the short lived performing arts center on Main Street in Nyack, has been bustling with activity this summer as construction workers stripped the former theatre to its bare walls in anticipation of it's next chapter.  In the past the theater was home to programs, events and shows showcasing both local talent and big performers such as Meryl Streep,They Might Be Giants, Pete Seeger, Tom Chapin, Bill T. Jones, Edward Albee, Lewis Black and Alec Baldwin. Rockland County residents enjoyed and appreciated the theater for four years, under the Riverspace name, as a community location rich in the performing arts.
The commercial realtor on the For Rent sign outside the theatre was evasive about who they were seeking as renters. According to one source, Dollar General showed interest in the space but the deal fell through. Construction workers on the site said the space was being prepped to house several small shops; it's also been reported that the leases have a demolition clause, so that the owner can cancel a contract should they decide to knock down the building. Truth is, no one really knows what happens next: after several years of being dark, it looks like the owner just wants a tenant.
A lawsuit between the property owner and the village also hangs over the former performing arts building. Millbrook Properties brought a suit against the Village of Nyack after flooding from a freak 2011 summer rainstorm caused extensive damage to the theatre. Millbrook said that Nyack's changes to the Main Street streetscape created the flood. The village disagrees, noting that there are newspaper stories going back over 100 years documenting that Main Street has always been flood prone. Village of Nyack officials were mum about what happens next, citing the pending legal case.
Here's a short history of the theatre and performing arts space at Main St and Artopee way, known at various times as Cinema East, the Helen Hayes Theatre and Riverspace.
Before 1996: The building housed Cinema East, a single screen movie theatre. Back in the day it had the largest movie screen in Rockland County.
1996: When the movie theater closed, new owners created the Helen Hayes Performing Arts Center. It's name was later changed to Helen Hayes Theatre Company (HHTC).
Feb 2006: The HHTC theatre is sold to Millbrook Properties. "We rented the [theatre] for ten years," HHTC board member Daniel Rodriguez told Playbill magazine. "The board made the decision to purchase the building because [we] wanted to have more control of its destiny." Rodriguez said that the cost of acquisition ended up being more than the board had anticipated and HHTC needed to sell the building to pay off its debts.
October 2006: Friends of the Nyacks and Riverspace Arts in Nyack take control of the space.
March 3, 2008: Riverspace holds a public meeting to discuss "Riverspace Downtown," a proposal to develop a 3.7 acre parcel downtown superblock which would include that the Helen Hayes theater building, the M&T bank lot, village owned Veterans Memorial Park and the Village Urban Renewal Agency owned parking lots. Riverspace Board members Josh Goldberg and Debbie Reich would run the non-profit corporation that would develop the property. The project called for the demolition of the M&T Bank building and Riverspace, restoring the original street grid that had been obliterated by a 1960's urban renewal project.
April 23, 2009: The Village Board votes 3-2 to approve Mayor John Shields' resolution to move ahead with a Request for Proposals (RFP) to redevelop the property. The plan calls for commercial, retail and residential spaces that would generate income to cover operating expenses at the arts center. Riverspace is required to raise $500,000 by June, 2009.
July 2009: Riverspace announces that it will suspend programming at the end of August. A "Keep the Doors Open" campaign fails to raise enough money to fund a new season. Board members in favor of shuttering the space say it costs less to keep it dark and pay $17,000 a month in rent than to keep it open and run more programs.
Congressman Elliot Engel's office offers $11 million from the Department of Transportation's SAFETEA LU ("Safe, Accountable, Flexible, Efficient Transportation Act: A Legacy for Users") to be spend on building a parking garage on the Riverspace property. However, Nyack Mayor Richard Kavesh rejects this offer, calling the proposed placement of the parking garage next to Depew Manor an example of "environmental racism."
August 2009: A Citizen's Committee formed to study the superblock recommends that Nyack commission a superblock feasibility study. The $75,000 analysis is funded by entertainer, South Nyack resident and Riverspace Board Member Rosie O'Donnell.
February 25, 2010: The Village Board publishes a Request For Proposal (RFP) setting a March 29 deadline for submissions.
September 2010: The superblock plan calls for four development goals: improving parking options, being fiscally responsible, meeting the needs of all community members and increasing Nyack's attraction as a regional destination. Village officials say there are untapped tourism opportunities in Nyack, and adding more views and pathways to the river would allow Nyack to capitalize on its unique position as one of the few public Hudson River access points.
December 2010: Feasibility study vendor HR&A presents four superblock options.
Movie Theaters: renovating Riverspace into a multiplex cinema, which was the least expensive option with a total development cost
Building an Arts and Media Incubator: would support multiple smaller arts projects
A Black Box Theater: would offer 300 seats
A 1,000 Seat Regional Roadhouse: the most ambitious plan, which would offer more seating than Riverspace and would match the capacity of the Lafayette Theatre in Suffern.
The plan calls for Nyack to make $9.7 million in improvements including rearranging roads, improving the streetscape and building a one story-parking garage. A private company, receiving a return on investment of about 12 percent, would develop the residential, retail and commercial components in addition to an arts center.
April 2011: A Village Board workshop meeting discusses a draft "memorandum of understanding" (MOU) designating Riverspace as the village's partner in creating a redevelopment plan for a superblock in downtown Nyack. The agreement requires Riverspace to contribute $200,000 to pre-development costs for the planned construction.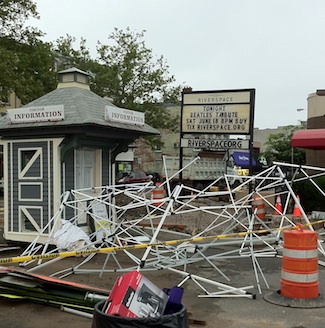 June 23, 2011: A Thursday afternoon flash flood dumps seven feet of water in the Riverspace building
October 2011: Millbrook sues the village and the Town of Orangetown for the  damages caused by the June flood.
Dara Falco, a past Riverspace staff member, said that when programming was shut down in 2009 she and other arts professionals on the Riverspace board and a group of volunteers ended their affiliation with the theater and created ArtsRock, a nonprofit performing arts organization with the mission of providing increased access to professional arts and multi-cultural programs for an in and around Rockland County. "Many who were active in representing and promoting the performing arts ended up creating ArtsRock, and I work now as the Managing Director and we are still presenting and producing arts around the county," she said.
Elliott Forrest, a board member at ArtsRock and former board member at Riverspace, said that Riverspace might have been able to continue its programming but that the board as a whole was more interested in developing the superblock. "ArtsRock has proved that the community can create a performing arts organization in Rockland and have a generous balance of earned income, meaning ticket sales, and donations to make it work." Now in its sixth season, Forrest says ArtsRock is now a successful and flourishing performing arts organization.
Laura Wendt, a former Grandview resident who remembers going to the movies at Cinema East, hopes someday there will be a successor to the Helen Hayes Theatre Company and Riverspace. "Nyack is a thriving arts community, but in order to stay thriving it needs new ideas and new infusions of creative energy, so I think a mix of fine arts and music or cultural events should definitely take place there," she said. "As long as the arts and artists are continued to be drawn there it will be a good thing for the community."
Avalon Singer is a sophomore journalism major and staff writer for The Ithacan at Ithaca College.