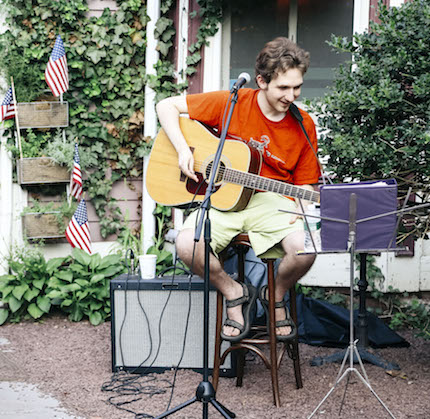 For over a century, our region has been home to extraordinary artists. Local Arts Index highlights the work of individuals who continue our community's rich creative legacy.
Meet Ben Riley.
How did you become an artist?
Totally by accident! When I was thirteen, my mom was given a guitar by one of her students (she is a college professor) and started taking guitar lessons at a local music store. She asked me if I wanted to take lessons, but at first I wanted nothing to do with it. After a few weeks though, I would ask her if she could show me how to play what she was learning. Since my mom only knew a few chords, she signed me up for a month of lessons and within that first month I started to become obsessed with playing guitar. My music teacher, Ryan Marks, had an infectious passion for music and showed me how making music could be fun, meaningful, and a great way of expressing myself creatively.
Once I had been playing guitar for about two years, I volunteered to perform at vegetable pickups for my local CSA, and it was there that I started performing in public. About a year later, a band sponsored by the music school that I was going to needed a bass player, so I learned how to play bass and how to play in a band setting. We also played some gigs at a few local festivals and restaurants, so I also got some experience performing in public. A year after that, the band clearly needed a singer, so I attempted to sing. At first I was absolutely awful! I had nearly no sense of pitch, but was the only band member who had enough courage to try it, so I also learned to sing.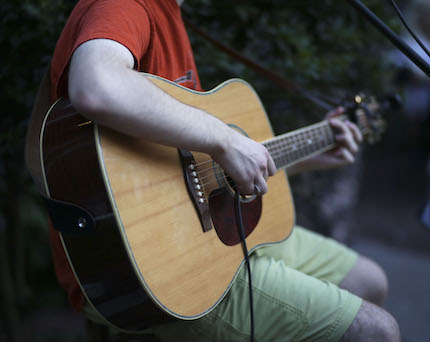 At around this time period, I also started to write songs. At first they were only instrumentals, but after a while I started to write lyrics and set music to them.
I then enrolled in a Master Certificate In Guitar program online with the Berklee School of Music. The professors were at the top of their fields, and the courses were designed so that the students would have lots of material to work on once the courses were over. I still sometimes review some of the material over three years later, and learned many important concepts that really have shaped who I am as a musician.
During the time I was studying at Berklee online, I started to play some solo gigs in addition to playing gigs in a band. I would continue to play at my local CSA, the summer camp I worked at, the Nyack Farmers' Market with my former music teachers Ryan Marks and Ryan Townsend, and Unoodles in Haverstraw, to name a few. Currently, I am majoring in classical guitar performance at Nyack College.
What Kind of Art Do You Make?
I am a musician. More specifically, I am a guitarist and singer/songwriter. I play acoustic, electric, and classical guitar. I play an eclectic mix of covers and original songs that resonate with a wide range of audiences. Because I play many styles of music and am always learning and growing as an artist and exploring new sounds and styles of music, I find it difficult to specifically label what I do. However, to give you an idea of what I sound like, a few of my main musical influences are, in no particular order: Willie Nelson, James Taylor, Sting and The Police, Bob Dylan, The Indigo Girls, and The Allman Brothers. Though guitar is my main instrument, I also play Bass, Mandolin, and the Banjo.
What is your Muse?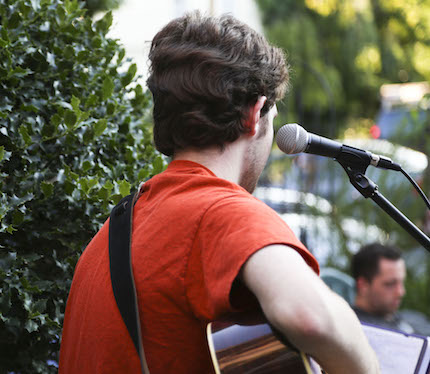 Being outside in nature always puts me in a creative and inspired frame of mind. I have been a lifelong nature lover, and as a result I tend to write songs or come up with arrangement ideas for covers when I am taking a walk or just relaxing outside. That being said, inspiration can come from anywhere, and I never know when I will get that wave of inspiration. Like most creative people, I occasionally get a tidal wave of inspiration, which is awesome when it happens, but usually it is short and fleeting, so I try to either write down or record any creative ideas I get so that I can work on them later.
Since I have a great passion for playing guitar and practice for a couple of hours everyday, most of my songwriting happens with a guitar in hand. I usually come up with the music and melody first, as it is easier for me to write music than lyrics. It can start with a riff, a nice chord progression, or a melody that I hear in my head. Once I have a basic progression and a melody I can usually come up with some lyrics, though sometimes the lyrics come first.I am inspired by interesting experiences, conversations, and current events. Being a book lover, I often am inspired to write songs after a good read.
What's Next?
As a second year student at Nyack College, I perform at some of the music department's student recitals and participate in their annual Carole And Candlelight Tour. So far this summer, I have played at The Art Café, Unoodles, The Nyack Farmers' Market, and at Roscoe Beer's Trout Town Summer Fest.
I have also recorded a seven song demo that can be heard on Soundcloud at https://soundcloud.com/benatnyack. I am using this time in my life to study my craft and to learn and grow as much as possible as a musician and as a person, since I plan to become a full time performer once I finish my Bachelors degree in Guitar Performance.
To learn more visit Ben on Facebook at Ben At Nyack.
Photos by Cayla Ann
Local Arts Index in sponsored by Maria Luisa, 77 South Broadway and ML Gifts & Accessories 75 South Broadway, Nyack, NY