by Ben McCarthy
I recently returned from a trip to Portland, Maine. I was surprised and delighted to discover that the city was a food lovers haven. Fresh, local seafood, produce, meat and dairy products from the region's farms and waters all contributed to a week of unforgettable eating.
One of the best and easiest dishes that we made were simple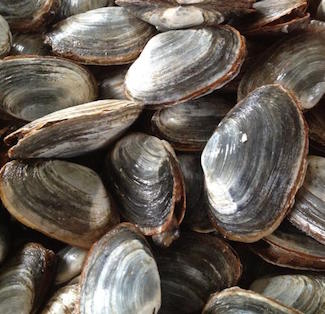 . The clams were buttery and slightly chewy, the perfect compliment to the heat and sourness of the jalapeño. This dish can be a great appetizer or the centerpiece to a meal.
Besides being incredibly delicious, this is a very simple meal to prepare. You could potentially use most clams for this dish but littleneck and count neck clams are small and tender and not as rubbery as larger varieties. You can find littleneck or countneck clams at the Nyack Farmers Market or at your local grocery, many come from Long Island and should be wild caught.
Soak clams in the sink or a bowl and add cayenne pepper, this will irritate the clams and ensure that they flush the sand and grit out into the water.
While the clams are soaking pickle the jalapeño. Thinly slice the pepper with a sharp knife, do not worry about the seeds. To make the pickling liquid add freshly squeezed lime juice (enough to cover the jalapeños) and a few pinches of salt. Let sit until you are ready to eat.
Once this is done boil water, add a couple cloves of crushed garlic, salt, black pepper, a bay leaf and a splash of white wine. If you have none of this on hand simply steam the clams in salty water, they will still taste delicious.
When the water is boiling add the clams and cover, when the clams open they are done. Do not continue to cook the clams after they open as they will become tough and rubbery.
The clams can be eaten directly from their shells, top them with a slice of pickled jalapeñoand you're ready to go.
Serve immediately with slices of pickled jalapeño.
You'll need:
10-12 clams per person
1-2 jalapeños
1-2 fresh limes
Sea salt
Black pepper
Bay leaf
Garlic
White wine
Ben McCarthy is a senior at Hunter College studying pre-med and creative writing. He is also the lead guitarist in the alternative rock band Regret the Hour. He loves to cook and try new food and grew up cooking with his mother.
Photo Credit: Gulf of Maine