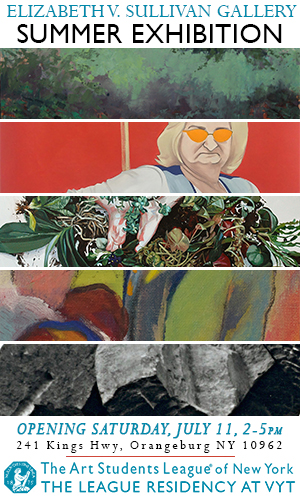 The League Residency at Vyt presents their first summer exhibition featuring over 30 diverse works from artists living in and influenced by the rich artistic culture in the lower Hudson Valley. The exhibit will be held in the Elizabeth V. Sullivan Gallery and curated by Art Student's League Artist Naomi Campbell. There will be an opening reception on July 11 from 2-5p and closing reception on September 26, 2015 from 2-5p.
Featured artists include: Gary Abramson, Rich Alexander, Garin Baker, Susan Barrasi, Anne Bell, Kathleen Benton, Laurel Boeck, Kris Campbell, Charis J. Carmichael Braun, Amy Digi, Heather Douglas, Carol Flaitz, Marilyn Friedman, Barbara Smith Gioia, William Graziano, Jee Hwang, Eric David Laxman, Daniel Lombardo, Fred Maltzan, Elena McCabe, Kathryn Mecca, Patti Mollica, Mary Parker, Laurie Peek, Diane Rosen, Edward Schmidt, Ellen Singer, Joseph Squillante, Kathleen Sykes, John Varriano, Frances Wells, Cheryl Wheat, Jacob Zurilla
The Elizabeth V. Sullivan Gallery focuses on exhibitions by the Art Students League of New York's faculty and friends. The gallery is located in modernist painter Vaclav Vytlacil's historic Victorian home in Rockland County, which is also the site of the League's international artist-in-residence program.
The league residency at Vyt and the Elizabeth V. Sullivan Gallery are located at 241 Kings Highway in Orangeburg, NY or call (845) 359-1263
For more information visit theartsstudentsleague.org.