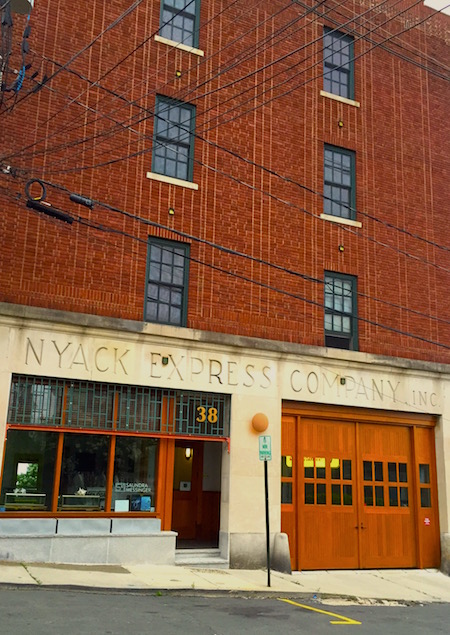 by Owen Voutsinas-Klose
Chiseled into the concrete of the building at 38 High Ave., around the corner from the Runcible Spoon bakery, are the words "Nyack Express Company." The story behind the name on the building goes back more than 100 years and is connected to a current and thriving business.
In 1887, a small Nyack freight company began using the Vanilla Factory building at the corner of Piermont Ave and Main St to store furniture, taking full advantage of the hoist on top still located of the building to lift heavy goods.  When William A. Perry Sr. purchased the freight company in 1922, he  renamed the firm Nyack Express Company and refocused the business on residential moving and storage.
When the Nyack Express Company moved to the newly built warehouse located at 38 High Avenue in Nyack in the late 1920's, Perry engraved the company's name on the building. In 1962, William A. Perry Jr. joined the business and helped grow the moving company into a large interstate operation.
In 1990, Rich Perry (the son of William A. Perry Jr. and the grandson of William A. Perry Sr.) took over the business, relocating and renaming it to Perry Moving and Storage of Jessup, Maryland not far from Baltimore and Washington, DC.
The current tenant of the Nyack Express Company building is jewlery designer Saundra Messinger.  One of the apartments about the retail space at at 38 High Street was recently listed for rent at $3,600 a month, valued at $500,000 by Zillow.Com.