For over a century, our region has been home to extraordinary artists. Local Arts Index highlights the work of individuals who continue our community's rich creative legacy.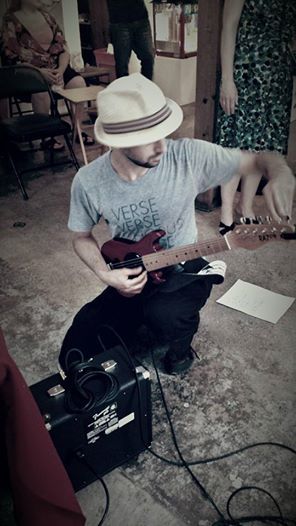 Meet Scott Massarsky.
How Did You Become An Artist?
I think I was pretty much born that way, though I never really considered myself an artist.  It seemed I was always playing with blocks and erectors sets as a child, building things, drawing, making up rhymes, inventing things, performing for my parents and their friends, dancing, singing…
It was around the age of 14 when I had health challenges with what is called a Psuedotumor Cerebri.  Too much pressure built up in fluid around my brain. That led to a few years of uncertainty with school, social life and plenty of free time.
I picked up a guitar learned a few chords and that was the first time I became aware of using creativity as an emotional outlet.  I could express my internal world: fears, expectations ideas and emotions through art.
For the next 5 years or so I threw myself into music with songwriting and performing being my main focus.  After my freshman year at University Massachusetts, I came home again navigating a time of uncertainty and decided to work and take a few classes at a local community college.  I took an art class and began to draw and create again with structures and ideas for the first time since when I was little.
My professor was great and told me to submit some work and apply for the School of Visual Arts in New York.  That began a wonderful time of discovery for me.  I spent 4 years at SVA drawing, painting, learning about printmaking, book making and art therapy.
Since college I have thrown myself back into songwriting and performing again, this time fusing it with what I have learned from the visual arts.
What Kind Of Art Do You Make?
At the moment I am very involved with a project where a friend and I go into schools create a song with the students, and then work with them to transform that song, it's images and lyrics into a beautiful mural. It is called the "Peace Garden Song and Mural Project," we have worked with Pre-k, to Elementary to High school students and the experience has been very rewarding!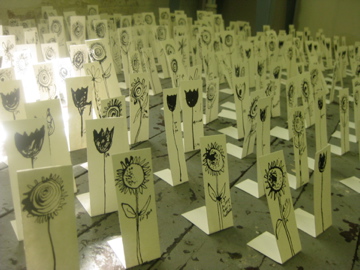 My personal work ranges from creating small environments in glass jars with plants and herbs, to assemblages with old printers drawers, boxes and antique books, to what I call fine art illustration that is somewhere between Shel Silverstein, Tim Burton and Brian Andreas – this last medium is in pen and ink.   I have never limited myself to one medium but when I choose materials or a form to create in, I seem to find a way to make it my own.
What's Your Muse?
I can't really say I have a muse or a specific thing I derive inspiration from.  Being creative for me has always been an impulse and something that came very naturally.  It is the way I learn things, connect to things and understand the world around me.
What I have learned about creativity and tapping into this flow, which some people call inspiration, is that it is my job to be open and make space with in me in order to be receptive to it, but it is always there!  That being said I am very interested in plants, the "natural" world, insects, story telling, the interactions and connection of all things, humans, or human beings, or human doings?
What's Next?
Hmmm, anything really…Right now I am focusing  mostly on recording, performing and songwriting.
The last ten years have been very fruitful as far as songwriting and I have a very large catalog of songs to choose from, I would love to share them more with the world.
"Scott and The Tiny Instruments" will be playing the Art Cafe, 65 S. B'way, Nyack on July 17 from 9 – 11p.
Portrait of Scott by Frank LoBuono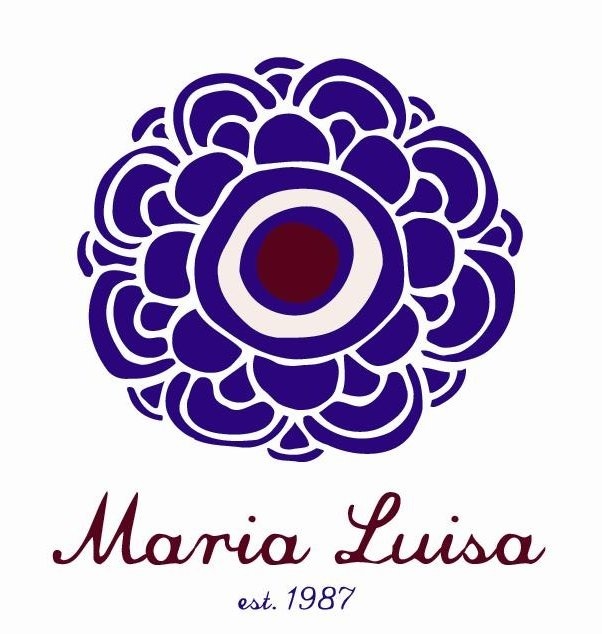 Local Arts Index is sponsored by Maria Luisa, 77 South Broadway and ML by Maria Luisa, 75 South Broadway, Nyack, NY