For over a century, our region has been home to extraordinary artists. Local Arts Index highlights the work of individuals who continue our community's rich creative legacy.

Meet Elaine Schloss.
What Kind of Art Do You Make?
I have been an artist all of my life. I am also an actor/singer and musical theater writer, which is why, perhaps, I love the drama of color and line.
Sometimes my work is realistic, sometimes I work in semi-abstract forms. But it has always been about the face and the figure, the emotion and the form…and color.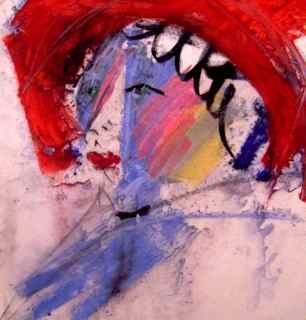 What is your Muse?
The Model.  No matter how abstract, I always work from life.  Like the audience at a play, I immerse myself totally in the emotion of the model and the pose. The result, on paper or canvas, is my giddy applause.
Once I saw a dance program at The Joffrey with a 'talk back' afterwards.  A woman in a wheelchair raised her hand and said, 'when I watch you beautiful people dancing you would think I would feel sad, but instead I am elated ' feel as if I am dancing with you!"
I think this is the definition of art, and so, likewise, I would hope that when people see my work they will experience the thrill I feel when the muse is moving through me.
What's Next?
Although I've been painting all of my life; and have had some success showing and selling my work, I decided in 2012 that it was time to make art my focus.
Many years ago I went into an art supply store and accidentally spilled coffee on 15 vellum pads.  The owner was kind enough to sell me the pads (even then $50 each) at cost.   Until then I'd used only pastel on paper.
Now I needed a way to use the pads.
So I began to experiment with oil pastel and pastel on the vellum.  Since the vellum has little 'tooth' I wash the paper with turpentine, which renders a powerful, emotional, sometimes tender, sometimes raw image.
Latley, I've been working on acrylic on canvass, which is more durable.
You can visit Elaine at her store at the Franklin Antique Center at 142 Main Street, (second shop on the left) where she has a gallery of her work and sells small collectables and fine and costume jewelry.
Elaine will be participating in the Nyack Art Collective's First Friday exhibition at Probition River, 82 Main Street at 8p on August 7.
You can also see her work at elaineschloss.com
Artist portrait photo credit: David Schloss
Local Arts Index in sponsored by Maria Luisa, 77 South Broadway and ML Gifts & Accessories 75 South Broadway, Nyack, NY