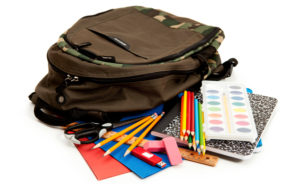 Try to imagine this difficult choice: feeding your children or buying back to school supplies. Rockland County's People to People has — and they have an a answer. Back to School with Dignity equips at-risk children in grades K through 12 with the essential items they need to successfully start the school year. But it can only work with your help.
The generous contributions of individuals and businesses have helped to fill the backpacks of nearly 2,500 children with needed school supplies.  In addition to People to People's clients, backpacks were provided to children participating in the Nyack Center programs and to the Department of Social Services.  Items needed include new backpacks, binders, pocket folders, calculators, composition tablets, highlighters, pens, pencils, markers, crayons, and more.
"I believe that Back To School With Dignity is a vital program," said Diane Serratore, People to People Executive Director.  "If kids don't have the tools they need to start school successfully, they will have a hard time catching up.  Education is key to economic independence and Back To School With Dignity helps kids put their best foot forward on that road to economic independence."

You can help by making a monetary donation or by purchasing extra school supplies to donate when you do your back to school shopping.  You can drop off donated school supplies at People to People, 121 West Nyack Road in Nanuet on Monday through Wednesday from 9:30a-4p, on Thursday from 9:30a to 6:30p, and on Friday from 9:30a to 12:30p.  For more information, email Guadalupe Fishman at People To People.
Here's the week at a glance
at the Nyack Library.
Monday
FREE Assistance with NYS Health Insurance Programs, 5p
Poets Circle, Registration required, 7p
Tuesday
Music Together, Registration required, 11a
Book Buddies, 4p
Wednesday
Bam, Bam Babies!, 10:30a
BattleMasterz: The Art of Graphic Novel Making, Registration required, 5p
Thursday
Book Buddies, 4p
Be a Hero – Get Your Game On!, Registration required, 6p
Friday
Tiny Titans, 11a
Teen Choice Movie, 3:30p
Saturday
Book Buddies, 10a
Home Preserving:  The Basics of Water Bath Canning, Registration required, 2p
Sunday
Teen Power Hour, Registration required, 2p
Home Preserving:  The Basics of Water Bath Canning, Sat at 2p
Tamika Adjemian will go over the basics of water bath canning.  Students will observe simple jam making techniques with local and seasonal fruit, and learn all the steps necessary to preserve their own foods at home.  The science behind food preservation will be discussed and all questions about water bath canning and jam making will be answered.
Tamika is a Master Food Preserver, consultant and recipe developer as well as the head of the garden program for the 92nd Street Y Camps.  Registration is required.
---
Have a question or a fun fact you want to know? We're looking for suggestions for our weekly Did You Know fact. Write to info@NyackNewsAndViews with your suggestions.
Did You Know comes to you each Monday on NyackNewAndViews, sponsored by the Nyack Library.

Photo Credit: Metro Schools, Minneapolis, MN