Nyack, July 8 — A group of Leadership Rockland alumni are trying to put the county on the map in a major way by vying to host one of the 2016 Presidential Debates.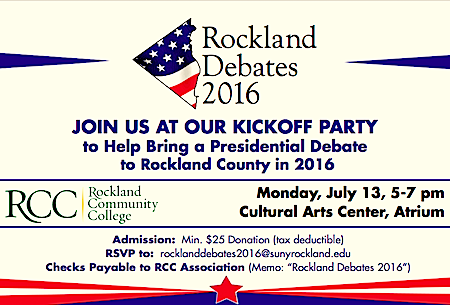 No community college has ever hosted the debates before, but organizers think they have a shot at this honor because of the county's proximity to New York City, the new national emphasis on the importance of community colleges, and the strong support of the SUNY system.
The public is invited to a kickoff brainstorming party for this event on Monday July 13 from 5-7p at Rockland Community College Cultural Arts Center.
Tim Englert, who is part of a committee headed by fellow Leadership Rockland graduate Matthew Deutschman, says that RCC and Hofstra are the only schools in the Northeast that are in the running. Hofstra previously hosted the Presidential debates in 2008 and 2012. Because it's likely that at least one of the candidates will hail from the tri-state area, Englert thinks that Rockland has a good case to make.
SUNY RCC President Cliff Wood and Rockland County Executive Ed Day agree: they split the $8000 initial fee to enter the Presidential Debate site beauty contest with 15 other schools.
It's the first step on some serious fundraising — Englert says that if RCC gets the nod, organizers need to write a $2 million check within two weeks to the Presidential Debate commission. The Monday kick off meeting, open to the public, is to explore ways to raise the money to bring the presidential candidate spotlight to Rockland in 2016.
The price is high but so are the benefits. A study by Lynn University about the 2012 Presidential Debate at that school showed a positive economic impact of over $13 million in Palm Beach County, FL. A survey of county residents showed that about 9 out of ten people said hosting the debate increased their pride in their community.
The poster promoting the Monday kickoff meeting lists several benefits for bringing a debate to RCC:
Tourism & Economic Development
Marketing & Infrastructure Improvements for RCC
Educational Impact at All Levels
Positive Exposure/Media Coverage
Passion and Pride Within the Community
Proximity to New York City
SUNY Rockland Community College is located at 145 College Road in Suffern, NY.
See also: