by Dave Zornow
Nyack, June 3 — Governor Andrew Cuomo came to Nyack to talk about two of his proudest accomplishments: the two percent property tax cap and the new Tappan Zee Bridge. The purpose of the visit was to encourage the NYS Legislature to make the tax cap permanent before it expires in June 2016.
"It is a beautiful monument to what we can do when we put out mind to it…it is a beautiful example of potential and possibility. " — Governor Andrew Cuomo commenting on the new Tappan Zee Bridge.
Although most of the meeting was about keeping the tax cap, Cuomo also spent a lot of time talking about the bridge. He's really really, really proud of this accomplishment and not the least bit shy talking about it. In fact — two questions after his post announcement press conference was supposed to end, Cuomo turned on his heels to take one last easy-to-have-ignored-it question about one of his favorite subjects.
"I love to talk about the Tappan Zee Bridge. Because it's not a government lesson, it's a life lesson," Cuomo told a standing room only audience at the Nyack Center. "[For years,]  governors would get elected and say 'we're going to replace the Tappan Zee Bridge.' So one of the first meetings I had as a new governor — all excited and thinking I was going to change the world — I said I'm going to replace the Tappan Zee Bridge!" Cuomo' says his advisors cautioned him to choose his words carefully, because "you can say you are going to replace the Tappan Zee Bridge, but you can't actually replace the bridge."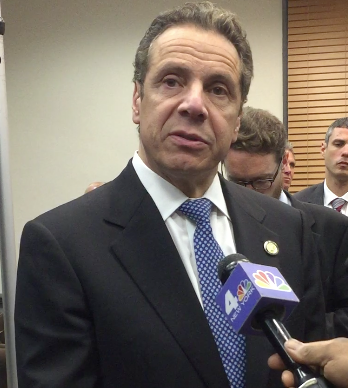 Cuomo listed the objections he heard, both real and hyperbolic. "It would be so expensive! The Hudson is an acutely protected river. There would be lawsuits and you would have to go to Washington and get approvals from the Army Corps of Engineers. Also the fish would have to vote, and the fish would never vote to approve it," he said.
Saying that it was absurd to spend millions maintaining a bridge that was still falling down, Cuomo cited NY construction history as his rationale for championing the project. "Look at…the state of New York. Everything we did was [to build] the first and the best. The Empire State building, the World Trade towers and the George Washington Bridge. The Erie Canal,  the largest and greatest engineering effort of [of all time]. They said you can't do it and we said Yes We Can! " Cuomo says he battled his advisors in every meeting to get his staff to move forward on the TZB project. "Every day we met on how to replace that bridge, they would come up with obstacles and we would overcome the obstacles. And in one year from the announcement that we would replace the bridge, we broke ground. [Last Spring] President Obama came out here and stood on the shoreline and said: this is an example of what this country can do when it actually puts its mind to it."