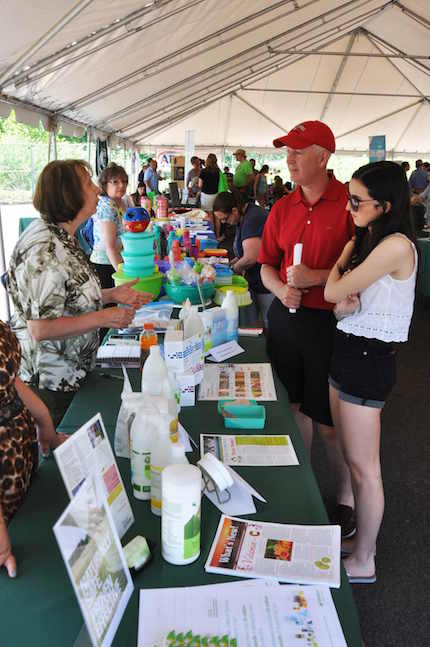 By Sue Webb
Sunday, June 7 is "Living Green in Rockland" day at the Recycling and Environmental Education Center in Hillburn.
Rockland County's largest environmental festival, sponsored by the Rockland County Solid Waste Management Authority, offers an array of activities for adults and children of all ages featuring over 40 exhibitors showcasing their environmental programs, products and services and will include tours of the Recycling and Environmental Education Center. Families will receive a reusable tote bag with environmental products and information. Part of the day's offerings will include the Annual Rockland Recycles Awards ceremony, a program intended to recognize excellence in waste reduction and recycling.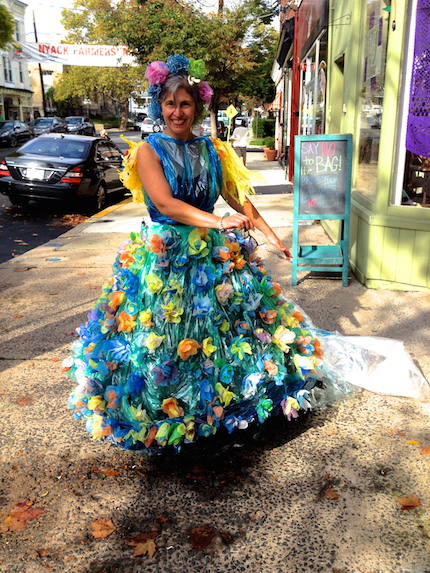 As a consultant and South Nyack resident, I'm excited to be working on this great community event. Last Halloween I marched with Nyack artist Bill Batson and Maria Luisa Whittingham, owner of Maria Luisa Boutique in the parade as the "Plastic Bag Family." Maria was "Beauty," Bill was "the Beast" and I was the "baby beast." Maria and Bill won for best costumes in creations made entirely out of the one-use plastic bags!  Maria and her team at Maria Luisa Boutique created her gorgeous gown, and we were lucky enough to borrow the 2 Bag Monster costumes from the Authority. The Bag Monster customs are a powerful visual prop to demonstrate what 500 plastic bags looks like, which is the average use per person per year. The bag beauty dress, designed by Emelia Ruyle, will be on display at the Environmental Day.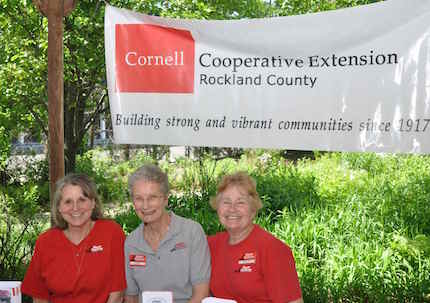 "The Rockland County Solid Waste Management Authority created this open-house event as a way to inform the public about services available to them to help manage waste in Rockland County," says Kerri Scales, Education Coordinator. "Any waste that can't be reused, recycled or composted locally requires disposal in landfills over 300 miles away, which comes with a high price tag. Education results in better decision-making by our residents, which helps save our community money." Adults can look forward to an organic plant sale by Rockland Farm Alliance, backyard composting demonstrations by Cornell, and chances to win a mulching lawn mower, compost bins, rain barrels and other prizes. Food and refreshments are available for purchase.
Kids will enjoy live music with Nyack's own Danna Banana and his band, Flight of the Raptor show, a balloon artist, kids yoga, tattoo and face painting stations, Radio Control Airplane simulators, and Rockland's Fire Prevention and Command Center Vehicles. Take a tour of the interactive Environmental Education Center to learn how bottles, cans and paper are prepared for recycling, how to compost and to properly dispose of household hazardous materials, and other important issues affecting our environment.
Each year the Rockland County Solid Waste Management Authority recognizes excellence on the part of businesses, institutions, schools and organizations for managing successful waste reduction and recycling initiatives through their Annual Rockland Recycles Awards Program. With over 30 awards presented to date, these awardees represent large and small businesses, public and private institutions, municipalities and schools. Awards are given to the three most outstanding programs identified. This year, the Rockland Recycles Awards will be honoring Suffern Middle School Green Team, Dominican Sisters Convent of Sparkill, and Bloomberg LP. Last year the village of Nyack was included as one of the recipients.
Since their creation in 1994, the authority has been working to achieve a coordinated approach to managing waste generated by residents, businesses, schools and municipalities.  A big part of their mission is to educate the public and create increased awareness of the importance of waste reduction, re-use, recycling, composting, hazardous waste disposal and conservation. Along with showing us how we can reduce our carbon footprint, their outreach strategy includes an interactive environmental education center, on-site presentations, and table-top exhibits.  They work closely with municipalities, schools and businesses to help achieve their goal of maximized waste diversion, thereby decreasing our impact on the environment.
"Living Green in Rockland" is free and will be held on Sunday, June 7 from 11a – 4p rain or shine at the Rockland County Solid Waste Management Authority's Recycling and Environmental Education Center located on  Torne Valley Road, Hillburn. The event is wheelchair accessible.
Visit rocklandrecycles.com for more information.