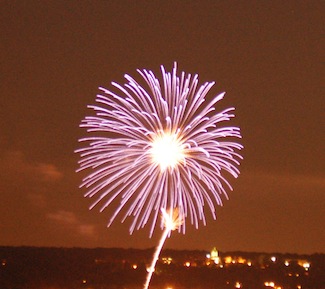 There will be fireworks for the Fourth in Nyack beginning just before 9p.
Launched from Memorial Park on the Hudson River, the pyrotechnics can be seen from any place in the village where there is a clear view of the southeast sky.
Visitors to Nyack can start early with a Saturday morning Bike Nyack Meet-up.  The weekly bike ride, beginning and ending in Nyack will meet at 8:30am in Memorial Park. Visit bikenyack.com for details.
Staycationers or day trippers make a full day of it by visiting The Edward Hopper House Art Center  , located at 82 North Broadway, which will be open from 12-5p and features contemporary art and sculpture and memorabilia on display in the childhood home of America's renowned artist.
Parking will be free all day on July 4th, throughout downtown Nyack.