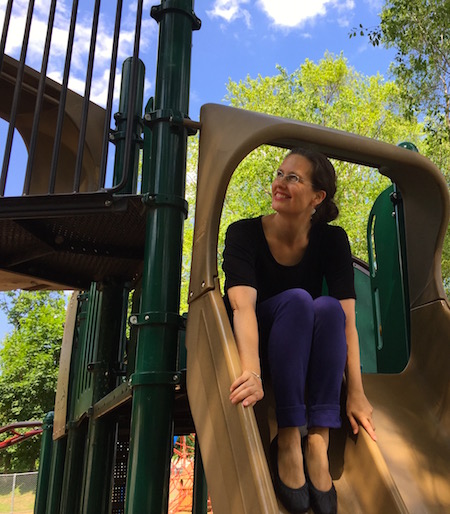 by Jocelyn Jane Cox
Welcome to the Chronicles of Parenting, a new feature by local author, freelance writer, blogger and parent-of-toddler Jocelyn Jane Cox. Read on for advice you never knew you needed and the chuckles you know you really need, tailored to those who live in the Great State of Parenthood.
Feeding a small human is a huge endeavor requiring all kinds of equipment. We're not talking about miniature utensils or melamine plates decorated with precious ladybugs. Nope, if you have an infant, toddler, or small-ish kid, it's time to bust out your Carhartts and hitch up the flat bed, because you have some heavy duty shopping to do. Here are seven recommendations:
 Leaf Blower: This is the most efficient way to clean up a massive spill of granola, crackers or crumbs from any number of dry goods. Of course, most spills are not accidental but the result of tiny yet strong arms swept intentionally across the high chair tray or table with either aggravation or glee. The added bonus of a leaf blower is that it drowns out all other sounds (if you know what I mean) at least for a bit.
Hazmat Suit including Respirator Mask: If you turn your back briefly to wash a dish or gulp some coffee, the separate ingredients of the balanced and theoretically delicious meal you served will probably be stirred, mashed and squished into a mixture too foul to handle without protection. Tuna fish plus peanut butter plus applesauce? Gag. Strawberries plus spaghetti plus hummus? Hurl. FYI, you may want to combine the hazmat purchase with a case of double-strength barf bags.
Dump Truck with Hydraulic Ram: This is the only way you'll be able to haul away the disgraceful amount of wasted food items from your kitchen. We're talking about perfectly edible foods your child loved yesterday but won't sniff, let alone touch, let alone taste today. Don't forget about the items he or she requested more of then decided against by the time you got them prepared. If you are a person of great faith and even a bit of hope, you can try to serve these foods again tomorrow, and even the next day but you'll likely need to back the dump truck up to the kitchen door eventually anyway.
Dumpster: This is not only a necessary receptacle for storing all the refuse generated from above, it's where you might as well just throw your money. In fact, you could just skip all the shopping, chopping and cooking (not to mention battles of will) and simply dump your hard earned cash directly in here. Make sure you get an extra large container if you tend to splurge on organic food.
Retractable Exacto Knife: This helps you cut food into miniscule pieces so that your child does not have to exert jaw muscles with the boring act of chewing. This is also helpful when carving elaborate banana totems and other edible sculptures meant to make food seem more alluring.
Walk-in Freezer: This space should be big enough to store an infinite number of frozen items that can be quickly heated in a microwave or toaster oven. Ideally, this space will also be soundproof so you can go in there and scream expletives when mealtime isn't going the way you want.
Galvanized Trough: When all else fails, take a cue from pig farmers across the land, who know this is the easiest way to get the feeding done. Fill this big tub with pureed fruit i.e. that stuff usually served in small squeezable pouches. Or, if you've really reached your limit, just fill it with maple syrup or ice cream and walk away. Go into the other room, sit down, and flip through a magazine. Granted, you'll have to use a power hose to clean up the mess afterwards. By the way, you might also need a power hose.
Jocelyn Jane Cox is a  freelance writer and author. Her 2012 humor book on life in the New York suburbs, The Homeowner's Guide to Greatness: How to handle natural disasters, design dilemmas and various infestations, is available on Amazon.com. Follow her on Twitter at @JocelynJaneCox.
The Chronicles of Parenting is sponsored by The Palisades Center, your one-stop-shop for fun. Come to the Palisades Center for Munchkin Mondays, childrens' concerts throughout the summer in the East Court. See the complete schedule of summer events at PalisadesCenter.com.